Tucker Carlson Calls Anti-Coronavirus Measures 'Fascism,' Says Michigan Gov. Whitmer 'Wants This Moment to Last Forever'
Tucker Carlson has questioned the motives of politicians prolonging coronavirus restrictions and singled out Michigan Governor Gretchen Whitmer, saying she wanted to continue a lockdown for as long as possible.
Gov. Whitmer has extended until May 28 her stay-at-home order which restricts people to their homes except for crucial errands, taking part in safe outdoor activities or going to specific jobs. However from May 29, groups of up to 10 people may be allowed, Click on Detroit reported.
Starting his segment describing the pushback from some against the reopening of Georgia, the Fox News anchor suggested that politicians were using the coronavirus restrictions as a means to grab power. He then took aim at Whitmer.
"Nobody in America is enjoying all of this more than Michigan governor Gretchen Whitmer," Carlson said.
"It's always the most mediocre people who love fascism the most. It gives them power they never dreamed they would have and indeed don't deserve. Whitmer wants this moment to last forever.
"She's enraged that anyone would dare to complain about it," he added, before throwing to a clip of an interview she gave to ABC in which she criticized the recent protests by the State Capitol calling for the state to be reopened.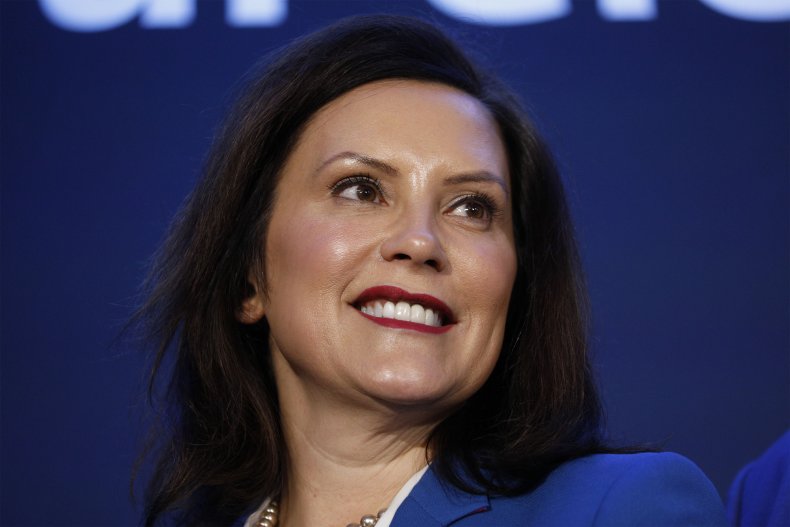 She said in the interview that the protests are undermining the state's coronavirus response and had "racist" and "misogynist" elements.
In the ABC interview, Whitmer called on people who have a platform to use it to encourage people "to observe the best practices promulgated by the CDC and to stop encouraging misbehavior."
Carlson said: "Some people in Michigan are finally growing tired of this performance," before citing the case of Karl Manke, a 77-year-old barber shop owner from Owosso, as being an example of heavy-handed tactics by the state to impose the lockdown.
Manke defied the governor's coronavirus shutdown order and opened up his shop. The state suspended his license for flouting the lockdown and for "willful violations of the health and safety rules."
Carlson went on: "This is insanity, obviously and at some point we are going to look back in shame as we consider it.
"Politicians will always seize the maximum amount of power, they can, that's why they went into politics in the first place... the question is for the rest of us, 'why are the rest of us allowing this to happen?'"
Newsweek has contacted Gov. Whitmer's office for comment. Whitmer has defended the state's coronavirus measures, telling ABC "it took a uniquely tough stance to be aggressive and to combat the spread, and we've had a lot of success because of it."
The infographic below, provided by Statista, shows the confirmed COVID-19 cases across the U.S. as of May 15.