Gretchen Whitmer's Office Pushes Back After Report That Aide Posted Facebook Pics From Florida Beach
Michigan Gov. Gretchen Whitmer's office called a Breitbart article a "partisan attack" for reporting that a top Whitmer aide had breached the governor's coronavirus guidance and traveled to Florida.
The response came after Whitmer's Chief Operating Officer, Tricia Foster, posted photos of her teenage daughter and her teenage daughter's friends on a beach, according to screenshots obtained by the conservative publication. The images of social media comments include mentions of Siesta Key, Florida, spring break and Foster's son, who she wrote was missing from the photos because he was "home with covid."
The photos are no longer on Foster's Facebook page, but a friend of Foster's confirmed to the Detroit Free Press that she saw the photos before they were removed.
Brietbart's report is "a partisan attack from a garbage white nationalist website," said Bobby Leddy, Whitmer's press secretary, said in an email to Newsweek. He added that Foster "is fully recovered from COVID and fully vaccinated," citing guidance from the Centers for Disease Control and Prevention (CDC) that fully-vaccinated people can travel domestically.
"The administration encourages everyone to get vaccinated as soon as possible so we can return to normal life more quickly," Leddy said to Newsweek. He did not comment in response to whether Foster's daughter and her friends had been vaccinated prior to the trip.
Whitmer had previously not admitted Foster had been infected with COVID-19, but Leddy confirmed to the Press that Whitmer's staff has been working from home and not interacting with the public.
"Warnings 'are for thee... not for we," Tori Sachs, a conservative Michigan activist said in a Twitter response to Breitbart's report about Foster.
The article and Whitmer's office's response come after an April 2 press conference in which the governor said she is worried about spring break travel amid rising COVID-19 cases in the state, specifically between Michigan and Florida. She urged travelers to get tested upon returning from their destinations and announced 37 additional pop-up testing sites across the state as part of a special testing program.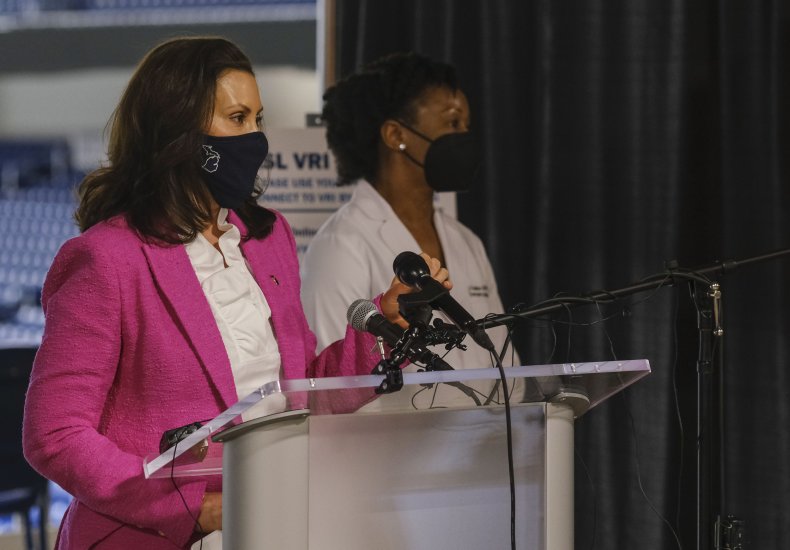 Despite these measures, cases have continued to mount in the state. As of April 9, the state reported 7,834 new coronavirus cases and 26 new deaths, according to data on Michigan.gov. Like Michigan, Florida has seen a high number of contagious variants, driving up the need for heightened restrictions during a busy travel season.
Whitmer gave another press conference on Friday in which she said referred to Michigan as a "hot spot." Dr. Joneigh Khaldun, the state's chief medical executive and chief deputy director for the Michigan Department of Health and Human Services, said the state's public health system was "overwhelmed" by an 18 percent positivity rate.
Whitmer continued to reiterate a strong stance on the need for safety protocols. She recommended a pause on high-risk activities in the state for two weeks. In addition to a continued mask mandate, the Michigan governor added that she is asking high schools to conduct remote learning, the suspension of youth sports, and limits to indoor dining and gatherings. She added that vaccines, not safety provisions, will stop the spread of the virus.
"There is light at the end of the tunnel," Whitmer said, adding that "we are still in the tunnel."
Updated 3:36 PM ET, to include comments from Leddy.