How to Watch 'Grey's Anatomy' Season 16: Episode 4 'It's Raining Men' Spoilers, Live Stream and More Info
Operation damage control is underway at Grey Sloan Memorial Hospital on the upcoming episode of Grey's Anatomy.
The medical staff—particularly Miranda Bailey (Chandra Wilson)—will be reeling in episode 4, titled, "It's Raining Men," after Meredith Grey's (Ellen Pompeo) scathing exposé is released. In the new episode sneak peek, the article is all anyone at the hospital can talk about, and who could blame them? The headline alone ("Hospital Hell at Grey Sloan Memorial: Fired Surgeon Speaks Out") is enough to keep everyone on edge.
Meredith knows her twisted interview is only going to put her in deeper hot water with her ex-boss. "Bailey's going to kill me," she says in a 30-second promo clip of episode 4.
No surprise here—Bailey's reaction to the negative press is an angry one, and she appears to be taking it out on Meredith's boyfriend, Andrew DeLuca (Giacomo Gianniotti). "You can fix what your girlfriend broke," the chief of surgery snaps at him in the clip.
Meredith wants to make things right and explain her intentions behind the interview weren't malicious, but rather her words were taken out of context and misconstrued by the reporter. However, her banishment from the hospital makes getting close to her longtime colleague challenging, so she'll have to find a way to sneak inside the hospital and into Bailey's office without getting caught. From the looks of the clip, she succeeds, but if there's one thing Grey's Anatomy fans know about Bailey, it's that she never lets anyone off the hook easily.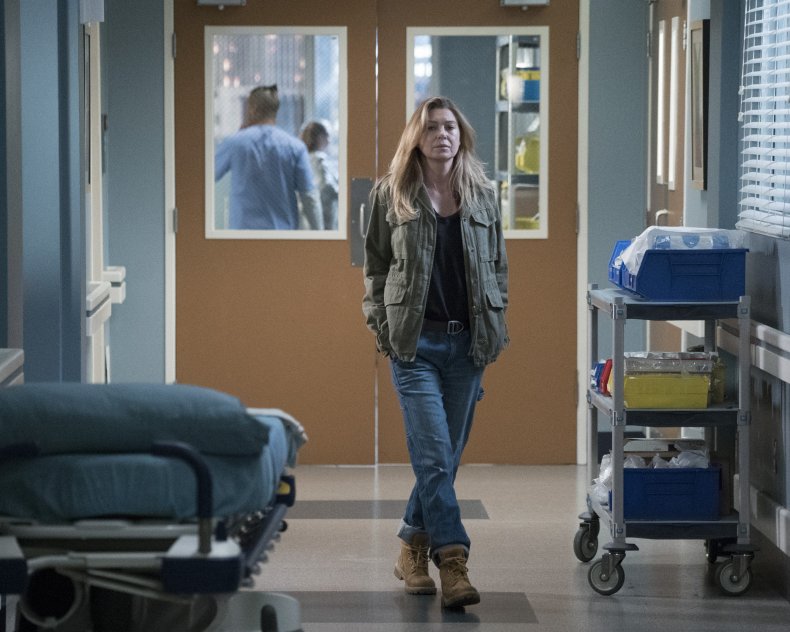 The news article about Grey Sloan Memorial may not be the only trouble filling Bailey's plate during episode 4. The show synopsis hinted at more "unexpected news" heading the doctor's way.
Meanwhile, Owen Hunt's (Kevin McKidd) attempt to get away from his new boss Tom Koracick (Greg Germann) leads him over to Pac North Hospital, where Alex Karev (Justin Chambers) sees his old pal's visit as a prime opportunity to recruit him to the hospital's staff.
There will be more Station 19 crossover during the episode, too. Ben (Jason Winston George) and Vic (Barrett Doss) will bring a new patient to the hospital, which could mean more make-out scenes between Vic and Grey Sloan Memorial doctor Jackson Avery (Jesse Williams). Considering how steamy things got for the budding couple in the last episode, Jackson's desire to take things to the next level with the emergency responder doesn't seem all that unlikely. If Jackson's relationship status does get the upgrade he's hoping for, Maggie's (Kelly McCreary) jealousy may be rearing its ugly head during the episode too.
Grey's Anatomy is set to air on ABC on Thursday at 8 p.m. ET. Viewers with cable provider login will be able to catch the medical series via live stream on ABC's website as well as the ABC app. Those with Hulu's advance subscriptions can also view the episode there, while standard Hulu customers can watch Grey's Anatomy episodes after they air On-Demand.