'Grey's Anatomy': When Season 17 Returns and How to Watch Online
Grey's Anatomy may have just taken one of its longest ever midseason breaks, but the team at Grey Sloan is returning to ABC very soon. Season 17, Episode 7 is airing this March, and is the show's latest crossover with Station 19.
When Grey's Anatomy Season 17 returns
After initially being scheduled for March 4, Grey's Anatomy Season 17, Episode 7, titled "Helplessly Hoping," will now air on Thursday, March 11, in the show's usual time slot of 8 p.m. CT / 7 p.m. CT. Station 19 will then return at 9/8, with A Million Little Things at 10/9.
The official synopsis for "Helplessly Hoping" reads: "Grey's Anatomy picks up where the previous episode of Station 19 left off as both teams tend to a tense situation with so much at stake. Meanwhile, Jo convinces Hayes to bend the rules on a case, and Maggie and Winston reconnect."
In case you have forgotten, that previous episode saw Andrew DeLuca (played by Giacomo Gianniotti) and his sister Carina (Stefania Spampinato) recognize a sex trafficker, and the latest episode will see them in hot pursuit.
The Grey's Anatomy Twitter account has released a trailer for the crossover which gives viewers an idea of what to expect, saying fans will want to "be there from the first second to the unbelievable end."
How to watch Grey's Anatomy Season 17 online
ABC has a live stream on its website and app, which means that viewers can watch the episodes of Grey's Anatomy Season 17 online as they air as well as all of ABC's other shows.
After they have finished airing, episodes of Grey's Season 17 will be available to watch with ads on the ABC website and app from the next day. They will also be available to watch on Hulu the morning after they air, meaning they are streaming there from Friday mornings.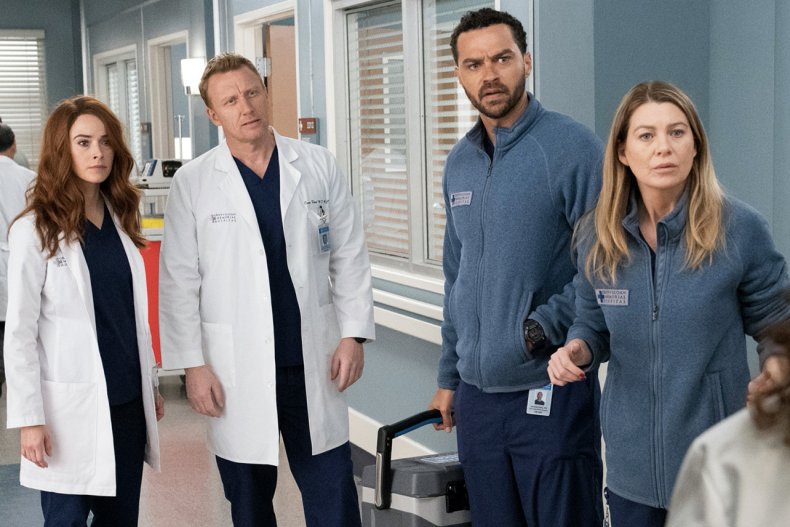 While the current season will stream on Hulu, the previous 16 seasons are available to watch on Netflix, and Season 17 is expected to eventually join them. Usually, each season comes to Netflix a month after it finished, which means a likely Netflix release date of June 2021, though this could be delayed by the season starting later than usual due to the coronavirus.
This new episode is the first after Meredith Grey star Ellen Pompeo made another statement about when the show may end. Asked if Season 17 may be the last one, she said to CBS Sunday Morning, "we honestly have not decided. We're really trying to figure it out right now."
She continued: "To end a show this iconic... how do we do it?" I just wanna make sure we do this character and this show and the fans... I wanna make sure we do it right."
Fans, however, should not be too worried about the future of the show, as Pompeo has been talking about the possibility of the show ending for the last few years—though of course, it does has to end sometime, and with the show likely reaching its 400th episode in its next season, it may be a good time to wind it up.
Grey's Anatomy Season 17 continues Thursdays at 8 p.m. ET / 7 p.m. CT on ABC.