Grieving Owner Convinced New Puppy Is Her 'Reincarnated Cat' After Pet Died
A pet owner is convinced her new puppy was "sent" by her late pet, after he immediately began playing in exactly the same spot as her cat who recently died.
TikToker Brooke Lowrey posted a gut-wrenching video to her account, @Iimbrookeeee_lynn, in which she revealed the similarities between her old and new pet.
The clip, posted last month, shows an adorable puppy, named Chonk, playing with a corner of a rug. The video can be seen here and below.
"When you bring home your new puppy and he immediately goes for this spot," the onscreen caption read.
The video then cuts to a clip of a cat, named Gigi, with similar colorings, playing in the exact same spot with the same rug corner.
"Sometimes all I think about is you," the text continued.
The clip, captioned "I think she sent him," has been viewed more than 7 million times, as people admitted the touching tribute moved them to tears.
Lowrey, from North Carolina, told Newsweek: "I got Chonk a little over a month after Gigi had passed. I found him from another local rescue organization here.
"I rescued him when he was only seven weeks old and immediately when I got him home, he and Gigi had similar personalities. It was funny because I never thought of it until people started commenting on the TikTok how similar he and Gigi look in their coloring too!
"When Gigi passed I had a friend tell me when one of your animals dies they're up there kind of picking out your next animal and I fully believe that's what happened with Chonk. I think Gigi was in my life for such a short period of time and I truly believe there is a reason for it. She got to spend her last month of life having so much fun being a crazy cat and I like to believe she knew how heartbroken I was and kind of guided Chonk into my life."
Lowrey said: "People on TikTok were commenting on one video where I was talking about Gigi and Chonk was so locked into when I was saying her name as if he knew, which I also thought was so so so cute.
"I was very emotional when he went for the rug, it was the first hour I had him home! I felt guilty initially bringing home a new animal into the space where Gigi was and then in that moment I really felt like it was validation that I did the right thing and that he was here for a special reason."
Crimson Island thought: "Reincarnation confirmed, no one can change my mind."
Tanya Dahl agreed, saying: "Looks like your cat reincarnated."
Emilia Kis pointed out: "That's the same soul look at their eyes. She is back."
Destiny thought: "It makes me wonder if that puppy's soul got reincarnated into the kitten the colours and the way how they act are so similar."
Mary's Sound Healing wrote: "Imagine its the cat reincarnated to be your pet again."
Cassandra Maiatico stated: "No that is literally your cat she found her way back to you."
While @peace.love.bunnies said: "Nah that's your little cat best friend's soul inside that puppy. No coincidences."
"Oh nice, I'm eating tears for breakfast," PawbreyDrakeGraham admitted.
While Flyingwolf1999 added: "Your cat said she ain't done yet, she came back to you."
Brooke, who described herself as "momma to the reincarnated cat dog aka Chonk," on her TikTok page, revealed her cat died young, at four months old, after contracting FIPV.
Since the original video blew up, Lowrey shared other clips chatting to Chonk about Gigi, who she got from North Carolina's Orange County Animal Shelter.
In another video she revealed Chonk is a boxer and Shepherd mix, who was seven weeks old and 12 pounds (lbs) when she posted the video at the end of December.
Lowrey, who got Chonk from Beautiful Together Animal Sanctuary, said: "So I had Gigi my kitten for a month and a half before she developed a thing called FIP, which is a deadly virus for kittens. She passed away in the beginning of November, it was totally unexpected and completely heartbreaking. I had rescued her from a local shelter and she had been a totally fine crazy fun kitten.
"And then suddenly within a couple days, totally deteriorated and I had to put her down. After that I was completely heartbroken and as somebody living by themselves felt like I had a huge animal hole gap in my heart."
FIP, or feline infectious peritonitis, is otherwise known as the feline coronavirus, and most strains are found in the gut, and are referred to as feline enteric coronavirus (FeCV).
Cats usually recover naturally, but in 10 per cent of cases, the virus mutates into what is called FIPV.
The University of Cornell explained: "An intense inflammatory reaction to FIPV occurs around vessels in the tissues where these infected cells locate, often in the abdomen, kidney, or brain.
"It is this interaction between the body's own immune system and the virus that is responsible for the development of FIP."
They added that once a cat develops FIPV it's usually fatal. They added: "To our knowledge, coronaviruses cannot be passed from infected cats to humans."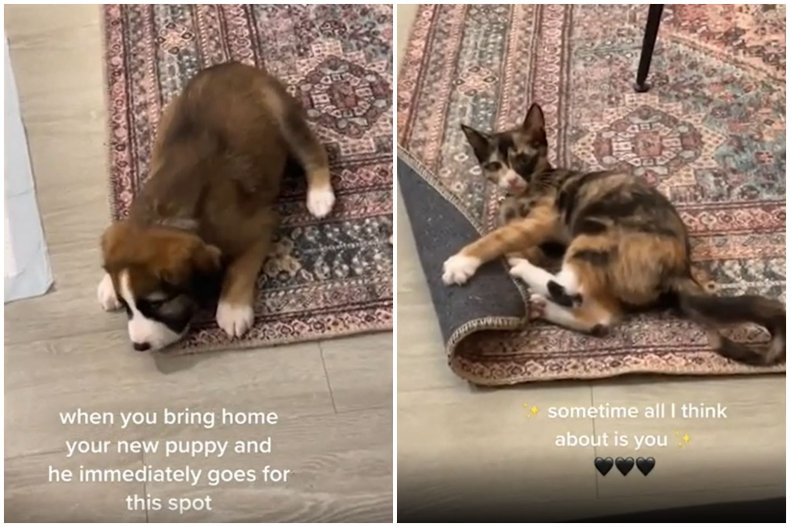 Update 1/10/22, 10:33 a.m. ET: This article was updated with comment, video and photos from Lowrey.