A grieving pet owner has issued a warning after a freak accident led to the death of her 18-month-old Border Collie.
In a video on TikTok shared on Tuesday, a woman by the name of Jessie from British Columbia, Canada, told the world the story of her late pup Winter.
Viewed more than 29,000 times, the caption read: "My sweet Win passed away over the weekend due to water intoxication from playing in a baby pool for about an hour with four inches of water."
In the video, the young pup is seen full of life running around and playing in a field. But on June 11, Winter died from water intoxication.
Jessie told Newsweek: "He was playing in his baby pool splashing around (as he often did many times last summer) and somehow this time became fatal. He was playing for not even an hour, and with no more than four inches of water—it's in the video."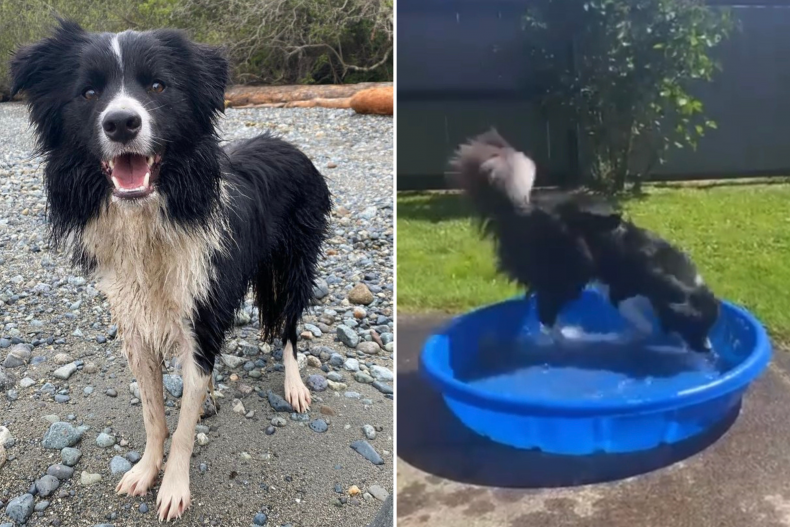 But this time, Winter's time in the pool would prove fatal.
"He started playing fetch with my best friend, taking a break from splashing, and then I noticed he was getting tired—which is normal for dogs, especially Border Collies on a hot day after playing—he came up to me and I noticed his gums were a bit more pale than normal, I work in health care and pay attention to detail," explained Jessie.
"He was panting and wanted to go back inside so in we went. After a few steps into the house, Winter threw up a massive amount of water and I immediately knew something was wrong. He walked a few more steps and collapsed and starting shaking, drooling, and whining."
Hardly responding and unable to stand, Jessie called for the emergency vet immediately.
Despite leaving at once, when arriving at the vet Winter was limp. "I picked him up and ran inside," said Jessie.
"I put him on the floor pleading for someone to help. They took him to the back and asked if I preferred CPR or DNR. I said absolutely CPR."
After 15-20 minutes trying to save Winter's life, the vets were unable to revive him.
"The entire ordeal from the very first symptom to entering the emergency vet must have been less than 25 minutes," said Jessie.
Going by a variety of names, including water poisoning, hyperhydration, and water toxemia, intoxication occurs when an excessive amount of water overwhelms the body.
Water intoxication depletes the animal's sodium levels. In an effort to rebalance itself, the body increases fluid intake inside the cells, causing organs to swell.
The American Kennel Club (AKC) says: "In dogs, excessive water intake often occurs when swimming, diving, or water-retrieving. Even play-biting the stream of water from a garden hose or sprinkler can overload a dog's system and lead to water intoxication."
Water intoxication is known to be more common in smaller dogs and high-energy dogs that may spend additional time in the water.
Symptoms of water intoxication include lethargy, bloating, lack of coordination, vomiting, dilated pupils, and drooling.
The AKC says that if you suspect your dog may have water intoxication, it is essential to get them to a vet or emergency clinic immediately.
When it comes to keeping your pet safe, prevention is key. While it isn't necessary to stop your dog from entering water entirely, it is important to keep water play sessions short and give your pup frequent breaks to keep them safe.
"I want to share this story because water intoxication is fatal yet preventable," said Jessie.
"As we are entering hotter months even actions as innocent as letting your dog bite at the hose, splash around in the baby pool or swim at the lake or ocean can become fatal."
"I'm not trying to scare people away from cooling their dogs off," she clarified: "But please provide breaks after playing. Winter was not actively playing in the pool for even an hour but it was enough to take his life."
The grieving owner said: "He truly was the most beautiful, loving, playful, dog I have ever met and he is missed and loved by so many people. He will be forever in our hearts."