Viewers fell in love with a Border Collie after a hilarious video of him herding sheep to the front door of his owner's home went viral.
Doc, a Border Collie living his life on a cattle farm in Dandridge, Tennessee, was featured on his owner's TikTok account where he garnered nearly 2.5 million views and 4,700 comments from Border Collie enthusiasts.
Border Collies are on the shortlist of most obedient dog breeds and even made it as the frontrunner in a ranking published in Newsweek. Coming in at 35 of 196 of popular dog breeds, Border Collies are known for their intelligence, high energy, and affectionate personalities.
Due to their athletic and agile nature, Border Collies make great herders and are often used by farmers to tend livestock.
In the video posted Thursday, @hodgecattleco shared footage of Doc escaping the house and running down the driveway. Luckily, Doc's owner was able to catch the entire situation on camera which made for hilarious entertainment.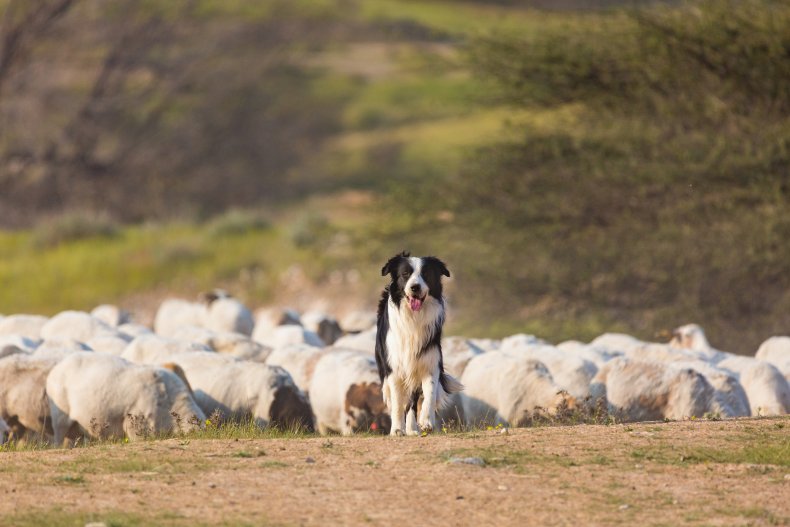 After running away, Doc returned to the front door standing behind a large herd of sheep.
"I had gone to town on a few errands," his owner wrote. "He went and got the sheep all on his own and he put them all on my front porch!!!!"
As Doc stood behind the sheep, he led them to the front porch and had them all stand near the door while pacing to ensure none escaped the herd.
Some sheep attempted to walk off but Doc rushed at them before they quickly turned back toward the herd.
"Good boy Doc??" the on-screen text read as several sheep attempted to escape Doc's herd.
But the Border Collie's work instincts kicked in and he chased them back to the porch. The video then showed the entire herd attempting to make a run from Doc, all charging past him as he chased behind.
TikToker @HodgeCattleCo explained in the comments that the sheep were behind an enclosure but that Doc made them go under the fence to escape.
More than 4,700 users commented on the hilarious clip, many expressing their love for the breed and Doc's work ethic.
"Doc understood the assignment, nobody assigned it to him, but he did it anyway!" one commenter joked.
"Workaholic: Always working, even when he doesn't have to," one user commented.
"Alex can I get; The definition of Border Collie for 500 please," Doc's owner replied.
"And people think working dogs are forced to do their jobs," another user commented.
Other users joked about what was possibly going through Doc's puppy mind when he herded the sheep.
"'You're probably wondering why I've gathered you all here today...to be honest so am I'—Probably Doc," one comment joked.
"Mom and Dad are going to be so freakin proud of me when they see this!" another user wrote.
Newsweek reached out to @HodgeCattleCo for comment.