Groom Slammed for Inviting Only Biologically Related Kids to Wedding
On paper, a child-free wedding sounds like a great idea. However, the reality of this decision seems to be anything but stress-free for engaged couples.
A groom-to-be has been forced into inviting children to his wedding by his brother and mom. But his sister-in-law isn't happy as her daughter from a previous relationship didn't make the cut.
Mumsnet user StarbucksSally has turned to the internet for support after discovering only her children who are biologically related to the groom will see him walk down the aisle.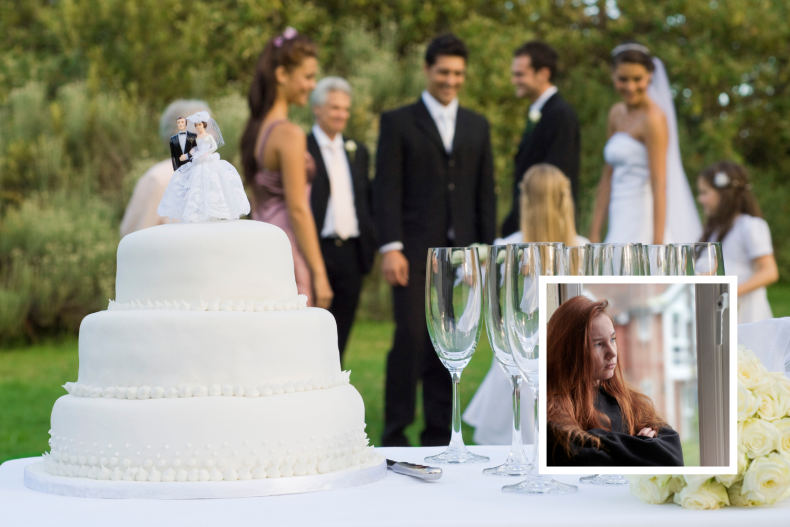 She wrote: "I am going to decline [the] wedding. DH [darling husband] refuses point blank to let me decline for all the children. He wants his children there and thinks we will look stupid anyway if we now decline their invitations after all the fuss."
Lauren Goodman, a U.K.-based wedding planner, told Newsweek that the guestlist is "one of the hardest parts."
She said: "I always recommend couples create their own rules. It is their wedding, and it is vital that it plays out how they would like. Writing the guestlist is one of the hardest parts of weddings and always gets political. I'm a firm believer in you doing what feels best for you as a couple.
"You can't invite everyone as it impacts cost. However, being biologically related would never be a rule or criteria I would recommend basing a guest list on," Goodman added. "During your wedding day, you should be surrounded by anyone you consider a 'loved one,' and these are often not just biological family members. Special and important people come from all different points of your life as individuals and as a couple.
"Overall, I would always recommend couples do as they would like on their special day and be as open as possible with relatives and guests early on is a great way to manage expectations. However, don't feel obliged to just focus on family," Goodman said.
The engaged couple's decision has divided the internet, but ultimately Mumsnet users have backed the mom.
There have been 244 comments on the post since it was shared on February 26, and 79 percent of 763 users have voted "you are not being unreasonable" (YANBU).
One comment read: "Well, you were unreasonable to make a fuss about your children not being invited but I think YANBU about not letting any of your children go to the wedding.
"Wow! Either all children go or none go. If dh [darling husband] [went without] children and left the eldest out I would be leaving, he is supposed to back his family up! Your poor eldest child getting left out of a family event is disgusting!"
Another person wrote: "It's really not on to invite 2 of 3 siblings. I would decline and tell them why. I would also have a close look at your marriage, do you really want to be with someone who is fine with excluding your eldest in this way? What on-earth message is this sending her? You are either a family or you aren't, you can't control extended family, but your husband should be supporting his DSD's [darling step-daughter] place in the family."
Newsweek was not able to verify the details of the case.
If you have a family dilemma, let us know via life@newsweek.com. We can ask experts for advice, and your story could be featured on Newsweek.