'I Wouldn't Go' - Bride's List of Strict Wedding Rules Divides Opinion
A newly-married woman has seriously split opinion after detailing the strict set of rules she had in place at her wedding.
Rachel Romano took to TikTok to share the six commandments that governed her nuptials. Her video has already amassed over 4.5 million views but little in the way of agreement when it came to debating the rules she put in place. The clip can be watched here.
Few occasions are quite as divisive as a wedding. It's an occasion that is usually geared towards the wants of the bride and groom, particularly when it comes to adhering to or defying traditional wedding etiquette.
Unfortunately, this can lead to disagreement and dissatisfaction among guests, as a 2021 YouGovAmerica poll of 1,295 American adults showed.
For example, 59 percent of Americans polled in the study said they would disapprove of being asked to wear a particular color to the ceremony while, despite an increase in the prevalence of child-free weddings in recent times, 37 percent disapproved of the idea with only 41 percent in favor and the rest non-committal either way.
All of which might go some way to explaining the contrasting reactions generated by Romano's list of rules, which began with: "no kids." Speaking on the clip, Romano noted that no one under the age of 21 was allowed at their wedding apart from their flower girl and ring bearer who were taken home "right after the ceremony was done."
"People asked us left and right if they could still bring their kids but we said no, we didn't want the liability as there was a lake on the property," Romano said. "Weddings aren't the place for a kid. Parents, take the night off and have some cocktails with your friends and family."
She then moved on to her second rule, which she described as the biggest "drama starter" from their wedding. "No drinking for the groom or groomsmen before the ceremony," she said. "I've been to so many weddings where the groomsmen and or the groom... are trashed and they can't even function during the ceremony," Romano said. "You spend so much money and so much time for that day."
The list continued with her third rule: "Do not ask to bring a plus one." Romano explained. "If we wanted the person there. We would have invited them."
The list of rules then moved on to wedding attire with Romano asking that no one "wear jeans to a formal wedding" and that family "stick to the wedding colors provided" to ensure their photos looked great.
Last on the list was a familiar favorite. "Do not stand in front of an aisle with your phone taking pictures," Romano said. "We don't want that...we paid for a photographer."
The six-point list proved divisive among those commenting on the clip. Angaleanakaiser commented: "Don't breathe, don't laugh, pretty much just don't do anything" with Chellllyyy adding: "I wouldn't go." Sfutak asked: "Did anyone show up? This would have been the quickest decline in history."
Despite the backlash among some viewers, plenty supported the bride and groom setting rules for their own wedding. Melinda Lee commented: "your day, your rules. that simple" while Kaitlin Heberling said: "I'm absolutely loving this like new wave of no children weddings."
Romano told Newsweek she came up with the video after seeing similar ones on TikTok while searching under the hashtag #weddingrules there are countless videos just like mine.
"I'm surprised by the amount of negative comments," she said. "But then I remind myself that those people: 1. Haven't planned an entire wedding without a wedding planner, all while working full time careers.. 2. Haven't paid for their own wedding. 3. Probably are nowhere near being married, or bitter in their marriage. 4. Simply do not understand that a wedding is for a bride and groom to celebrate their marriage. Not just some big party for guests to get free food and hammered at."
On reflection, she also has no regrets about putting her rules in place. "We talked about if we would have had more rules or taken any out, and we're glad we enforced them. They helped make the day go more as planned."
She was also keen to elaborate on why no one under the age of 21 was invited.
"My husband was the youth ambassador in our local dirt bike association and he has coached hundreds of kids within the past few years," she explained. We have gotten so close with so many of them we would have had a 500+ person wedding at that point. Not to mention there was a lake on the property with an open bar."
She also sought to clarify her comments regarding kids at weddings, explaining that "some weddings are not a place for kids, and ours happened to be one of those."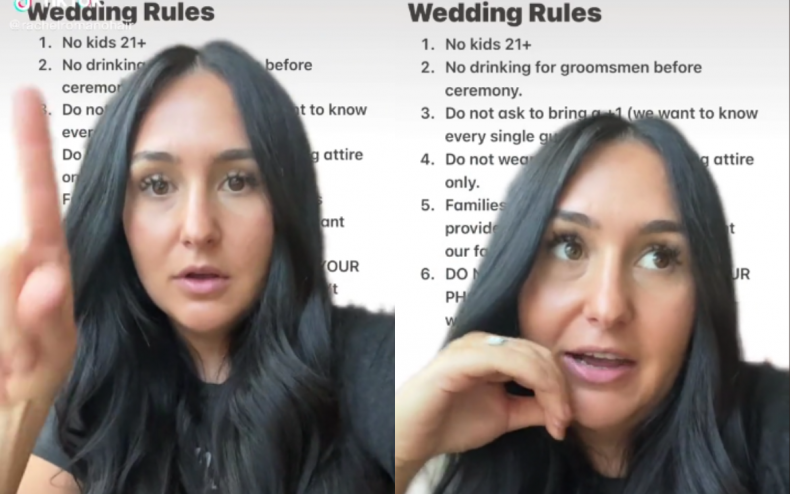 Update 8/11/22 10:41 a.m. ET: This article has been updated with a new video and additional comment from Rachel Romano.