Groom Slammed for Putting 'Ego-Boosting' Lie in Wedding Speech
A man is being dragged online for wanting to declare in his upcoming groom speech that he purchased a home by himself despite the fact that his partner bought it with him jointly.
The now-viral Reddit post, titled, "AITA for refusing to let my future husband lie about the house he and I purchased during his 'groom speech,'" has been upvoted 14,400 times since it was posted on June 16. Redditor @throwaway646797 shared the post to the subreddit "Am I the A**hole," and it has garnered 3,800 comments since it was shared.
The original poster (OP), who is 33, and her 37-year-old fiancé became engaged a couple of months ago. They are getting married soon, and the invitations were sent out. They're "focusing" on the "smaller details" now, and they've also been moving into their new home that they bought together with 30 percent of his savings and 70 percent of hers.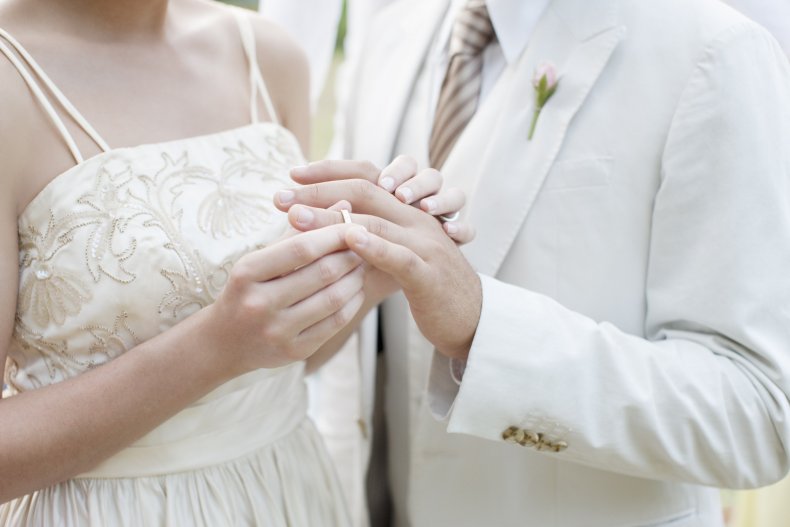 ATTOM Data Solutions found that the average down payment in the United States in quarter four of 2021 for a single-family home was $26,000. When looking at homes bought using financing for the same quarter, the average loan amount was $293,400.
'My Hill To Die On'
"I have to say that saving up for this house took most of my savings and prevented me from enjoying the things I love spending money on," the OP explained.
Yesterday, her partner sat her down to talk about his "groom speech," and he spoke about a few points. However, what made her "upset" was when he asked if she would be alright if he mentioned the house they bought while saying "that he was the one who bought it."
The woman continued, "I was a bit taken aback, I asked why, and he said it's 'just a confidence boost' during the speech, and that's it. I said I didn't feel comfortable with the idea because I think that it's unfair not to acknowledge the fact that I'd sacrificed so much to be able to buy the house."
She reminded her fiancé about how much she contributed, but he said it doesn't change that it's their house, so it "shouldn't matter" to her if he said he purchased it himself or they both did.
But the OP "refused" because then people will think the home was bought by her partner, which is something that won't ever change no matter how "hard" she tries to prove that she contributed 70 percent of her savings.
"He got [mad] at me and said that I was really overthinking this whole thing and making a big deal out of it," she continued. "We got into an argument, and he started yelling saying it's just one favor he's asking me to do and yet I'm making this ridiculous, small request my hill to die on."
She concluded that he was essentially "sulking" and "refusing to answer" her calls, so he "basically" started giving her the "silent treatment" until she gives in. "AITA for making this my hill to die on?" she asked.
In a comment to another Redditor, the OP mentioned the silent treatment again. "I hate when he does that, every time we fight and it never ends [until] I come forward with an apology, although sometimes I believe he's the one at fault," she said. "It's tiring, and I've had this conversation with him a million times over, but to no avail."
Redditor Reactions
Numerous comments poured in over the viral situation, and people think the OP isn't the one at fault here. Many think the woman should rethink marrying the man or walk away altogether based on the way he's acting.
"NTA [not the a**hole]," a user said. "But I'd think twice about marrying someone who wants to lie to your friends and family for the 'confidence boost' and reacts by sulking, lashing out, and ignoring you when you won't go along with it."
The OP replied saying her partner's "request really surprised me. I told him about how uncomfortable this made me feel, but he kept insisting and said that I'm the one with the issue."
Others think the woman's partner is already telling people he bought the house by himself.
"I'm going to bet money he's already told the lie, and he's worried it's going to come out during the wedding because you talk to somebody he's already lied to about this," a user wrote. "The groom speech is just cover. He has to get you to agree to this otherwise you catch him lying."
A user admitted they'd put the "wedding on hold" if they were in the situation, insisting, "He wants to tell a massive lie just so he can feel good about himself, and that's not right and completely invalidates how much you put into buying your home."
Another Redditor thinks the man is "being a jerk," adding, "No way you're TA [the a**hole]. Needing to take false credit for a confidence boost? Definitely an insight into his character that you should consider backing out over."
"Um, bestie maybe you shouldn't be getting married to this man," another said.
Some people think it's abusive what the man is doing. "It's a form of abuse and manipulation OP," a Redditor said. "Honestly, marrying him would be a mistake. Buying this house with him was probably a mistake. Are you going to be able to get your portion back when this dissolves? He's already telling people he has bought the house on his own. That is clear."
Another called the man's actions "emotional abuse," and they didn't stop there. "He knows if he gives you the silent treatment he will get his way eventually, it's manipulation and emotional abuse," they said. "Do you really want to marry a man that treats you this way?"
Newsweek reached out to Redditor @Throwaway646797 for comment.
This isn't the only viral moment involving relationships. A woman was supported after she left her fiancé at the mall over a "tantrum." A man was bashed online after he admitted he married his wife for money, and a wife came up with a way to get her husband to do chores.