Ground Turkey Recall As 14,000 Pounds of Products Might Be Contaminated With Plastic
More than 14,000 pounds of raw ground turkey has been recalled over concerns it may be contaminated with blue plastic.
The U.S. Department of Agriculture's Food Safety and Inspection Service (FSIS) announced on Wednesday that the recalled turkey was produced on September 28 and had been shipped to retail locations around the U.S.
The recalled product consisted of 2.5-pound trays with the case code 50211271 which were labeled "farm to family Butterball all natural ground turkey."
The product had a sell or freeze by date of 10/18/2021, and timestamps from 2123 through 2302 on the packaging.
Butterball is a brand of turkey and other poultry products produced by Butterball LLC, which is headquartered in Garner, North Carolina.
Also recalled were three-pound trays containing "Kroger ground turkey" with the case code 50211271. They had a sell or freeze by date of 10/17/2021 as well as timestamps from 2314 through 2351 on the packaging.
The food watchdog said that the products had the establishment number "EST.P-7345″ inside the USDA mark of inspection.
The issue came to light following complaints to the FSIS by consumers who reported they had found pieces of the plastic embedded in raw ground turkey.
So far there have been no confirmed reports of any injuries or illnesses from the consumption of the products, the FSIS said, advising those worried they may have been harmed to contact a health care provider.
FSIS said it was "concerned that some product may be in consumers' freezers and/or refrigerators" and urged consumers who bought those products not to eat them.
"These products should be thrown away or returned to the place of purchase," it said.
Those with questions about the recall can contact the Butterball Consumer Hotline at 800-288-8372. Newsweek has contacted Butterball for comment.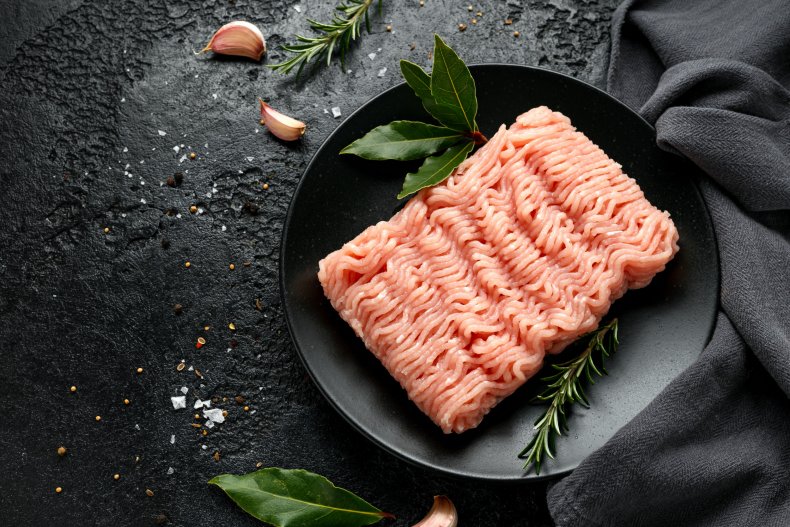 Also this month, there was a recall of canned beef products made by Crider Foods over concerns of lead contamination.
The FSIS said on October 8 that around an estimated 525,717 pounds of the 12-ounce canned products were recalled due the contamination, which may have come from a spice mix included in the product made by another food supplier.
While there were so far no reports of illnesses in connection with the products, the FSIS advised consumers who have bought them not to consume them.
In September, a batch of more than 27,000 pounds of DiGiorno pepperoni pizzas by owner Nestlé USA was recalled due to a packaging mix-up and undeclared allergens.
The 26-ounce boxes labeled DiGiorno Crispy Pan Crust Pepperoni Pizzas actually contained Three Meat Crispy Pan Crust Pizzas, which have soy protein which might harm those with soy allergies.