Group Behind Recall Jay Inslee Bid Attack 'Tyrannical' Washington Governor
A citizen group in Washington state filed an application on Monday to recall Governor Jay Inslee, criticizing his handling of the COVID-19 pandemic, violation of rights and "unprecedented grab of tyrannical power."
The group accuses the governor of interfering with their right to practice religion, to assemble, to work freely and to make their own personal medical decisions. They also accuse Inslee, a Democrat who has been governor since 2013, of unauthorized invocation of emergency powers, bringing in strict restrictions during the pandemic.
On May 13, Inslee announced that Washington is on track to fully re-open its economy on June 30. From then, fully vaccinated people will be required to wear a mask less, and can attend funerals, wedding and sporting events without capacity limits.
Most Washington counties are in phase three of social restrictions, which are some of the least strict. Indoor gatherings are restricted to 10 people, while outdoor gatherings are limited to 50. Worship services are allowed with up to 50 percent of indoor capacity, as are retail stores and work offices. Entertainment venues, museums and event spaces are allowed up to 50 percent capacity or 400, whichever is less. Employers and workers are required to wear phase coverings at all times and the public must wear them in shared spaces, as well as follow social distancing measures.
But organizers of the recall campaign believe Inslee's lifting of restrictions won't repair the "damage" he's done to Washington's "state constitutions" and peoples' "daily lives".
"Governor Inslee has committed lawless acts and we need to hold him accountable for that and that's what we're doing. So, the fact that he says 'oh well, let's forget this fake science. Let's go ahead and open up June 30 because all of the COVID was kind of a joke anyway.'" one recall organizer, C Davis, told Komo News.
"So, he can say that and that's all fine. But that doesn't excuse the lawless acts that he's already participated in. It does not erase the damage that he has done to our federal and to our state constitutions and our daily lives that have been harmed immeasurable," Davis added.
Newsweek has contacted the recall campaign and Inslee for comment.
A statement on the recall movement's website reads: "Washington State has been ravaged over the past nine years with bad decisions made by our governor. But over the last 2 years his actions have crossed the line and become malfeasance, misfeasance, and violation of his oath of office.
"The voters of Washington have had enough of his criminal actions and his unprecedented grab of tyrannical power. We the people believe in a constitutional representative form of government. This has been washed away by Jay Inslee who acts more like a foul tempering king sitting [sic] behind his wall, than a public servant.
"We are conducting this recall to restore power back to its rightful owners, the people. We intend to restore our lawful and constitutional form of government, and to have law and order be the norm in our state."
According to the website of the recall, the process is on "stage 3." The citizens' group has developed the legal case for the recall, filed it with the Secretary of State and now the synopsis has to be approved by the court, the state attorney general and a judge. Once it has been approved, the effort needs to gather at least 1.5 million signatures in 270 days. If it reaches that number, there will be a recall election, and a number of challenges could run against Inslee and try to ouster him.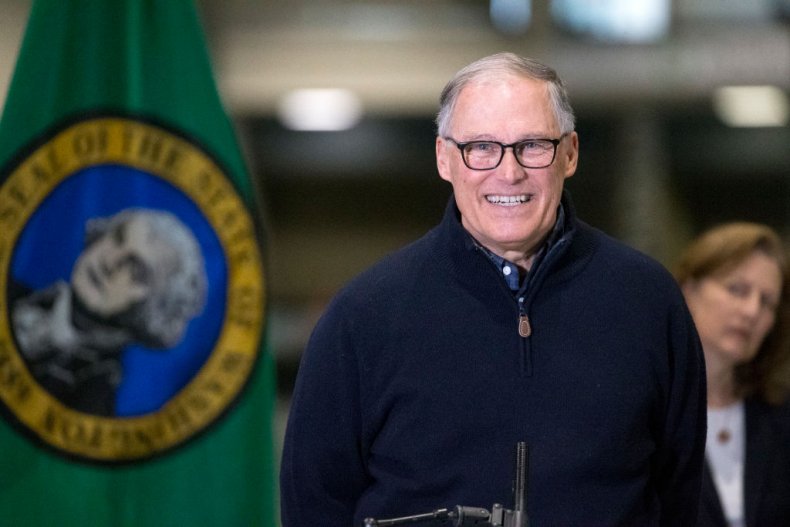 There have also been moves to try and recall Washington Attorney General Bob Ferguson, with one petition to remove him and Inslee gathering more than 12,000 signatures.
The move to oust Inslee comes after a successful campaign to recall California Governor Gavin Newsom. There is a long list of candidates challenging the Democratic incumbent, including such as former adult film actress Mary Carey, Olympic athlete-turned-reality-TV-star Caitlyn Jenner and former San Diego Mayor Kevin Faulconer. If the recall election proceeds, it will take place this fall.