GSA Chief Says She Faced Threats to Family, Staff and Pets for Holding Up Biden Transition
General Services Administration (GSA) chief Emily Murphy claimed on Monday to have received threats for prohibiting the transition of President-elect Joe Biden's administration into the White house.
Murphy, who was appointed as Administrator of the GSA by President Donald Trump in 2017, had held off on allowing official administrative transition efforts to begin for weeks. After the election, Murphy indicated that an "ascertainment" of Biden's victory had not been made. Her delay in allowing the transition to move forward prevented Biden's transition teams from obtaining access to information, federal funding and access to federally-owned office spaces. On Monday, Murphy allowed the transition to proceed. In a Monday letter, Murphy said she had received threats designed to push her towards allowing the transition to begin.
"To be clear, I did not receive any direction to delay my determination," Murphy wrote. "I did, however, receive threats online, by phone, and by mail directed at my safety, my family, my staff, and even my pets in an effort to coerce me into making this determination prematurely. Even in the face of thousands of threats, I always remained committed to upholding the law."
The GSA pointed Newsweek to the administrator's letter of ascertainment when reached out to for comment.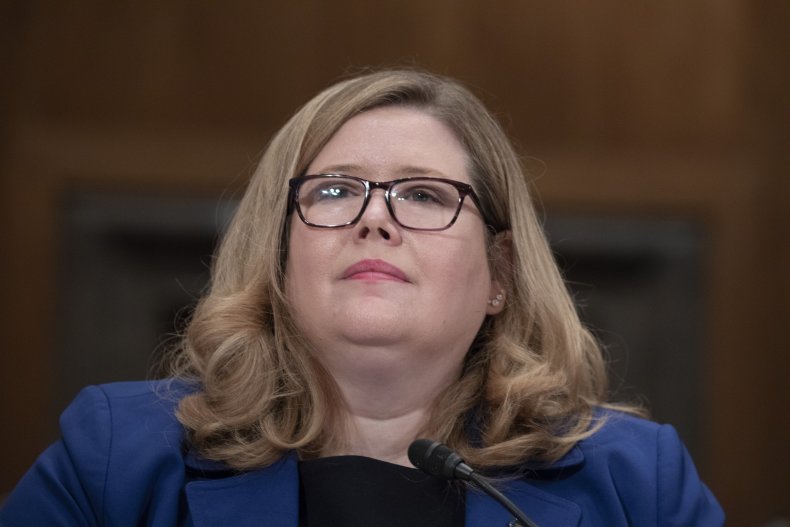 Murphy had previously served in the GSA as Chief Acquisition Officer from 2005-2007 during the George W. Bush administration. According to her GSA bio, Murphy also spent nine in the U.S. House of Representatives working with the House Committee on Small Business and the House Armed Services Committee.
Some lawmakers called on Murphy to allow the transition to begin as many news outlets projected Biden the winner of the election. On Friday, members of the Committee on Oversight and Reform and the Committee on Appropriations sent a letter to the GSA asking for an explanation of the delay in Biden's transition.
"Your actions in blocking transition activities required under the law are having grave effects," the letter said, "including the orderly transfer of power, impairing the incoming Administration's ability to respond to the coronavirus pandemic, hampering its ability to address our nation's dire economic crisis, and endangering our national security."
In her Monday letter, Murphy denied that her decision to allow the transition to begin was based on any undue pressure.
"Contrary to media reports and insinuations," Murphy wrote, "my decision was not made out of fear or favoritism. Instead, I strongly believe that the statute requires that the GSA Administrator ascertain, not impose, the apparent president-elect."
While Trump has thus far refused to concede the election pending the result of lawsuits filed in some battleground states, Trump tweeted Monday that "in the best interest of our Country, I am recommending that Emily and her team do what needs to be done with regard to initial protocols, and have told my team to do the same."