'GTA 6' Release Date Memes, Jokes Surge As Game Is Rumored To Launch in 2025
Memes are spreading online as distressed Grand Theft Auto (GTA) fans react to the news that a sixth entry in the open-world franchise could still be four years away.
The rumors stem from a YouTube video published by veteran leaker Tom Henderson, who has previously uncovered information about games like Battlefield 2042 that turned out to be legitimate. Most recently, he accurately leaked that the Battlefield series would be moving to a near-future setting with its next instalment, and that one of its maps would prominently feature a rocket launch, which an official trailer for the game has since revealed to be true.
While Henderson does have a reliable track record when it comes to Call of Duty and Battlefield leaks, he is not particularly known for having insider knowledge of GTA. He even points this out himself in the video, imploring listeners to take everything that he says with a "pinch of salt."
GTA 6 Release Date Rumors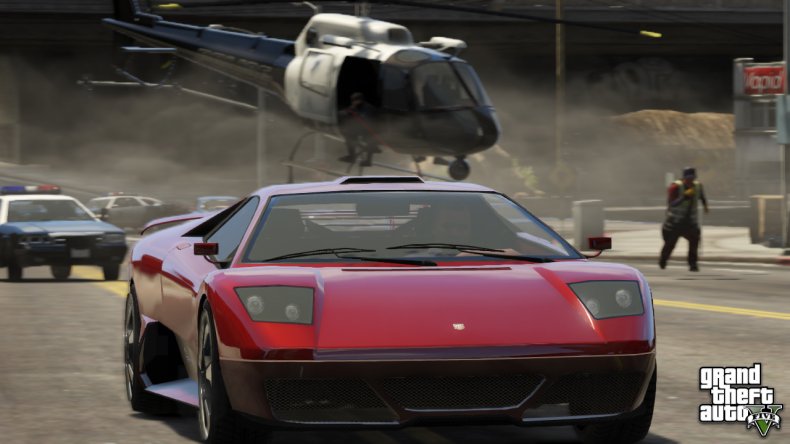 Henderson repeats several leaks that he has heard about GTA 6 in his video. These include rumors that it will have a modern-day setting, that it will feature the series' first-ever female protagonist, and that the map will be constantly evolving over the course of time, similar to how Fortnite rolls out its seasonal updates.
While the vast majority of the video is focused on what kind of content the prospective sequel will have, Henderson does end by speculating on its release date. He said: "I still think we're several years away from this game releasing [a] lot of rumors out there [are] saying 2022, 2023. I even myself have tweeted out probably '23 to '24, but I actually think that date is a little bit premature."
Henderson cites a number of reasons why he thinks GTA 6 is still some way off. Specifically, he references that the publisher, Rockstar Games, is trying to place a greater emphasis on employee wellbeing, after they faced heavy criticism in 2018 over how their staff were reportedly overworked to ship Red Dead Redemption 2 on time.
According to Henderson, the company is trying to avoid a similar crunch culture with their future releases, which could have a knock-on effort on GTA 6's eventual release date.
Henderson also says that the game is going to be a next-gen and PC exclusive, meaning that it will not be playable on the PS4 or the Xbox One. Given that next-gen consoles are still incredibly hard to come by, Henderson theorizes that it would benefit Rockstar to delay GTA 6 to at least 2025 (when PS5 and Xbox Series X units will be more readily available), so that they can maximize their sales.
GTA 6 Memes Flood Social Media
While Henderson is not an established source of GTA information, he has been proven right about other leaks in the past. As such, a number of media outlets, including GameStop and DualShockers, covered his video and the rumors about GTA 6's 2025 release date.
When gamers saw these articles, it prompted GTA 6 to start trending on Twitter. Fans were particularly disappointed to learn they may have to wait another four years before the title comes out, when it has already been 8 years since GTA V was released.
A wave of memes began to proliferate on social media, all finding unique ways to articulate the frustration.
@mldiffley uploaded an image of a group of seniors playing a game with the caption: "Me and the homies when GTA 6 finally comes out"
@TmarTn shared a similar meme, with a clip from the YouTube video "Elders Play Grand Theft Auto V".
Continuing with this theme of gamers becoming pensioners before they can play GTA 6, @KinguinNet shared a picture with the caption: "We've got footage of you playing GTA 6 on the day of release....with your Grandson"
Meanwhile, @its_menieb posted a screenshot of the original iCarly next to an image from its new reboot, with the caption: "Me waiting for GTA 6 as a kid [Vs] Me Waiting for GTA 6 as an adult".
@jebaiting shared a video of a futuristic city with hover cars, accompanied by the text: "Leaked gameplay footage of GTA 6 releasing in 2025"
@veryrare_ns posted a clip from the Pixar movie Ratatouille, in which the villainous Chef Skinner becomes distraught after reading bad news. They then followed it up with a clip of Spider-Man crying in a bathtub.
@MeAloneInMyMind posted the U.S. map, with the caption: "I hope this is the whole map for GTA 6 if we're waiting until 2025".
@MoulaFN shared a timelapse video, in which someone ages as they wait for GTA 6 to finally be released.
While we may still be waiting some time for GTA 6, its predecessor, Grand Theft Auto V, is currently available on PlayStation 4, Xbox One and PC. It will also be receiving a next-gen upgrade later this year (in November) for the PS5 and Xbox Series X.