Six Guatemala Volcano Victims to Be Treated in Texas as Death Toll Hits 75
A group of survivors of the volcanic eruption in Guatemala has been given special dispensation to get treatment in the United States.
An air ambulance will take six patients, three of whom are ages 12 to 16 and required special treatment for their injuries, to Galveston, Texas, the Guatemalan newspaper El Periodico reported.
Humanitarian visas were quickly prepared by the U.S. Attorney General's Office and authorized by a judge, while the victims received initial treatment at Guatemala's Roosevelt Hospital.
Roosevelt Hospital Executive Director Marco Antonio Barrientos said: "They [the patients] are the ones with the worst respiratory problems and would benefit most from the transfer."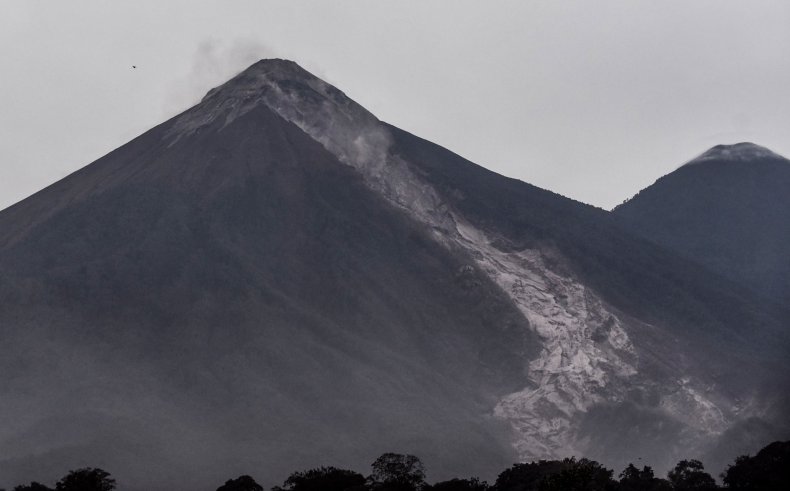 Barrientos said that there were 19 patients in serious condition in his hospital, suffering from second and third degree burns, as well as from damaged respiratory tracts from inhaling toxic gases.
Meanwhile, one woman has spoken of how as many as 36 members of her family are missing and presumed dead, as the official death toll rose to at least 75. Nearly 200 people are still missing in the wake of the biggest eruption of the mountain in four decades on Sunday.
Lillian Hernandez of the town San Miguel Los Lotes told the Associated Press that missing members of her family include aunts, uncles, cousins, her grandmother and two great-grandchildren.
"My cousins Ingrid, Yomira, Paola, Jennifer, Michael, Andrea and Silvia, who was just 2 years old," she told AP.
Villages on the slopes were buried in volcanic ash and rescue work was disrupted after a new eruption on Tuesday spewed gas and molten rock down the volcano's south side.
The new eruption took experts by surprise. Eddy Sanchez, of Guatemala's National Institute of Seismology, had said only recently that he expected "no imminent eruption over the next few days."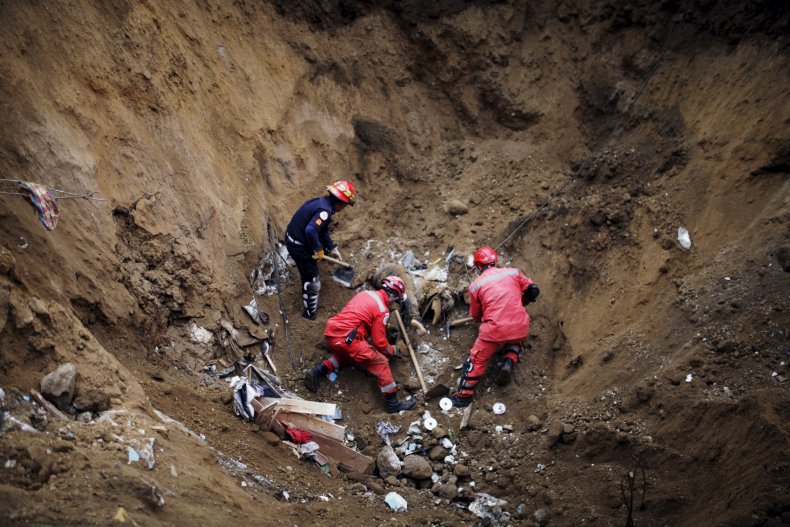 There are also warnings of a new flow of hot toxic gases from the volcano, and a nearby highway has been evacuated.
"We now have an accounting with names and towns where people have gone missing, and we have a figure, which is 192 people who we have unaccounted for," Guatemala's Disaster Relief Agency (CONRED) chief Sergio Cabañas told Agence France-Presse.
There were no evacuation orders given before Sunday's eruption, and although locals had been trained to deal with just such an emergency, the volcanic activity happened too quickly, Cabañas said in a press conference.
The blast sent pyroclastic flows, which are fast-moving mixtures of gas and volcanic matter, down the slopes, burying the villages of El Rodeo and San Miguel Los Lotes.
Volcanologist Janine Krippner told the BBC: "Fuego is a very active volcano. It has deposited quite a bit of loose volcanic material, and it is also in a rain-heavy area. So when heavy rains hit the volcano, that is going to be washing the deposits away into these mudflows, which carry a lot of debris and rock.
"They are extremely dangerous and deadly as well."
A state of disaster has been declared for the southern departments of Escuintla, Sacatepéquez and Chimaltenango.