Here Are The Gun Control Measures Congressional Democrats Will Consider After Returning From Recess Early
The House Judiciary Committee announced on Friday that its members will return from their August recess a few days early, on September 4, to consider a slew of new gun violence prevention measures that Democrats hope to pass once the full chamber returns.
But all of the proposals that the Democratic-led committee plans to debate—background checks, "red flag" laws and a ban on high-capacity magazines—will need bipartisan support to even be considered, much less passed, by the GOP-controlled Senate.
In addition to examining several potential policies, the committee said it will hold a hearing September 25 to "address the dangers posed by assault weapons."
"There is more that we can and must do to address the gun violence epidemic. We will not sit idly by," Judiciary Chairman Jerrold Nadler (D-NY) said in a statement. "I call on my Senate colleagues to join us in this effort by swiftly passing gun safety bills the House has already passed and also by acting on the additional bills we will be considering."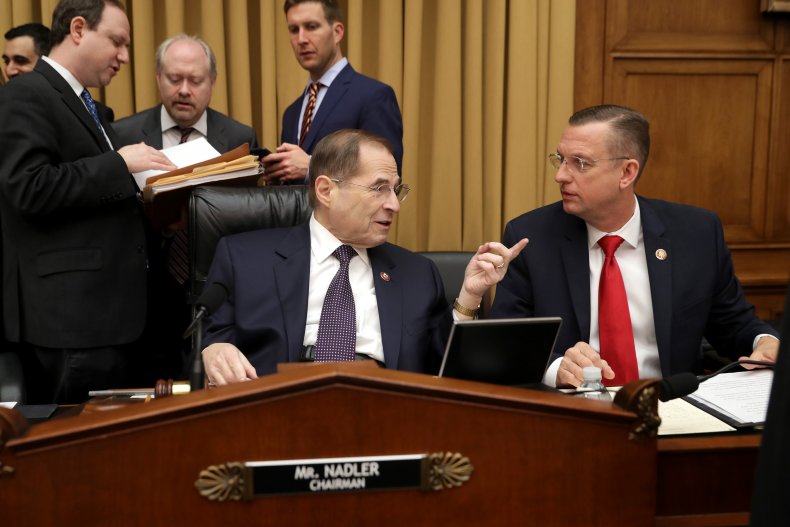 President Trump has pushed for "common sense background checks" and red flag laws while claiming Senate Majority Leader Mitch McConnell (R-KY) also supports expanding background checks. However, McConnell has kept his statements on the topic vague, emphasizing the Senate will address gun control once it returns from recess.
The House Judiciary Committee will debate the following pieces of legislation starting September 4:
Carbajal currently has 159 co-sponsors—157 Democrats and two Republicans, Brian Fitzpatrick of Pennsylvania and Christopher Smith of New Jersey. Smith added his name last week after two deadly mass shootings in Dayton, Ohio, and El Paso, Texas.
A similar bill, H.R. 3076, the Federal Extreme Risk Protection Order Act of 2019, will also be considered. Introduced by freshman Representative Lucy McBath (D-GA), it would allow officials at the federal level to temporarily confiscate firearms.
These types of gun reform proposals have, so far, received the most support from Republicans and have the best chance of advancing in the Senate. After a gunman killed nine people earlier this month in Dayton, Republican Ohio Governor Mike DeWine instituted a new "red flag" measure in the state.
McConnell has said there is a bipartisan group of senators working to craft gun control legislation that could include a similar provision.
Back in February, the House passed—mostly along partisan lines—universal background check legislation that Democrats continue to demand McConnell immediately address by recalling the Senate from recess for a vote. It would expand background check requirements to include all commercial and most private transactions and would close internet and gun show loopholes, among other things.
If it were to become law, H.R. 1112 would patch the loophole that allowed white supremacist Dylann Roof to buy a Glock 41.45-caliber handgun he used to kill nine people at a predominately black church in Charleston, South Carolina, in 2015. Current laws allow the purchase of a gun if an individual isn't flagged by a federal background check within three business days. This proposal would extend that window to 10 business days.
An error during the FBI background check process allowed Roof to purchase a firearm, even though a previous drug conviction should have made him ineligible.
"These should not be partisan issues, and it is my hope we can move forward on these matters with support on both sides of the aisle, including the president," Nadler said. "For far too long, politicians in Washington have only offered thoughts and prayers in the wake of gun violence tragedies. Thoughts and prayers have never been enough. To keep our communities safe, we must act."