What Gun Laws Passed in 2017? Trump Isn't Doing Anything About Gun Violence But States Are Stepping Up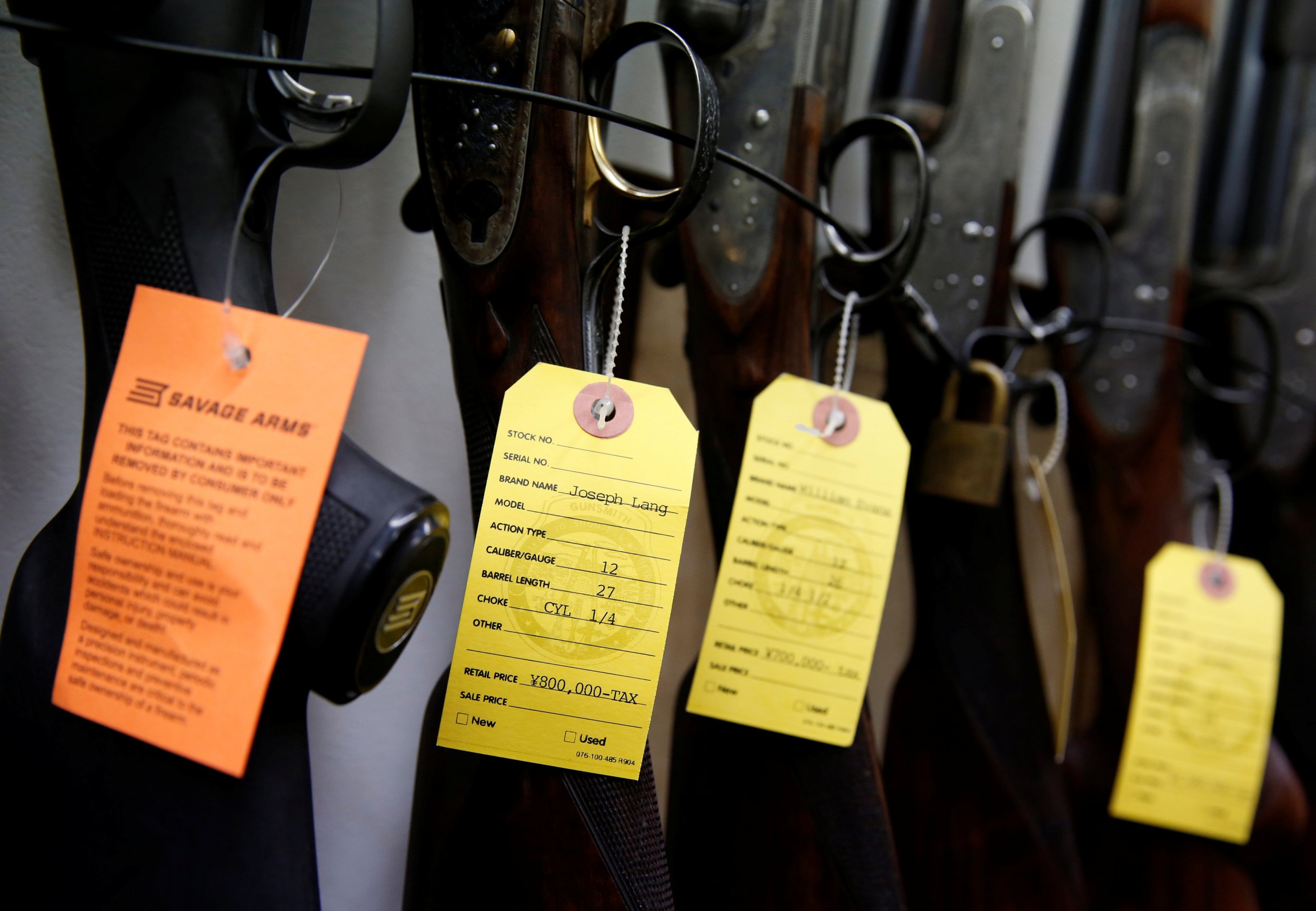 Despite the largest mass shooting in modern U.S. history in October, 2017 was not a momentous year for federal gun reform laws––in fact, none passed––but it was a pretty good year for state-level action. More than 30 laws preventing gun violence passed in state legislatures, and more than 200 have passed since 2013, according to a new report from a gun safety group.
This year, 1,684 firearms bills were introduced or voted on, according to the Giffords Law Center to Prevent Gun Violence, which releases a Trendwatch report twice a year to compile state gun laws. Their count includes only legislation that affects gun-related violence in some way—so, not bills that affect hunting hours, for example.
"The states are really moving the needle in a way that Congress at the federal level is absolutely not," Robin Lloyd, director of government affairs for Giffords, told Newsweek.
The combination of President Donald Trump, who has promised to protect Second Amendment rights and has been a staunch supporter of the National Rifle Association, and a GOP-controlled Congress may leave the onus for gun reform on states for the coming years.
Here are a few of the topic areas gun laws covered this year:
Hate Crimes
The convergence and violence of white nationalists in Charlottesville this summer sparked a wave of fear about the resurgence of hate crimes many Americans thought had died out long ago––some states responded by banning guns for those convicted of hate crimes.
California, in response to Charlottesville, passed a law that would ban those convicted of hate crimes from owning guns. Sponsored by Assemblyman Reggie Jones-Sawyer, the bill will go into effect on January 1.
"The recent incident in Charlottesville, where heavily armed neo-Nazis, Klansmen and white supremacists, spewing hatred and inciting violence under the guise of protecting free speech and the right to bear arms, is not what the founding fathers of this great nation were protecting when they drafted our Constitution," Jones-Sawyer told the Los Angeles Times.
Many states have not yet followed suit, but members of Congress have tried to put a similar law into effect on the federal level. Just before the one-year anniversary of the Pulse Nightclub shooting in Orlando, Senator Bob Casey (D-Penn.) and Representative David Cicilline (D-R.I.) introduced measures to ban Americans convicted of misdemeanor hate crimes from owning guns. The legislation has not made it to the House floor for a vote yet.
Domestic Abuse
The links between domestic abuse and gun violence are some of the most data-backed parts of the gun debate: American women are 16 times more likely to be killed by a gun than women in other developed countries, according to a 2016 paper published by the NIH. And indeed, several recent mass shooters in the U.S. exhibited histories of domestic violence, including Devin Kelley, in Sutherland Springs, Texas, and Omar Mateen, in Orlando, Florida.
Several states this year passed laws acknowledging this trend: among them are Louisiana, Maryland, New Jersey and North Dakota.
Sponsored by Republican state Representative Patrick Connick, Louisiana's HB27 signed into law the inclusion of same-sex partners to the state's definition of "household member," for the purpose of protection from domestic violence. Louisiana already barred those convicted of misdemeanor domestic abuser from owning guns for 10 years after their sentencing, but did not include same-sex marriages into those protections.
Rhode Island's H5510, known as the Protect Rhode Island Families Act, bans people convicted of domestic violence from owning guns, and sets up a process to make sure they surrender their guns within 24 hours of being served with a protective order.
Tennessee's HB1112 closed a loophole many states' domestic violence laws face—they prevent convicted abusers from buying new guns, but don't take them away. The new law in Tennessee sets up a process to do that within 48 hours of a conviction.
Background Checks
Mandating background checks has been one of the biggest goals of gun safety groups and Democrats for years—particularly since the Sandy Hook Elementary School shooting of 2012. The failed attempt at passing the Manchin-Toomey Bill after that shooting has for years been a major blow to Democrats and a symbol of the barriers to their policy fight.
Though federally licensed dealers are required to perform background checks, there are holes in that system—it doesn't apply to gun shows or other private sales, and it only gives federal agents 72 hours to complete a background check, and at that point, the purchase is allowed to go forward. Some states have been trying to close these loopholes, with laws strengthening various aspects of background check systems.
In Hawaii, HB459 was passed in June and requires law enforcement agencies to provide written notice if someone is denied a permit because of federal or state law.
In Washington state, HB1501 became law in May and requires that dealers notify law enforcement within two days when they deny a gun purchase because the buyer is not eligible to purchase a firearm under federal or state law.