Gun Owners Can Soon Carry Concealed Weapons Without Permits in Alabama
Over the objection of law enforcement, Alabama's governor has signed a bill allowing citizens to legally carry concealed guns in public without training or a license.
Republican Governor Kay Ivey on Thursday signed House Bill 272, making Alabama the 22nd state to pass so-called "constitutional carry" legislation. Proponents of the GOP-backed bill say it defends the Second Amendment rights of law-abiding gun owners. However, both advocacy groups and law enforcement associations argue it knocks down important guardrails and will add to the state's already high rate of gun violence.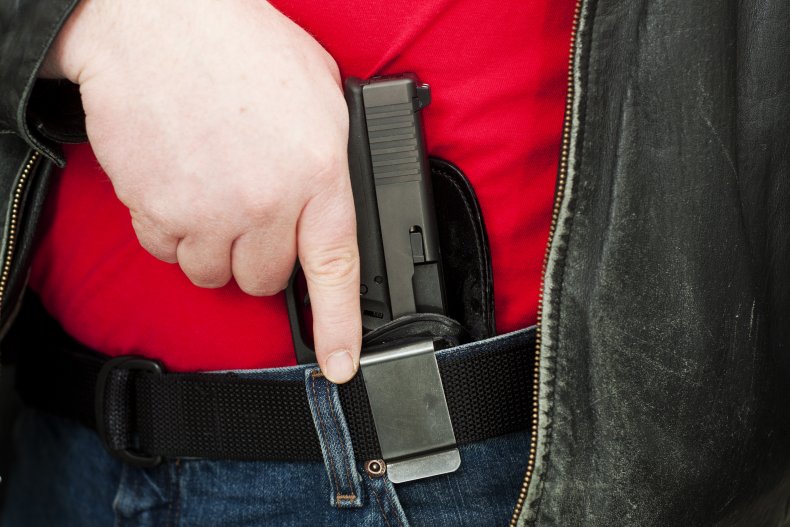 The legislation applies to adults 21 years of age or older, allowing those legally eligible for a firearm permit to obtain and carry a concealed gun without having to meet training and permitting requirements. The National Rifle Association (NRA) hailed the bill as a guarantee "that citizens have their right to self-defense without red tape, delays, or fees." The bill will also not affect previously issued permits, and allows citizens to still obtain a permit so they can carry in other states, according to the NRA.
But the Alabama chapter of gun safety group Moms Demand Action said the bill will make the state less safe. Alabama has the second-highest rate of gun violence in the U.S. with an average of 1,090 people killed and 3,422 wounded by firearms each year, according to the group.
Susan Kirkpatrick, a volunteer with the Alabama chapter of Moms Demand Action, said in statement last month as the bill advanced through the Republican-dominated legislature that lawmakers "ignored research, reason, and expertise — choosing violence over public safety and jeopardizing the wellbeing of our communities."
"This vote has moved us another step in the opposite direction of where we should be headed," she added.
The bill was opposed by the Alabama Sheriff's Association, Association of County Commissions of Alabama and the Alabama Association of School Resource Officers who held a press conference in February, reports WHNT.
The Alabama Sheriff's Association told the station that the legislation is a "grave threat" to law enforcement amid rising crime rates. The association said the bill "will allow dangerous criminals to avoid background checks or other security checks" while making it easier for people to carry guns more easily into businesses and schools.
"This bill will give Alabama citizens the right to self defense without having to purchase a permit," Republican Representative Shane Stringer said in a Facebook post Thursday.
Stringer was fired from his job as a deputy last year by Mobile County Sheriff Sam Cochran, a Republican, for backing a previous version of the bill that didn't make it through the Legislature, according to Alabama Political Reporter.
Stringer said he stood by his decision.
"The Second Amendment gun rights of Alabamians are under attack from a liberal federal government that is out of control and even from some factions right here at home," Stringer told the news outlet. "After dedicating my life and career to law enforcement, losing a job because I stand in support of Alabama gun owners is certainly surprising, but nothing will discourage me from defending the constitutional guarantees promised to all of us as American citizens."
Newsweek has reached out to Stringer, the Alabama Sheriff's Association and Moms Demand Action from comment.