Gun sales have risen from 2019 to 2020, and two online trackers have shown that the number of mass shootings and related injuries and deaths this year will rival those from last year. This is despite COVID-19 lockdowns and added restrictions to people's access to public spaces.
Data from the Gun Violence Archive (GVA) shows that in 2019, there were 417 mass shootings with 1,707 wounded and 465 deaths. Comparatively, in 2020, there have been 500 mass shootings with 2,089 wounded and 385 deaths so far.
Data from the Mass Shooting Tracker (MST) shows that in 2019, there were 503 mass shootings with 1,902 wounded and 628 deaths. Comparatively, in 2020, there have been 589 mass shootings with 2,374 wounded and 530 deaths so far.
The GVA is a not-for-profit corporation that tracks and double-verifies shooting information from more than 7,500 sources that include local and state police, media, data aggregates and government data. The MST is an organization that crowd-sources mass shooting data and verifies each using media reports.
The GVA and MST both define a mass shooting as one where four or more people are shot or killed in a single shooting spree. The GVA's data doesn't include shoot-outs in which multiple shooters trade gunfire. As such, the MST's numbers are a bit higher.
Some have criticized GVA and MTA's definition of "mass shootings" as too broad for including instances of gang violence and domestic violence, which some see as different from incidents involving a lone shooter or accomplices gunning down strangers in a public place, according to The Washington Post.
The federal government doesn't currently track mass shootings, nor does it have a standard definition to even define what a mass shooting is, The Post continues. The federal government does track information on mass killings that occur through various weapons, but it only tracks these incidents if three or more people die, and it excludes incidents that result in injuries but no deaths.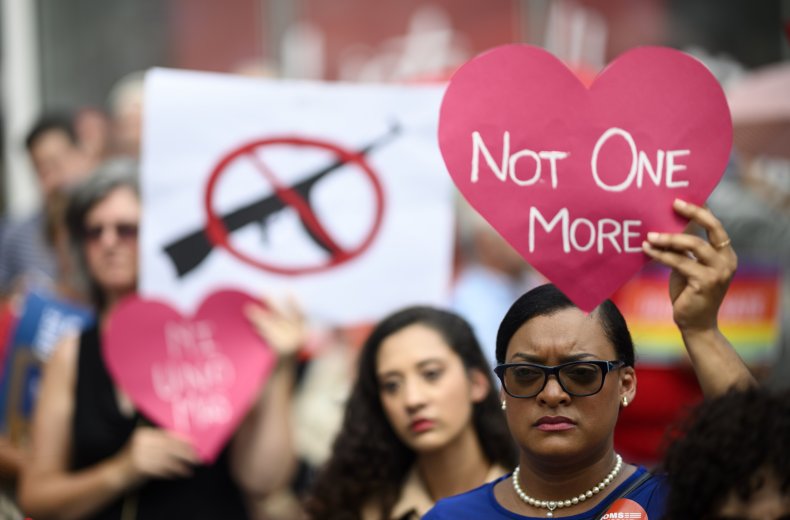 Gun sales have skyrocketed this year compared to last year, with background checks for gun purchases up 72 percent from January through July 2020, compared to the same period last year, according to The National Shooting Sports Foundation. In July 2020, the foundation told NPR that 40 percent of all firearms were being sold to first-time gun owners.
In a July report, the Brookings Institute, a D.C.-based think tank, said 3 million more firearms had been sold from March to June 2020 than had been sold the year before. The institute said the increase could be a possible consequence of the COVID-19 shutdown and civil unrest following the murder of Black Minneapolis resident George Floyd by a white police officer.
Newsweek contacted the GVA and MST for comment.