Gunman Kills Teenage Girl By Shooting Her at McDonald's Drive-Thru Window, Police Say
A teenage girl working at a McDonald's drive-thru has died after a gunman shot her through the window, police say.
Kylee Leniz, aged 16, of Elko, Nevada, was working at the fast-food chain just off Interstate 80 when a man pulled up and shot her as she worked the window at about 9.30 p.m. on Sunday.
The teenager was rushed to a local hospital but she was later pronounced dead.
Now detectives have arrested 24-year-old Justin Michael Mullis of Winnemucca, Nevada, over the killing.
Police told local media that there appeared to be no connection between the suspect and Leniz and that the crime appeared to be random.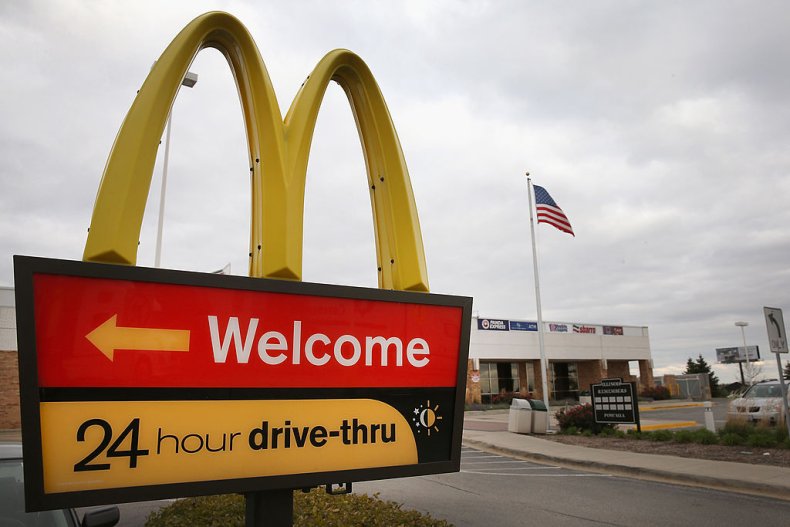 Fox 13 reported that Mullis was driven to the police station by an acquaintance on Monday afternoon.
He was interviewed by detectives and charged with one count of "Open Murder", the Elko Police Department told the news channel.
The killing is the latest violent incident to have occurred at a fast food restaurant since the COVID-19 pandemic began.
Last week Newsweek reported how a man allegedly opened fire at a McDonald's drive-thru in a disagreement over change, police said.
The incident occurred at around 9 p.m. on October 27 at the fast food outlet in Shields and Brawley Avenues in Fresno, California.
Police say the man was at the drive-thru when he pulled out a gun after an altercation over change.
The unnamed man is then alleged to have fired shots into the air before going on to a nearby liquor store where he is also accused of firing a gun with the bullet entering an apartment around half a mile away, local media reported.
The bullet hit a dresser inside the building and no-one was injured.
Prior to that, Newsweek reported that police were hunting a man who allegedly fired shots into a KFC drive-thru in Tennessee after being given the wrong food order.
Detectives said a man in a grey Freightliner semi-truck pulled up at the fast food outlet at 6262 Winchester, in Memphis, and placed an order at the drive-thru window on October 10.
They said he initially drove off after receiving the order but later returned to the window demanding a refund, saying he had been given the wrong food.
The cashier handed over the money and the man then pulled away before firing gunshots into the building, police said.
Although no-one was injured during the incident, police said the bullets shattered glass and damaged several walls.
And at the beginning of the month a mother was seen on video ranting at McDonald's staff because they forgot to give her children ketchup.
The woman was filmed as she launched a vicious tirade at staff working at a drive-thru in Belgium.
During the clip, posted to Twitter, the woman goes up to the order hatch and starts shouting and pointing her finger demanding ketchup, or "sauce" as it is more commonly known in Europe.
Two people who were sitting in a car filmed the angry outburst which was seemingly sparked because staff had not included any ketchup with her takeaway meal.
During the tirade, the woman hurled insults at staff calling one man a "dirty son of a w****" and addressing another staff member as a "dirty w****," reported local media.
The woman says: "Give me my sauce, I paid for it. My children do not eat fries without sauce."