A mother has been captured on video ranting at McDonald's staff because they forgot to give her children ketchup.
The woman was filmed as she launched a vicious tirade at staff working at a drive-thru in Belgium.
During the clip, posted to Twitter, the woman goes up to the order hatch and starts shouting and pointing her finger demanding ketchup, or "sauce" as it is more commonly known in Europe.
Two people who were sitting in a car filmed the angry outburst which is understood to have happened on Saturday and was seemingly sparked because staff had not included any ketchup with her takeaway meal.
During the clip, the mother shouts that she had repeatedly asked staff whether the order was complete before driving off and having been assured it was, she left.
However, the mother claimed that as she started driving "all the way back to Sint-Niklaas" with her children, one of them discovered that the sauce was missing.
During the tirade, The Brussels Times reported that the woman hurled insults at staff calling one man a "dirty son of a w****" and addressing another staff member as a "dirty w****."
The woman says: "Give me my sauce, I paid for it. My children do not eat fries without sauce."
When a male employee asks for her receipt, she threatens to call the police if he does not provide the ketchup immediately.
The staff member tells her to "please, go ahead and do that," adding that he will call the police as there is camera footage of when she allegedly assaulted his female colleague to which she replies that she doesn't care.
It is understood the video was recorded by different customers and when the woman realizes she is being filmed, she demands the footage is removed and threatens to call her brother before the video ends.
It is not the first time McDonald's staff have been victimized by angry customers during the COVID-19 pandemic.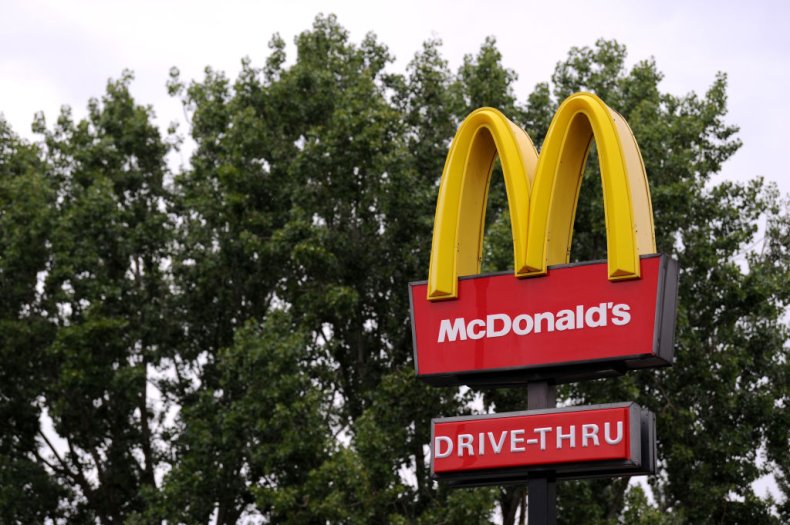 Last month a woman was jailed after she climbed through the window of a McDonald's drive thru and attacked three employees because she did not get a cookie.
Daja Tucker struck at the fast food outlet in Snow Road, Parma, Ohio, spitting at one employee who had been handing out free food to first responders on duty during the COVID-19 crisis.
Tucker was jailed for 90 days following the attack which was described as "shocking."
In a video played to the Parma court, Tucker can be seen attacking the young employees.
Parma Municipal Judge, Timothy Gilligan, found her guilty of attempted assault and criminal damage as part of a plea deal.
He told her: "And because you didn't get a cookie you come through the window and do this, absolutely inexcusable."