Gunman Kills 12 in California Bar Rampage: 'He Didn't Say Anything at All, He Just Started Shooting'
At least 12 people have been killed after a gunman opened fire at a bar in Thousand Oaks, California, which was full of hundreds of college students.
The Ventura County Sheriff's Office said they received a call of an active shooter inside the Borderline Bar and Grill at 99 Rolling Oaks Drive at 11:20 p.m. local time.
Sheriff Geoff Dean, of the Ventura Sheriff's Office, said that 12 people are confirmed to have been killed, including one deputy identifed as Ron Helus.
Dean described Helus as a "hardworking, dedicated" sergeant during a press conference. "Tonight, he died a hero as he went in to save lives."
Read More: Who Is the California Bar Shooter? Ian Long Used Glock .45 Handgun in Thousand Oaks Mass Shooting
The gunman was found dead inside the building after officers entered it. No further information about the suspect has been released by authorities.
Officers from the Ventura County Sheriff's Office and California Highway Patrol said that around 30 shots had been fired during the attack.
A major police operation was launched following reports of an active shooter, with authorities warning people to stay away from the area.
People inside the bar have described the chaos after the suspect started opening fire.
"I was at the front door and I was talking to my stepdad. I just started hearing these big pops. Pop, pop, pop ," John Hedge told ABC7 Eyewitness News.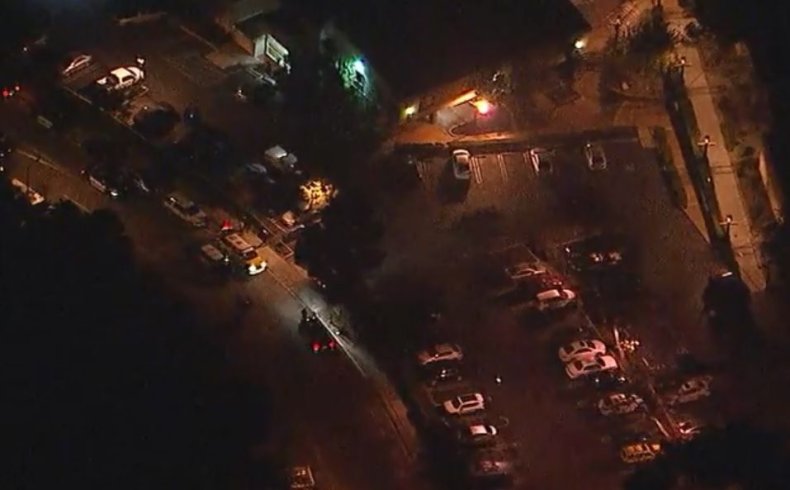 "The gunman was throwing smoke grenades all over the place. I saw him point to the back of the cash register...and he just kept firing. I ran out the front door." Hedge reported seeing the bar's security guard being shot, although this has not been conformed by authorities.
Tim, Hodge's stepfather, also gave a tearful account of the shooting, apologizing for not helping those inside when the attack broke out.
"He fired the first shot. I knew it was live and real. I thought it was a joke. I went down and got cover and looked up and he was moving to the right," he said.
"He shot the bouncer. He shot the cashier, just a young girl, and started moving to the right. He didn't say anything at all. He just started shooting. I should have stayed but I was worried about my boy. I apologize to anyone that got hurt.
"They're all young. This shouldn't have happened. It was just some low life taking lives that shouldn't have been taken. They were just young people, 18, 19, 20, having a great time. This maniac just came in and started shooting people for no reason at all. They're kids, just kids, I'm so sorry."
Tayler Whitler, 19, said the gunman was wearing something which looked like a ski mask and a long dark trench coat. "It was really, really shocking," Whitler told KABC-TV. "It looked like he knew what he was doing."
Student Nick Steinwender said, "It was chaos, people jumping out of windows, hopping over gates and just trying to get out."
The Borderline Bar and Grill is a Western-style themed bar known for its large dance floor and live music events. At the time of the shooting it was hosting a college night and country two-step lessons, according to the website.
Update: This story has been updated to include the confirmation of the number of fatalities.