Who Is the California Bar Shooter? Ian David Long Used Glock .45 Handgun in Thousand Oaks Mass Shooting
The man who opened fire at a bar in Thousand Oaks, California, late Wednesday evening has been identified as 28-year-old Ian David Long, according to law enforcement officials briefing the news media.
Shooting broke out at approximately 11:20 p.m. PT (2:20 a.m. ET) at the Borderline Bar & Grill, leaving at least 12 people dead, one of them a police sergeant. At least another 23 people were believed to have been injured.
Ventura County Sheriff Geoff Dean said in a news conference at the scene that the gunman, whose motive remains unknown, used a .45 caliber Glock 21 handgun to carry out the shooting. Long was found dead on the premises. He is believed to have acted alone and to have taken his own life shortly afterward.
Dean said Long was known to his department. In April, officers were called to the former Marine's home where deputies found him acting irate and irrationally. The department had previously encountered Long on two other occasions, when he had been the victim of battery at a bar, and in a traffic accident.
Officers from the Ventura County Sheriff's Office and California Highway Patrol said that around 30 shots had been fired at the venue. Dean said police arrived at the Borderline Bar & Grill three minutes after a call was made to 911.
"It's a horrific scene in there," Dean said. "There's blood everywhere. Obviously for someone to do this, you have to have some kind of mental illness. And we have people with mental illness all across the country."
One of the victims has been identified as Ventura County Sheriff's Sergeant Ron Helus, who was among the first responders and was shot multiple times upon entering the venue.
Helus, a 29-year veteran sheriff's sergeant, was subsequently hospitalized but died from injuries sustained in the shooting.
Dean described Helus as a "hardworking, dedicated" sergeant during a news conference. "Tonight, he died a hero as he went in to save lives," he said.
Read more: Dozens of Vegas Route 91 Festival Shooting Survivors Caught Up in Thousand Oaks Bar Mass Shooting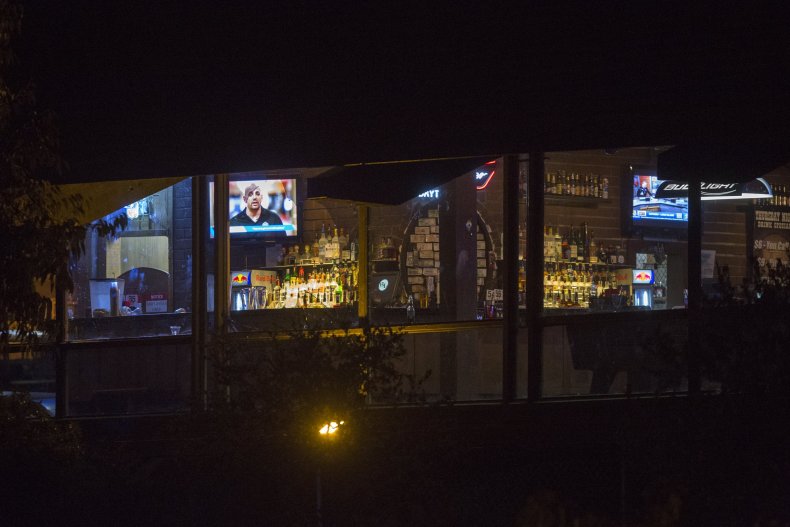 Eyewitness John Hedge, who was inside the bar at the time of the shooting, said the suspect threw smoke bombs while firing.
"I was at the front door and I was talking to my stepdad. I just started hearing these big pops; pop, pop, pop," Hedge told ABC owned-and-operated KABC-TV in Los Angeles.
"There was probably three or four. I hit the ground. I look up—the security guard is dead […] well, I don't want to say he was dead, but he was shot. He was down.
"The gunman was throwing smoke grenades all over the place. I saw him point to the back of the cash register […] and he just kept firing. I ran out the front door."
Tayler Whitler, 19, said the gunman was wearing something which looked like a ski mask and a long dark trench coat. "It was really, really shocking," the witness told KABC-TV. "It looked like he knew what he was doing."
The bar described as the county's "Largest Country Dance Hall & Live Music Venue."
It hosts theme nights, such as country, and swing dancing, and is a popular spot for students in the area as it's located a few miles from California Lutheran University and California State University.
According to the venue's website, Borderline hosts College Country Nights between 9 p.m. and 2 a.m. on Wednesdays.
Released in 1990, the Glock 21 carries 10 rounds of .45 ACP in a flush internal magazine and weighs 38.48 ounces when loaded. The gun was released with an eye toward law enforcement service, military and home defense but failed to make significant inroads in the first two categories. In 2007, Glock released an updated version of the gun, the Glock 21 SF, which was designed to compete for a Department of Defense contract.
This incident has concluded, and this story is no longer being updated.