Dozens of Vegas Route 91 Festival Shooting Survivors Caught in Thousand Oaks Bar Mass Shooting
Dozens of people who survived the Route 91 Harvest music festival mass shooting in Las Vegas in October 2017 were also caught in the attack at a bar in Thousand Oaks, California, according to a witness at the scene, and friends and relatives who spoke to the media.
At least 12 victims have been confirmed dead after the mass shooting inside the Borderline Bar & Grill at 99 Rolling Oaks Drive, including a sheriff's deputy who was one of the first on the scene. It is not known if any of the victims were among the Route 91 survivors.
A number of people have described how either they or their friends were present at the country music festival at which 58 people were killed and 851 injured as gunman Stephen Paddock fired down on the crowd from his room at the adjacent Mandalay Bay hotel.
"I was at the Las Vegas Route 91 shooting, as well as probably 50 or 60 others who were in the building at the same time," Nicholas Champion told CBS affiliate WPRI-TV. "It's a big thing for us, we're all a big family and unfortunatly this family got hit twice."
Read more: Who Is the California Bar Shooter? Ian Long Used Glock .45 handgun in Thousand Oaks Mass Shooting
Savannah Stafseth, who was outside on the patio when the shooting started, said it was "not fair" that people who survived the worst mass shooting in modern U.S. history have also been caught up in this attack.
"There are no words. Those are my people. It's just not fair. It's not fair," Stafseth told the Los Angeles Times. "All these people after Route 91. It's not fair."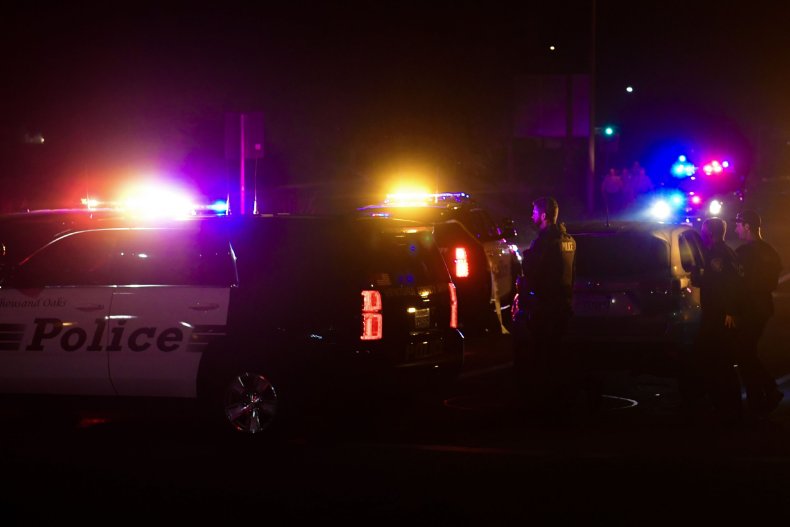 Chandler Gunn told the Times that his friend who survived Route 91 worked at the Borderline Bar on the night of the shooting. "There's people that live a whole lifetime without seeing this, and then there's people that have seen it twice." Gunn confirmed his friend had survived the shooting.
Carl Edgar, who was not at the bar, confirmed that about 20 of his friends who were there were Route 91 survivors. He told the Times: "As far as I know, all of my friends are OK, safe. There are a few people we can't get a hold of, but in these situations people usually turn off their phones to be safe, so I'm not going get too worried. A lot of my friends survived Route 91. If they survived that, they'll survive this."
Police have confirmed that the gunman was found dead after officers entered the building. Police have identified the suspect as Ian Long. No further information about the gunman has been released at this time.
Ventura County Sheriff Geoff Dean said at a news conference, as reported by CNS News: "I've been a cop for 41 years, and I never thought I would see the things around the country that would happen. But I've learned, it doesn't matter what community you're in, it doesn't matter how safe your community is. It can happen anywhere."