Who Was Sergeant Ron Helus? Hero Police Officer Died 'Saving Lives' in Thousand Oaks Mass Shooting
The sheriff's deputy who was killed responding to a mass shooting in Thousand Oaks, California, late Wednesday night, was identified as Sergeant Ron Helus, a 29-year department veteran, who was set to retire next year.
Helus was one of 12 people who were killed after a gunman opened fire inside the Borderline Bar & Grill around 11:20 p.m.
Confirming the number of casualties during an emotional press conference, Ventura County Sheriff Geoff Dean described Helus as a "hardworking, dedicated" officer.
"There's no way to describe this. It saddens us all and tears at our emotions," Dean said.
"He was totally committed. He gave his all. Tonight, as I told his wife, he died a hero because he went in to save lives, to save other people," Dean said while on the verge of tears.
Helus, who had served the department for 29 years, was looking forward to retiring sometime next year, Dean said.
Helus was reportedly one of the first to arrive at the scene after the shooting broke out. He was shot multiple times and taken to a nearby hospital, where he later died from his injuries.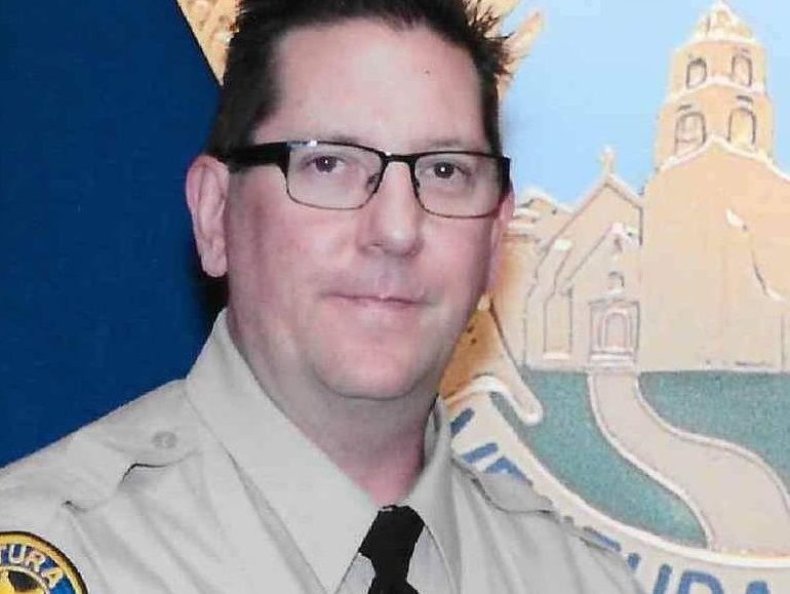 He leaves behind a wife and son.
Police have not revealed the identities of the other victims of the mass shootings, nor the exact number of injured. Dean confirmed the gunman was found dead inside the building as officers entered.
"It's a horrific scene in there," Dean said at the news conference. "There's blood everywhere."
Authorities said they do not know if the shooting was terror-related. "I've been a cop for 41 years, and I never thought I would see the things around the country that would happen," Dean said.
"But I've learned it doesn't matter what community you're in, it doesn't matter how safe your community is, it could happen anywhere. Because obviously for someone to do this, they have to have some sort of mental illness, and sadly, we have people with mental illness all over the country."
At the time of the shooting, the bar was holding a college night and country two-step lessons and was believed to have had hundreds of patrons inside. Eyewitnesses described the chaos inside the bar after the gunman began opening fire.
Tayler Whitler, 19, said the gunman was wearing something that looked like a ski mask and a long dark trench coat. "It was really, really shocking," Whitler told KABC-TV. "It looked like he knew what he was doing."
Student Nick Steinwender said: "It was chaos, people jumping out of windows, hopping over gates and just trying to get out."