A Republican Senate candidate is being criticized for airing an ad depicting himself in an Old West-style shootout with opponent Mark Kelly, whose wife was shot and nearly killed 10 years ago.
The ad posted online Thursday targets Kelly, a Democrat seeking to keep his Senate seat in a state President Joe Biden narrowly carried in 2020. It features Republican candidate Jim Lamon as a frontier-era lawman squaring off with the "D.C. Gang." The trio of masked outlaws are thinly veiled references to Kelly, presented as "Shifty Kelly"; Biden, presented as "Old Joe"; and House Speaker Nancy, presented as "Crazyface Pelosi."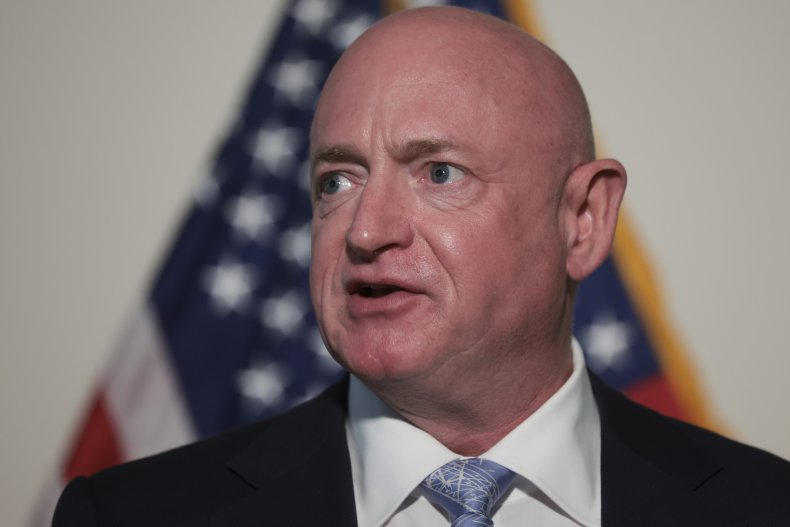 "Well, if it isn't Big Jim Lamon," the man resembling Biden says.
As Lamon confronts the D.C. Gang against the backdrop of an Old West town, a crowd of townspeople shout out grievances of "being pushed around," not wanting "open borders" and suffering high "gas prices."
"The good people of Arizona have had enough of you. It's time for a showdown," Lamon says, before shooting pistols out of the gangs' hands. The ad ends with the gang running away.
Shannon Watts, the founder of gun control group Moms Demand Action, responded with a tweet calling the ad "DISGUSTING," and referenced how Kelly's wife, former U.S. Representative Gabby Giffords, was shot in the head during a 2011 assassination attempt at a grocery store in Tucson.
The gunman killed six others, while Giffords continues her recovery from a serious brain injury. She's since retired from elected office and formed a gun law reform organization. In 2019, Giffords led chants of "vote them out" at a rally she held outside the National Rifle Association's (NRA) Fairfax, Virginia, headquarters.
"Republicans don't have any ideas to help you. And they can't win elections. So they've gone all in on using violence as a path to power," California Democratic Representative Eric Swalwell said in a tweet responding to the ad.
Lamon has been unrepentant about the ad, which he said on Twitter would run during the Super Bowl.
"I think I might single handedly solve the Arizona drought with all the snow flakes that are melting over my Super Bowl ad," Lamon said in a tweet responding to Swalwell.
Newsweek has reached out to Lamon's campaign. Kelly's campaign declined to comment.
Kelly, a Navy captain and NASA astronaut, won the Senate seat in a 2020 special election with 51 percent of the vote. He'll go before the voters again in 2022.
Lamon will face off with other Republicans for the party's Senate nomination in August.