Guy Reffitt's Daughter Calls for 'Life in Prison' for Donald Trump Over 1/6
The daughter of a man who has been handed the longest custodial sentence so far in connection to the Capitol riot has said that Donald Trump "deserves life in prison" for his role over January 6.
Guy Reffitt, 49, of Wylie, Texas, was the first of the hundreds of defendants to stand trial in connection to January 6.
He was found guilty of all five charges—two counts of civil disorder, and one count each of obstruction of an official proceeding, entering and remaining in a restricted building or grounds with a firearm, and obstruction of justice—in March, and was sentenced to more than seven years in prison on Monday.
Shortly after the sentence was handed down to Reffitt—a member of the far-right Three Percenters militia group—his daughters, Sarah and Peyton Reffitt, spoke to reporters outside the court in Washington, D.C.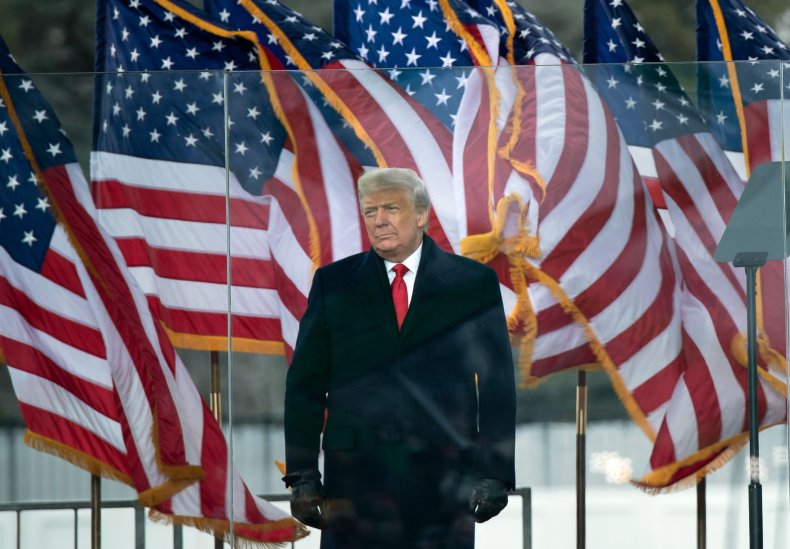 "To mark my dad as this horrible person, and then having him prosecuted like this, when somebody is maybe even able to get elected again? Doesn't seem right to me," Sarah Reffitt said.
"Trump deserves life in prison if my father is in prison for this long," Peyton Reffitt said.
Peyton Reffitt had previously written a letter to the judge to say that the former president had influenced her father's actions on January 6, and like a lot of "middle-aged white men," Guy Reffitt "fell to his knees" when Trump spoke.
"President Trump deceived my father and many other normal citizens with families to believe that this past election was fraudulent," the 18-year-old wrote, via CNBC.
Speaking in court during the trial, Peyton Reffitt denied that her father was leading the riot on January 6. "My father's name wasn't on all the flags that were there that day, that everyone was carrying," she said. "It was another man's name."
Trump has been contacted for comment.
A large number of Capitol riot suspects have blamed Trump for inciting the riot, or told authorities they were at the Capitol that day because they were acting on the former president's behalf or that he specifically told them to march to the building.
While he did not enter the Capitol on January 6, Guy Reffitt recorded himself encouraging others to storm the building and push past officers holding the police line.
He also sent messages recruiting other members of the Three Percenters to encourage them to come to the nation's capital that day, writing: "We will strike the match in D.C. on the 6th."
Guy Reffitt, who was armed with a handgun on January 6, wanted to specifically target Speaker of the House Nancy Pelosi and then-Senate Majority Leader Mitch McConnell that day. Prosecutors said that he planned to "physically drag Speaker Pelosi out of the Capitol Building by her ankles" during the disorder.
Guy Reffitt carried a megaphone and had a camera mounted on his helmet during the riot. He made a number of statements which were recorded on camera, including one while at the Ellipse saying: "We're taking the Capitol before the day is over."
While standing outside the Capitol on the stairs leading up to the Senate wing, Guy Reffitt said: "I said I wasn't leaving till I got in there. I didn't make it in there. But I started the fire."
Guy Reffitt was arrested after being turned in by his own son. Guy Reffitt's wife told authorities that on January 11, 2021, he threatened her, their son, and one of their daughters with words to the effect of: "If you turn me in, you're a traitor and you know what happens to traitors...traitors get shot."
Following his prison term, Guy Reffitt will be placed on three years of supervised release. He also must pay $2,000 in restitution.
"Guy Reffitt came to the Capitol on Jan. 6 armed and determined to instigate violence," said Matthew M. Graves, U.S. Attorney for the District of Columbia.
"In his own words, his goal was to take the Capitol 'before the day is over.' He and others contributed to the many assaults on law enforcement officers that day, putting countless more people—including legislators—at risk. The jury's verdict and today's sentence hold him accountable for his violent, unconscionable conduct."