'Traitors Get Shot': Capitol Rioter Accused of Threatening Children if They Turned Him In
A member of a right-wing militia group who is accused of taking part in the attack on the Capitol allegedly threatened to shoot his children if they turned him in to authorities.
Guy Reffitt, of Wylie, Texas, is accused of obstruction of justice and unlawful entry in connection with the insurrection at the Capitol on January 6.
According to an affidavit signed by FBI special agent Thomas Ryan, Reffitt was seen at the Capitol building in Washington, D.C. washing eyes out with water after allegedly being hit with pepper spray while in the restricted area during the riot.
It is unclear if Reffit was pepper-sprayed by police or other rioters who were using the substance to attack officers.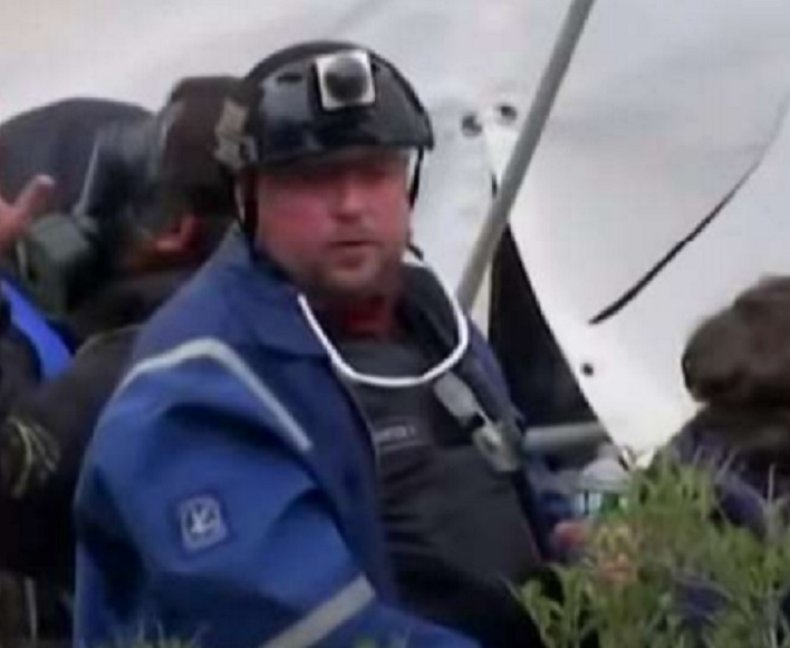 On January 16, FBI agents executed a search warrant on Reffitt's home. During the search, Reffitt's wife, juvenile daughter and adult male son were also present.
According to the affidavit, the son told authorities that Reffitt admitted to being in Washington on January 6 having "stormed the Capitol." On January 11, Reffitt told the family that he had to delete his Go Pro footage that he filmed on the day of the attack as the FBI were now watching him.
The son said that Reffitt told him that if he went to the police that his father would have no option but to "do what he had to do" for the country.
When the son asked if this was a threat, Reffitt replied, "Don't put words in my mouth." The son told the FBI he took Reffitt's comments to be a threat to his life.
Reffitt is alleged to have told his minor daughter that if she used her phone to tell her friends that he was at the Capitol he would "put a bullet" through it.
Reffitt's wife also told authorities that on January 11, her two children said Reffitt threatened them with words to the effect of: "If you turn me in, you're a traitor and you know what happens to traitors...traitors get shot."
The wife said she did not believe Reffitt would act on his words and that the children were more "disturbed" by his "extreme" statements.
The wife said Reffitt told her he was "trying to protect the family, and if someone was a traitor then that's what's going to happen."
The wife added that Reffitt is a member of the Three Percenters, a right-wing militia group known for their violent rhetoric.
Their name is a reference to a dubious claim that only three percent of American colonists fought against the British during the War of Independence.
The Anti-Defamation League says the Three Percenters view themselves as "modern day versions" of revolutionaries who are fighting against the U.S. government rather than the British.
Reffitt stated to agents that he was at the Capitol on January 6 but he did not go inside.
During the search of his home, FBI agents located an AR-15 rifle and a Smith & Wesson pistol.
Reffitt admitted he brought the Smith & Wesson pistol on his drive from Texas to Washington, D.C., on or around January 6, 2021, and disassembled it to comply with the firearm laws in Washington, D.C.