Hammer thrower Gwen Berry has found herself at the center of controversy after turning away from the U.S. flag while The Star Spangled Banner was being played.
On Saturday, Berry was standing on the podium after finishing third in the U.S. Olympic Trials in Eugene, Oregon, which entitles her to compete at the Tokyo Olympics, when she turned her back on the Stars and Stripes as the anthem began playing.
Here's a breakdown of the controversy.
What did Gwen Berry do?
Berry turned away from the American flag as The Star Spangled Banner began playing while she was on the podium with winner DeAnna Price and second-place finisher Brooke Andersen. Price and Andersen stood still, hands on hearts, and turned to face the flag, while Berry shuffled her feet and turned to face the stands instead.
She then draped over her head a T-shirt that featured the words "activist athlete."
Who is Gwen Berry?
A native of St. Louis, Missouri, Berry attended Southern Illinois University and earned NCAA All-American honors in the shot put and weight throw indoors and hammer throw outdoors in 2010, before turning professional a year later.
Having failed to make the U.S. team for the London 2012 Olympics, a year later Berry won the first of her three national indoor titles in the weight throw—the indoor equivalent of the hammer throw—and in 2014 she claimed her first major international event, winning the gold medal in the hammer throw at the Pan American Sports Festival in Mexico City.
Berry defended her national title in 2014 and recaptured it in 2016, before representing Team USA at the Rio de Janeiro Olympics in the same year and winning the national title in the hammer throw in 2017. A year later she set a new personal record in the hammer throw with a measure of 77.78 meters, the sixth-best throw in history, and won the gold medal at the Pan American Games in Lima, Peru, in 2019.
Her triumph was marred by controversy, as Berry raised her fist during The Star Spangled Banner to protest against racism and as a tribute to her family.
The gesture saw her formally reprimanded and put on 12-month probation by the U.S. Olympic Committee.
"It is also important for me to point out that, going forward, issuing a reprimand to other athletes in a similar instance is insufficient," U.S. Olympic and Paralympic Committee CEO Sarah Hirshland wrote in a letter to Berry, a copy of which was obtained by The Associated Press.
Fencer Race Imboden, who took a knee on the podium at the Pan American Games, received the same letter.
In June 2020, when the USOC publicly supported peaceful protests against racial discrimination and condemned "the systemic inequality that disproportionately impacts Black Americans," Berry demanded an apology.
What has Gwen Berry said about it?
The 32-year-old claims she was set up on Saturday and that the anthem was deliberately played when she was on the podium.
"I feel like it was set up," she told The Washington Post. "I feel like they did that on purpose, and I was pissed, to be honest. I was thinking about what should I do.
"Eventually, I just stayed there and just swayed. I put my shirt over my head. It was real disrespectful. I know they did that on purpose, but it'll be all right. I see what's up."
The anthem started at 5:25 p.m. on Saturday. According to USA Track and Field spokeswoman Susan Hazzard, however, "the national anthem was scheduled to play at 5:20 p.m."
Speaking to The Associated Press, Berry added: "The anthem doesn't speak for me. It never has. [...] I'm here to represent those ... who died due to systemic racism. That's the important part. That's why I'm going. That's why I'm here today."
What has the response to Berry's gesture been?
Berry's decision to turn away from the U.S. flag has split public opinion.
DeAnna Price, who won the U.S. Olympic Trials on Saturday, defended her teammate.
"I think people should say whatever they want to say," she told The Associated Press.
"I'm proud of her."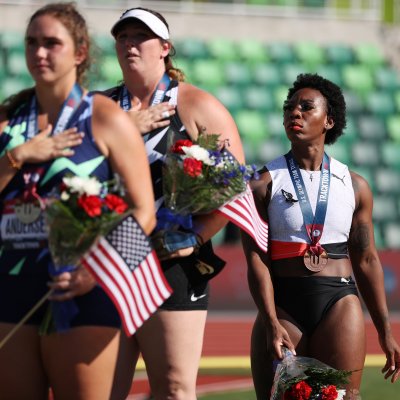 On Monday, White House press secretary Jen Psaki struck a similar tone.
"Part of that pride in our country means recognizing there are moments where we are, as a country, haven't lived up to our highest ideals," she told reporters.
"And it means respecting the rights of people granted to them in the Constitution to peacefully protest."
Senator Ted Cruz (R-TX), meanwhile, suggested Berry's gesture embodied what he perceived to be the left's hatred for America.
"Why does the Left hate America?," the prominent Republican wrote in a scathing Twitter post, as he shared an article by The Athletic reporting Berry's gesture.
Congressman Dan Crenshaw (R-TX) called for Berry to be removed from Team USA.
"We don't need any more activist athletes," Crenshaw said during an appearance on Fox News' Fox & Friends on Monday. "She should be removed from the team. The entire point of the team is to represent the United States of America."
Senator Tom Cotton (R-AR) told Fox News that if "Ms. Berry is so embarrassed by America, then there's no reason she needs to compete for our country" and Fox News anchor Sean Hannity said Berry intended "to apparently express her hatred for the country she wants to represent."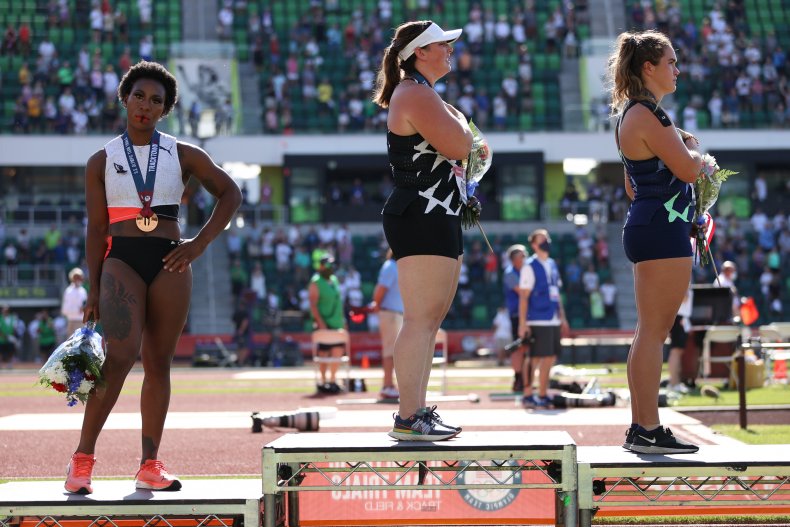 Uncommon Knowledge
Newsweek is committed to challenging conventional wisdom and finding connections in the search for common ground.
Newsweek is committed to challenging conventional wisdom and finding connections in the search for common ground.
About the writer
Dan Cancian is currently a reporter for Newsweek based in London, England. Prior to joining Newsweek in January 2018, he was a news and business reporter at International Business Times UK. Dan has also written for The Guardian and The Observer.