Gym Owner Asks Army Veteran to Take Off Trump T-Shirt Because It Made Gym Members 'Uncomfortable'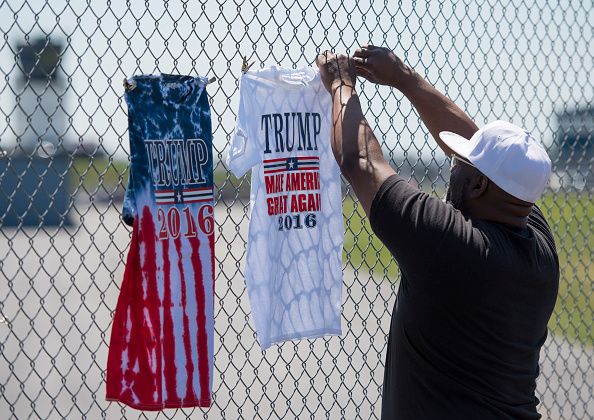 An Army veteran claims he was asked to remove his Trump 2016 T-shirt because he was making other gym members "uncomfortable."
Jake Talbot told KMOV-TV that he wore a shirt that read "2016 Trump for President" to CDY Fitness in Troy, Missouri, on Sunday. He claims the owner approached him and asked him to not wear the shirt again because it was offensive to her and other gym members.
"I was just puzzled there for a second. She said that it was racist and represents racism and that's when I when I was like 'oh, you're done," Talbot told the news station.
Talbot, who is reportedly an army veteran, said he has worn the shirt many times before to the gym and never had a problem until Sunday. He posted a 20-second video to Facebook following the incident.
"The owner Liz came up to me and said that Trump shirt I had on was offensive and said I needed to remove it in order to work out there, and that it is linked to racism. I hate the word, its used way too loosely. It's 2019, get the hell over it, it's not racism," Talbot said.
CDY Fitness owner Liz Drew told the St. Louis Post-Dispatch that she had posted a statement to the gym's Facebook page but had to remove the page due to the threats.
"I don't believe our gym should be a political forum for anyone," the statement on the Facebook read before it was taken down, according to the publication. "I want everyone to feel safe and comfortable there."
Drew told the St. Louis Post-Dispatch that Talbot had worn the shirt several times to the gym and other gym members began to complain about the t-shirt.
"This was about protecting the comfort level of all members and keeping politics out of my gym. Sadly, it has done just the opposite," she told the publication.
Talbot told KDSK that he was offered a free year membership at another nearby gym following his viral Facebook post.
"That's my commander in chief," he told the news station. "He's doing a job and everyone needs to support him. I think he's doing a good job. I'm tired of the split, divide of the whole country."
Drew, who purchased the gym in December 2017 after working there for 10 years, told the St. Louis Post-Dispatch she had lost two other members since Talbot's Facebook post, but 10 new members have joined following the incident.
In July, a high school student from Oregon won a $25k settlement after he was suspended in January 2017 for wearing a shirt that read "Donald J. Trump Border Wall Construction Co." Addison Barnes, 18, sued the school, the principal, and the school district, claiming that they had violated his First Amendment rights, The Oregonian previously reported.