'Had We Won the Election': Trump Seems to Acknowledge 2020 Defeat in Recent Interview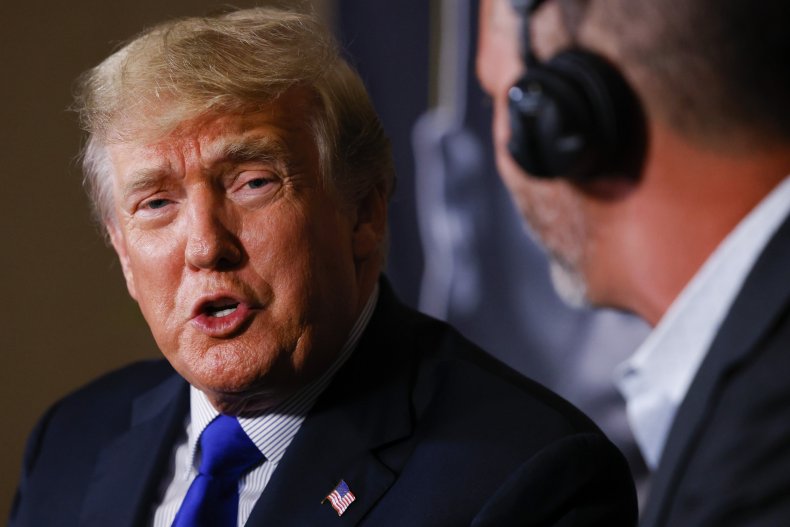 Former President Donald Trump has seemingly admitted losing to President Joe Biden in the 2020 presidential election.
Trump appeared to at least momentarily acknowledge the truth of his defeat during an interview released Tuesday by Flashpoint, a program that purports to help viewers "discover how prophecy and current events are aligning to usher in the greatest awakening the world has ever known." The ex-president made the admission to host Gene Bailey while discussing construction on his signature U.S.-Mexico border wall ending under Biden.
"They could have had it done in four weeks if they pursued it," Trump complained. "We started building and we built almost 500 miles of wall, certain sections we couldn't get rights to and now we have rights. And had they, had we won the election, it would almost be—it would be completed now."
Trump's admission was likely a temporary lapse given that he has not previously given any hints that he intends to admit defeat in the long-since decided election. Although over a year has passed since Biden was declared the winner, Trump has continued to maintain that the presidency was "stolen" from him due to massive voter fraud, despite a lack of any credible evidence to support his claims.
Newsweek reached out to Trump's office for comment.
There have already been indications that Trump's choice of words during the Flashpoint interview was a temporary slip-up rather than a true change of heart and acceptance of reality.
On the same day that the interview was released, the former president issued a statement slamming the House Select Committee to Investigate the January 6th Attack on the U.S. Capitol while referring to "the rigged Presidential Election of 2020" and touting a planned Mar-a-Lago press conference on the one-year anniversary of the insurrection.
"Remember, the insurrection took place on November 3rd, it was the completely unarmed protest of the rigged election that took place on January 6th," Trump said in the statement.
Republican Texas Governor Greg Abbott, a close ally of Trump, spearheaded the building of another U.S.-Mexico border wall using state funds in the months after the former president's project ended. The Biden administration recently announced money that had been allocated to build Trump's wall would instead be used to fund projects to fix environmental issues caused by the Trump wall construction.
Trump's claim that his wall would have been quickly completed if not for his 2020 defeat is questionable at best, given that his administration completed fewer than 500 miles in four years, most of which replaced some of the 654 miles of barrier that already existed before Trump's presidency. The U.S.-Mexico border spans over 1,900 miles.