U.S. Will Use Trump-Era Border Funds to Complete Infrastructure Projects, Not Build Wall
Money previously designated for former President Donald Trump's border wall will now go toward a series of environmental rehabilitation projects aimed to address problems such as flooding, erosion, and other concerns.
This plan was authorized by Secretary of Homeland Security Alejandro Mayorkas on Monday and will be carried out by U.S. Customs and Border Protection (CBP). On the side, the U.S. Army Corps of Engineers will continue its work to terminate construction projects tied to the border wall's construction.
Unfinished construction tied to the border wall will be put under the jurisdiction of the Department of Homeland Security (DHS) which will "undertake activities necessary to address urgent life, safety, environmental, or other remediation required to protect border communities."
Following the construction of Trump's border wall, border areas experienced increased flooding risks and erosion, Scientific American reported earlier this year. Furthermore, the wall cut off the migration patterns of animals.
To address some of these concerns, DHS plans to complete or install drainage to prevent flooding, build erosion control measures, complete construction of border access roads to address safety concerns, dispose of materials no longer required for the remaining construction projects, and close small gaps that remain from the previous project.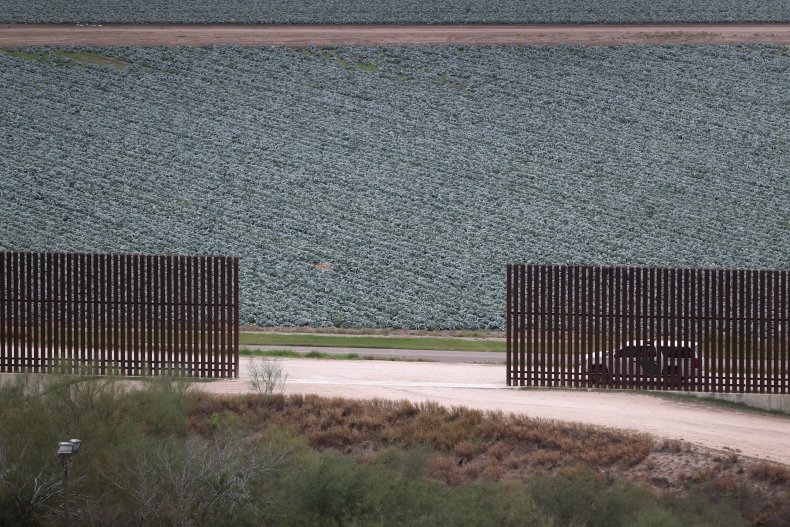 DHS said the level of work involved will differ by border sector. It said a bulk of the work will be carried out in Arizona's Tucson area, which, following a safety analysis, requires work to "address life, safety, environmental, or other remediation requirements."
As a result of paused construction, some portions of the wall lack gates, complete foundations, and connecting power to gates that have been put up but are currently inoperable. DHS said these gates provide border officials and first responders access to irrigation canals when water is moving fast and dangerous.
In March, Newsweek was given a tour by officials at the San Diego-Tijuana border. At that time, officials said that infrastructure, such as roads, that were built to accommodate the construction of the wall played "just as important" a role in border enforcement as the wall itself.
While some environmental advocates have pushed for a removal of the wall entirely, the administration appears set on addressing safety concerns tied to the previous construction project and access to the border in general. The new projects will not extend the wall.
"There will be several places where barrier material will be used," a senior CBP official said according to CBS News. "We would say that that's existing barrier right there that we are addressing, like an open, unsafe construction situation, versus adding additional mileage, which would be adding new barrier."