The Hagel Doctrine: In His Own Words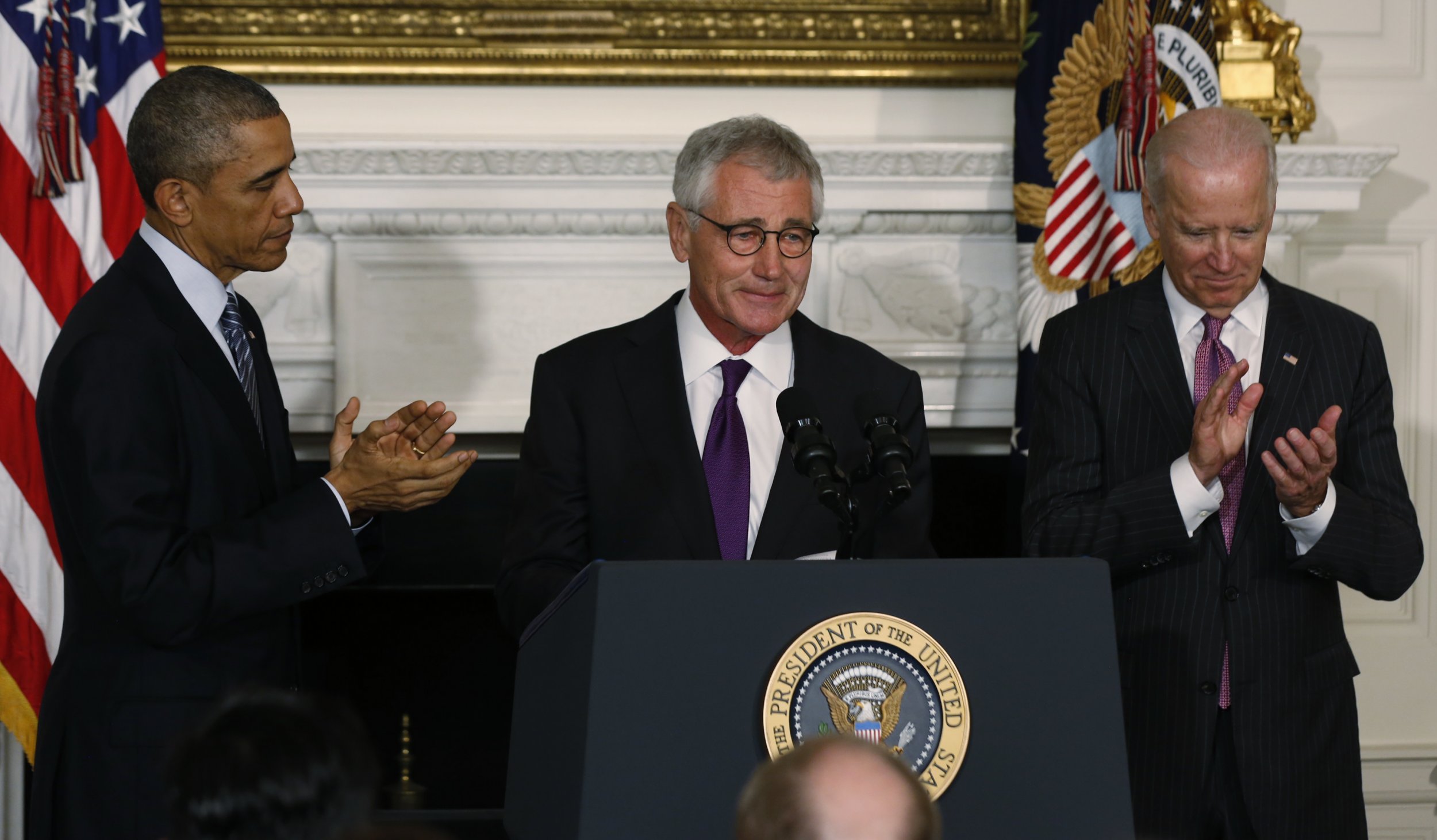 Defense Secretary Chuck Hagel has resigned, at the president's prompting, a victim of the Democrats' defeat in the mid-term elections. As the only Republican member of Obama's team, Hagel distanced himself from George W. Bush's decision to invade Iraq and was highly critical of the partisanship in Washington he believed was making effective government impossible.
Here are a few of his choice quotes.
On the Iraq War
Why did we invade Iraq? I believe it was the triumph of the so-called neo-conservative ideology, as well as the Bush administration arrogance and incompetence that took America into this war of choice. This ideology presented a myopic vision of a democratic Middle East that would inject a large permanent American force presence in the region to act as the guarantor of a regional realignment. They believed that by taking the relatively easy step of toppling Saddam, they could begin to realize this vision through the use of America's unequaled military power, thereby establishing America's preeminence in the Middle East and bolstering the defense of Israel.
From America: Our Next Chapter: Tough Questions, Straight Answers, by Sen. Chuck Hagel & Peter Kaminsky, HarperCollins 2014.
On Simplistic Politics
Quick reactions and current buzzwords like existential and game-changing often reduce complicated problems to simple solutions. But issues of war and peace are always more complicated than sound-bite strategies. Rushing into decisions on the basis of emotion, limited information, and political calculations and pressures is always ill-considered, ill-conceived, and, too often, ill-fated. If this trend is not reversed, our great republic could become ungovernable. Long-term challenges that require long-term resolutions for America and the world will only come through understanding and respect for one another's points of view and consensus.
From America: Our Next Chapter: Tough Questions, Straight Answers, by Sen. Chuck Hagel & Peter Kaminsky, HarperCollins 2014.
On a Minimalist Foreign Policy
Balancing America's interests with our values will require wise, informed and steady leadership from all quarters of our society. It will require all of us to transcend the narrowness of our personal and professional perspectives in order to build a secure future in a diverse world of many competing interests. This is as true of nations as it is of individuals. Even great powers must understand the limitations of their power and influence. Alliances and multilateral relationships enhance rather than diminish our influence and protect our interests. This is not forfeiture of our sovereignty or principles. Rather, it is a strengthening and extension of both. Engagement is not appeasement.
From America: Our Next Chapter: Tough Questions, Straight Answers, by Sen. Chuck Hagel & Peter Kaminsky, HarperCollins 2014.
On Dealing with Iran
Our differences with Iran are very real. However, by refusing to engage Iran, we are perpetuating dangerous geopolitical unpredictabilities. Our refusal to recognize Iran's influence does not decrease its influence, but rather increases it. Engagement creates dialogue and opportunities to identify common interests, demonstrate America's strengths, as well as make clear disagreements. Diplomacy is an essential tool in world affairs, using it, where possible, to ratchet down the pressure of conflict and increase the leverage of strength.
Speech at the University of Nebraska at Kearney's James E. Smith Conference on World Affairs, 2007.
On Putin's Invasion of Ukraine
The transatlantic alliance [NATO] has responded to Russian actions with continued resolve. But over the long term, we should expect Russia to test our Alliance's purpose, stamina and commitment. Future generations will note whether at this moment - at this moment of challenge - we summoned the will to invest in our alliance. We must not squander this opportunity or shrink from this challenge. We will be judged harshly by history and by future generations if we do.
Speech at the Woodrow Wilson International Center Forum on NATO Expansion and European Security, Washington, D.C., May 2014.
On China's Expansionism in the South China Sea
In recent months, China has undertaken destabilizing, unilateral actions asserting its claims in the South China Sea. … The United States has been clear and consistent. We take no position on competing territorial claims. But we firmly oppose any nation's use of intimidation, coercion, or the threat of force to assert those claims. We also oppose any effort – by any nation – to restrict overflight or freedom of navigation – whether from military or civilian vessels, from countries big or small. The United States will not look the other way when fundamental principles of the international order are being challenged.
Speech at the Shangri-La Dialogue (Asia Security Summit) in Singapore, May 31, 2014.
The Hagel Doctrine: In His Own Words | U.S.