Hagel: Islamic State the Biggest Threat to the U.S. Since Al Qaeda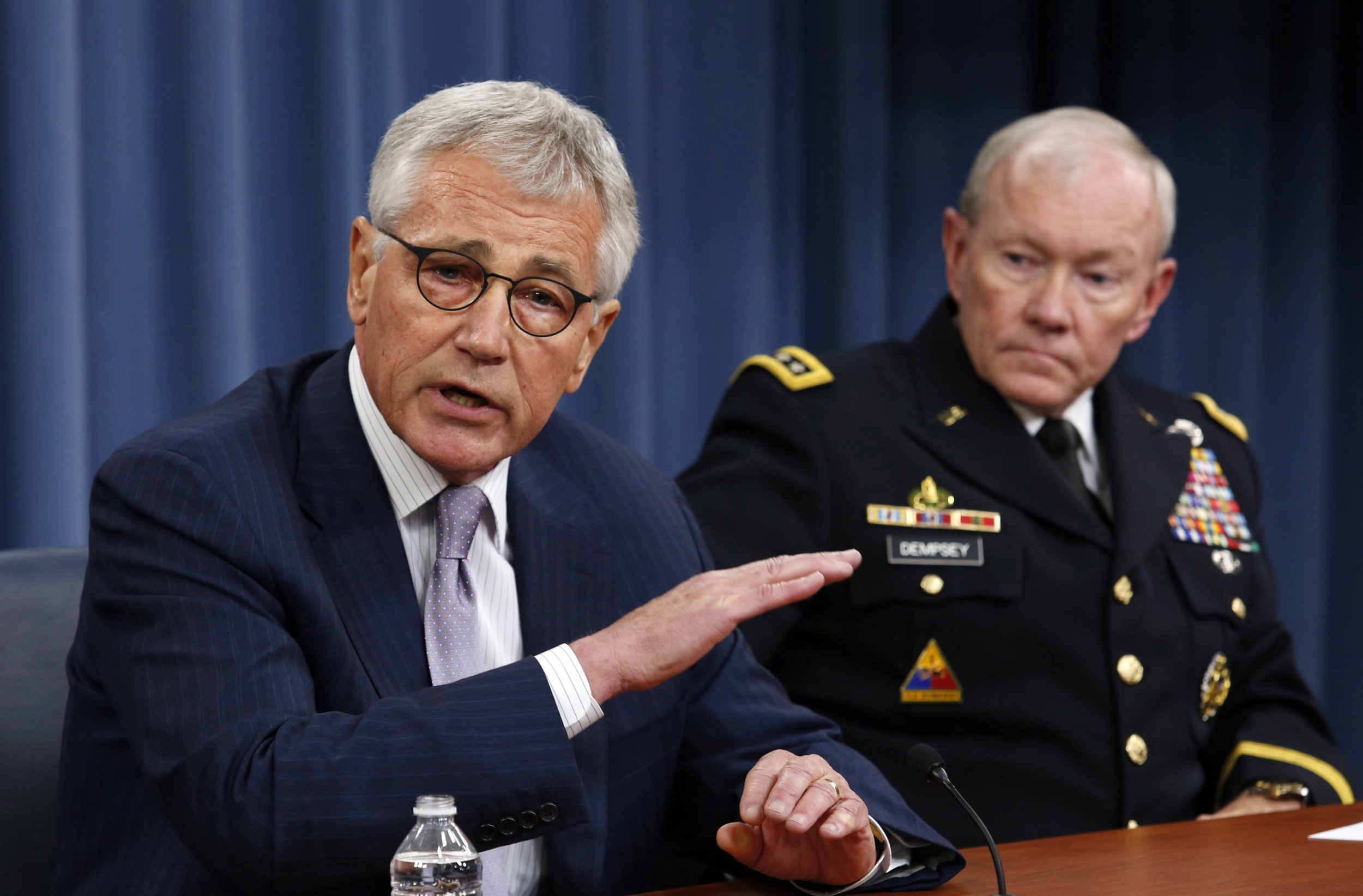 Defense Secretary Chuck Hagel believes the Islamic State (IS) terrorist group poses an "imminent threat" to the United States and is the most dangerous threat the country has faced in years.
Combining sophistication, wealth and military might, IS goes "beyond anything we've seen," including Al Qaeda, Hagel told reporters at the Pentagon on Thursday night. IS broke away from Al Qaeda earlier this year and have occupied vast swaths of territory across northern Iraq and Syria, declaring it an Islamic "caliphate."
"They are an imminent threat to every interest we have, whether it's in Iraq or anywhere else," Hagel said. When asked whether the Sunni Muslim group pose a threat to the U.S. comparable to the Sept. 11, 2001 terrorist attacks, Hagel said IS is "as sophisticated and well-funded as any group we have seen" Reuters reports.
Despite reluctance by President Barack Obama to engage in military action in Syria, IS cannot be defeated without addressing the IS threat in that country, General Martin Dempsey, chairman of the U.S. Joint Chiefs of Staff, said Thursday night from the Pentagon.
"This is an organization that has an apocalyptic, end-of-days strategic vision and which will eventually have to be defeated," Dempsey said. Addressing "both sides of what is essentially at this point a non-existent border" between Iraq and Syria and attacking their base in Syria is key, Dempsey said.
Meanwhile, Britain has made it clear it will not work with Syrian President Bashar al-Assad of Syria to defeat IS, U.K. Foreign Secretary Philip Hammond said on Friday.
Hagel's and Dempsey's comments come two days after IS published a video of the beheading of American photojournalist James Foley. An international manhunt for his killer, who is believed to be British and nicknamed 'Jihadi John,' is under way.
The IS fighter who murdered Foley threatened in the gruesome video to kill another American hostage, journalist Steven Sotloff, if the U.S. doesn't stop the strikes. However, the U.S. has continued airstrikes over Iraq to assist Kurdish and Iraqi government forces in their battle against IS forces in the days since the video of Foley's murder was posted. The U.S. has launched 90 airstrikes over northern Iraq in the past two weeks, Reuters reports.