Don't Touch Black Hair: Game 'Hair Nah' Tells White People to Keep Their Hands Out of Other's Head
It's a pretty simple thing to ask: don't touch black girl hair. When a white person does this, it's generally out of curiosity, even appreciation. But that doesn't mean you should do it. It's an unwanted act, an invasion of personal space. And yet, apparently the act is irresistible. Even after "please don'ts" and "stay aways," the white hands keep reaching for the hair.
That experience inspired Momo Pixel to create an online game. Launched last week, Hair Nah invites players help a character named Aeva fend off a swarm of unwanted touching. When you start the game, you choose Aeva's skin tone and one of several hairstyles assocated with black culture: braids, Bantu knots, afros and dreadlochairstyks. Then, as the white hands appear, you start swatting, and keep swatting, until you fill up the "Nah!" meter.
Pixel, an art director at Wieden+Kenedy, said Hair Nah was created to raise awareness about an issue virtually all women of color have experienced. "It's literally happened to every black girl I've met. Even while making this game, it happened to me multiple times," Pixel said in a statement. "Working on this game was such a breath of fresh air because it's like, finally! I get to tell you, 'No, stop touching me. Respect my space,' before it happens—and in the most fun, chill, hilarious way."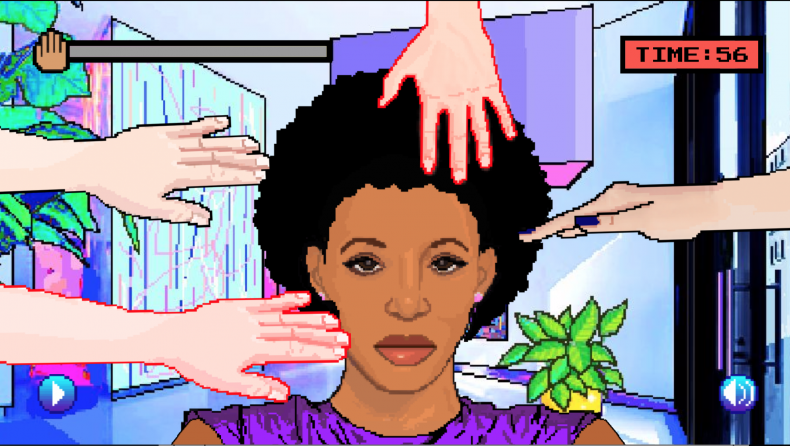 In the game, Aeva is trying to make a flight to one of three destinations. If she doesn't block all the hands and fill up the "Nah!" meter within the allotted time, she misses her flight. Help her block enough hands, though, and you're greeted with a rewarding message."Way to go, girl! You made it. The game may be over, but this experience isn't. It's an issue that black women face daily. And to those who do it: STOP THAT SHIT."