Where's My Black Hair? Lupita Nyong'o Slams Grazia for Editing Cover Photos to Fit 'Eurocentric' Beauty Standards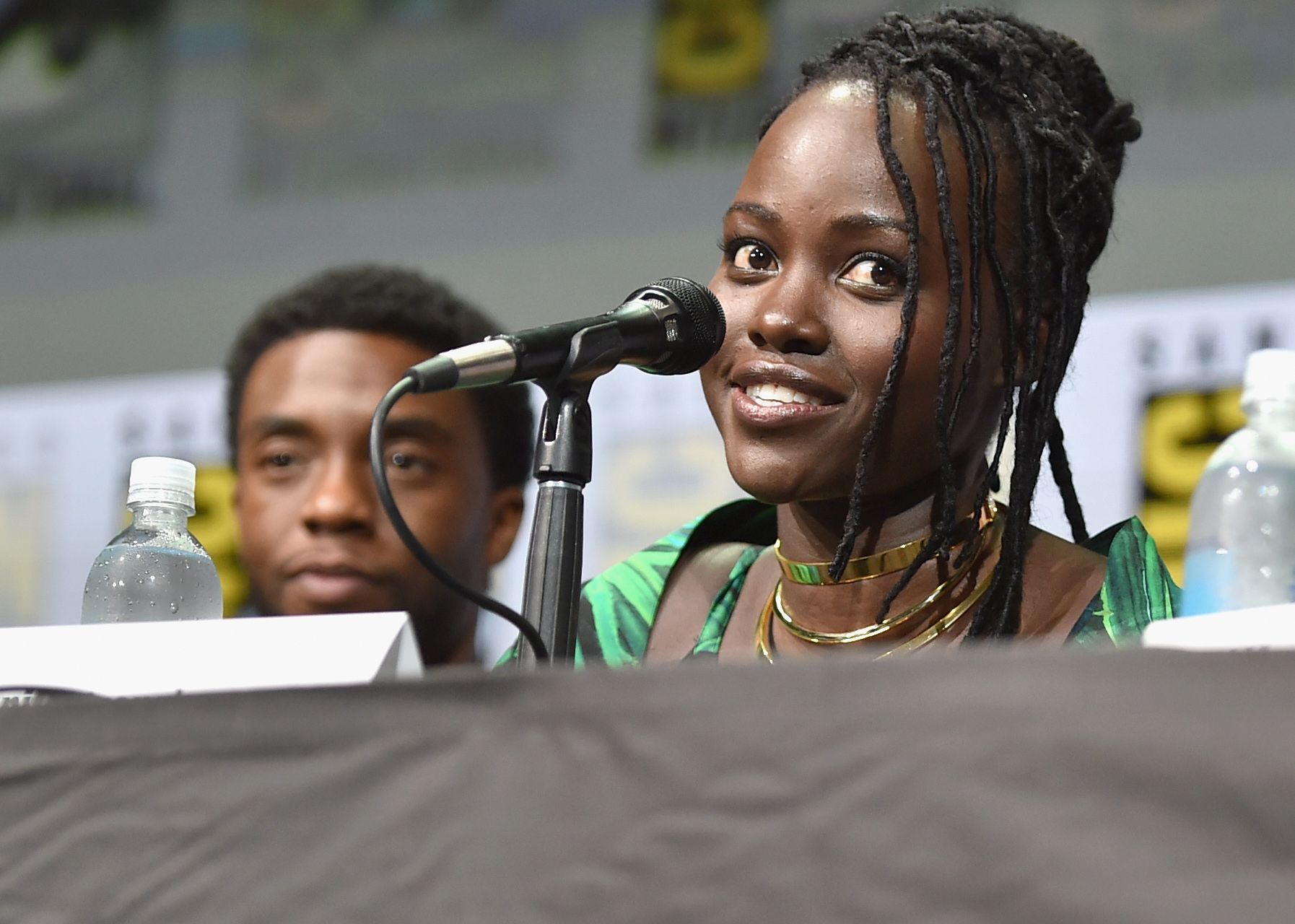 Photos of Lupita Nyong'o do not generally require editing. The 12 Years a Slave star, born in Mexico and raised in Kenya, was named the world's most beautiful person by People magazine in 2014 and regularly stuns observers with her red-carpet fashion.
But the 34-year-old actor has expressed her dismay at photographs of herself on the cover of the U.K's Grazia magazine, accusing the magazine of editing and smoothing her hair out to "fit a more Eurocentric notion of what beautiful hair looks like."
In a longer Instagram post, Nyongo'o said: "As I have made clear so often in the past with every fiber of my being, I embrace my natural heritage and despite having grown up thinking light skin and straight, silky hair were the standards of beauty, I now know that my dark skin and kinky, coily hair are beautiful too."
The actor said that being on the cover of the magazine fulfilled her "as an opportunity to show other dark, kinky-haired people, and particularly our children, that they are beautiful just the way they are."
"I am disappointed that Grazia U.K. invited me to be on their cover and then edited out and smoothed my hair to fit their notion of what beautiful hair looks like," she said.
"Had I been consulted, I would have explained that I cannot support or condone the omission of what is my native heritage with the intention that they appreciate that there is still a very long way to go to combat the unconscious prejudice against black women's complexion, hair style and texture."
Nyong'o signed off with the hashtag #dtmh—short for don't touch my hair—which was popularized by Solange Knowles following a similar incident in which the London Evening Standard magazine ES airbrushed a spectacular braided crown worn by Knowles from the image it used on its cover. The magazine issued an apology and said the omission was made for "layout purposes."
Read more: Don't touch my hair: The war on black hair in South Africa's schools
Newsweek reached out to Grazia U.K. via Twitter and to its parent company, Bauer Media Group, for a comment on Nyongo's statement, but had not received a response by the time of publication.
The issue of black hair being made to conform to white standards of beauty has arisen in various contexts. Earlier this year, a Massachusetts charter school barred two black girls from attending their prom because they were wearing their hair in braids, prompting the state's attorney general to intervene and tell the school to change the rules as they were biased against students of color.
In South Africa, female students have protested outside schools on numerous occasions after black students were sent home or told to change their hairstyles when wearing their hair in braids or in an afro style.
Where's My Black Hair? Lupita Nyong'o Slams Grazia for Editing Cover Photos to Fit 'Eurocentric' Beauty Standards | Culture