Hair Stylist Shows Hair 'Boiling' in Clorox Bleach in Video Viewed 2.7 Million Times
A professional hairstylist has gone viral online after reminding viewers that household bleach products are not safe to use on one's hair.
Social media personality and lead stylist at the Tone Hair Salon in North Carolina, Leda Fazal, turned heads with one of her recent experiments. Fazal uses her account to share haircare tips and test methods of coloring hair, and her new educational video, posted July 16, has been watched over 2.7 million times and amassed more than 342,000 likes from horrified viewers.
Fazal explained to Newsweek that she decided to share the dangers of using household bleach on one's hair based on her experiences in the salon.
"Honestly I came up with the idea because clients often use the word bleach in the salon when they want to lighten their hair," she said. "It made me think if people actually think household bleach could possibly be the same thing, especially knowing that a guest a long time ago used household bleach and was sent to the ER."
Fazal starts her video by saying, "I can't believe I'm gonna do it," as she grabs a bottle of Clorox bleach that promotes a "concentrated formula" and promises that it "Kills 99.9% of Germs." She pours a few tablespoons into a clear cup and prepares two pieces of human hair on the table beside it.
"I mean, I know that you guys know that this is not the same as what we use in the salon. I also don't want anybody out there thinking it is, and destroys their hair," Fazal continues.
With the hopes of discouraging any viewers from performing an at-home hair lightening treatment with Clorox bleach, she explains her plans for the experiment.
"So, we're gonna let that soak, and I'm also going to do a regular hair bleach strand as well," Fazal says.
As she prepares a separate cup with "powder bleach that is for hair with 30 volume," the hair dipped in the Clorox begins to chemically react on the side. "I thought it was fizzing It was boiling!" she writes in a text box overlay on the video.
Fazal then shares the reason behind her latest hair experiment. "Believe it or not, we had a guest, she was young, she put Clorox bleach on her scalp and she ended up having to go to the hospital with a lot of burns and bad stuff," she explains. "So please do not do that."
In a second video, Fazal reveals the horrifying results. While attempting to pick up the strand in the Clorox cup, she notes it's hot to the touch and so damaged that pieces of hair snapped off.
"You guys, it's hot. Like, it's hot," she says, nearly at a loss for words. "Yeah. Oh my God, that just broke off. That...wow.
"Just to clear it up, this has now broken off, and it's only been less than a minute," Fazal reiterates.
She then turns to the professionally treated strand and shows how the proper product had begun to safely lighten the hair in the same amount of time.
Fazal told Newsweek she was shocked by the results. "To my surprise, the hair disintegrated within two minutes!" she said. "I truly wasn't even expecting that."
Viewers were horrified at the results. "How do people not know not to put cleaning bleach in their hair..." one commented. "That's why I refuse to call it 'bleach' I call it lightener so that way it can help with the confusion I believe," another noted.
Some even shared their own terrifying encounters with hair bleach mishaps. "My grandpa did this when he was a child, lost all his hair and was bald his whole life," one viewer commented. "I cut some of my hair and put it in bleach overnight and the next morning there was no hair in the bleach— it dissolved," another claimed.
"The overflow of comments solidified for me that people do in fact try this," Fazal said. "I am truly glad I made these videos because I hope that I have saved some hair and scalps from this tragedy."
While the Clorox website offers no official statement on the use of bleach on one's hair, they strongly advise against ingesting bleach. "Bleach and other disinfectants are not suitable for consumption or injection under any circumstances," the company says. "People should always read the label for proper usage instructions."
Clorox released statements condemning bleach consumption after former President Donald Trump suggested that injecting "disinfectant" could be useful as a treatment for COVID-19. After receiving widespread backlash for his comments, Trump later claimed that they were made "sarcastically."
"I see the disinfectant—where it knocks it out in a minute, one minute. And is there a way we can do something like that, by injection inside or almost a cleaning?" Trump asked at a press briefing in April 2020, before walking back the suggestion one day later.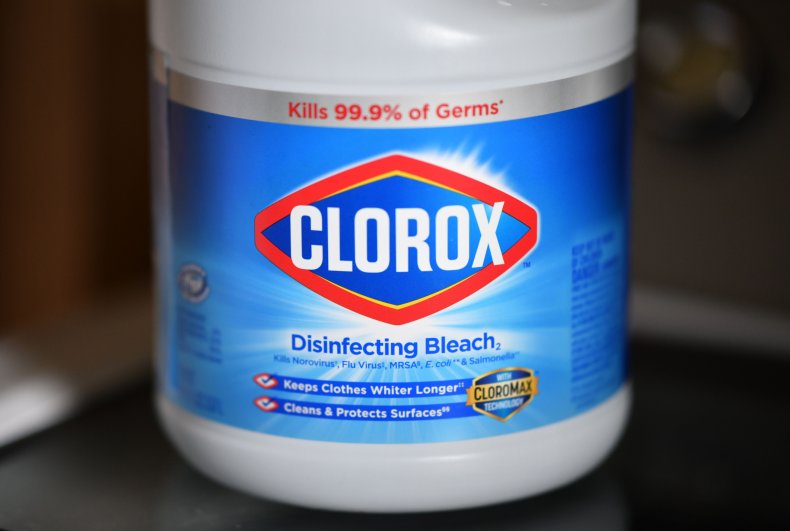 In 2019, the Food and Drug Administration (FDA) released a statement advising Americans to not consume the "Miracle Mineral Solution," a line of products marketed as a medical treatment, as the drinks contained bleach.
"The FDA's drug approval process ensures that patients receive safe and effective drug products. Miracle Mineral Solution and similar products are not FDA-approved, and ingesting these products is the same as drinking bleach. Consumers should not use these products, and parents should not give these products to their children for any reason," FDA Acting Commissioner Ned Sharpless, M.D., said at the time.
In April 2021, a 62-year-old Florida man and his three adult sons were indicted for allegedly selling and marketing MMS as a "miracle" cure for COVID-19 and other ailments. The family reportedly sold the bleach for many years before the emergence of COVID, operating as the Genesis II Church of Health and Healing, a self-described "non-religious church."
Clorox also notes on their website that while their bleach can be used to disinfect surfaces "to help stop the spread of COVID-19," they are not safe for human consumption.
"Our products are safe when used properly. It's critical that everyone understands the facts in order to keep themselves safe and healthy, which is why we continue to educate people about how to use disinfectants safely and effectively against COVID-19," the company says.
Newsweek reached out to Clorox for additional comment but did not hear back in time for publication.
In early July, another woman took to TikTok claiming that her hair "snapped at the root" after her hairstylist took her lunch break as her hair was processing. "Thinkin about the time I got my hair chemically straightened and the chick left to get lunch and it over developed and half my hair snapped off at the roots," reads the video's on-screen text.
Another TikTok hairstylist received intense online backlash after she reported that she charged one of her clients $1,950 for a recent cut and color change. As one commenter pointed out, "That's a down payment on a car."
Updated on 7/30 at 1:30 p.m. to include statements Fazal issued to Newsweek about the viral videos.