Haiti's First Lady Martine Moïse has just landed in South Florida for treatment after she was shot during her late husband's assassination earlier in the day.
The attack occurred around 1 a.m. on Wednesday morning at their private residence above the hills of Port-Au-Prince and left President Jovenel Moïse "fatally injured," acting Prime Minister Claude Joseph said.
On Wednesday afternoon, the first lady, who was shot multiple times in the incident, was flown out of the country in an "air ambulance" and landed at Fort Lauderdale Executive Airport around 3:30 p.m. to be treated for her injuries in Miami.
Arrangements have been made for her to be taken to Baptist Hospital for treatment. Officials say her vitals are stable but critical.
At this time, it is unclear why she was transported out of Haiti or why the hospital was chosen.
Newsweek reached out to the U.S. Embassy in Haiti and the Baptist Hospital of Miami for comment but did not hear back before publication.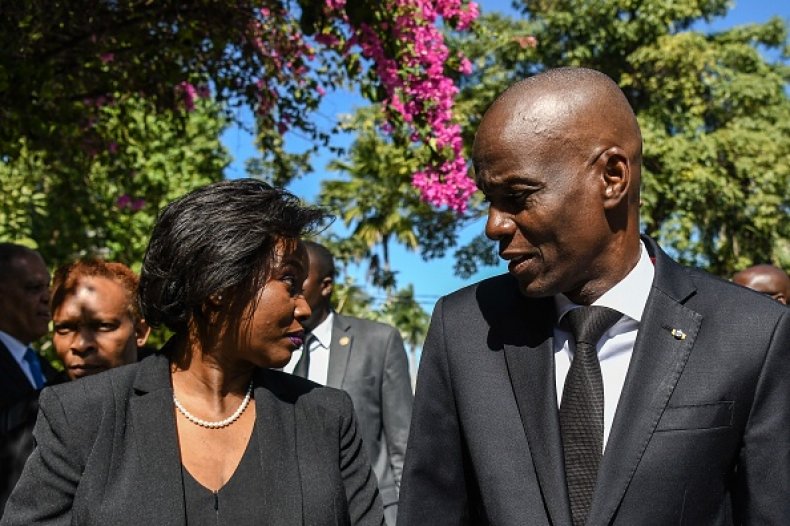 The assailants, some of whom spoke in Spanish, claimed to be agents with the U.S. Drug Enforcement Administration, according to videos taken by neighbors. Both top Haitian officials and Biden administration officials have denied the DEA was involved in the assassination.
President Joe Biden also offered U.S. assistance in the wake of the attack.
"We are shocked and saddened to hear of the horrific assassination of President Jovenel Moïse and the attack on First Lady Martine Moïse of Haiti," Biden said in a statement. "We condemn this heinous act, and I am sending my sincere wishes for First Lady Moïse's recovery."
In a statement, Joseph called the incident a "highly coordinated attack by a highly trained and heavily armed group" and vowed to bring "the killers of the president to justice."
The news of Moïse's assassination has created more uncertainty in Haiti's political sphere. Since coming into office in 2017, the president has faced growing protests over his governance amid a surge in gang-related crimes and COVID-19 infections. An election was expected to occur later this year.
There are only 10 elected officials in the country. Joseph has not yet been ratified by the country's parliament and the new prime minister appointed by Moïse a day before his assassination has yet to be sworn in. The president of the Supreme Court also passed away from COVID-19 last week.
In the wake of Moïse's death, the Dominican Republic's flight authority suspended "air operations to and from the Republic of Haiti," according to a statement from the country's Civil Aviation Board. Only flights transporting "Dominican Republic nationals and foreign diplomatic personnel duly accredited in the Republic of Haiti" will be allowed to fly back into the Dominican Republic.