Half of Americans Think Trump Is Racist and Additional 13 Percent Are Unsure: Poll
Half of Americans think that President Donald Trump is a racist while an additional 13 percent are "not sure," according to a new poll published this week.
The survey, which was conducted by YouGov/Yahoo! News from July 11 to 14, showed that 50 percent of U.S. adults said they think Trump is racist. Just 37 percent of respondents said they did not believe the president was racist, while 13 percent were unsure.
Comparatively, a little less than a quarter of U.S. adults said they think Democratic presidential candidate Joe Biden is racist, while 48 percent said they did not believe he was racist. An additional 29 percent said they were "not sure." The poll got responses from 1,504 people and had a margin of error of plus or minus 3.2 percent.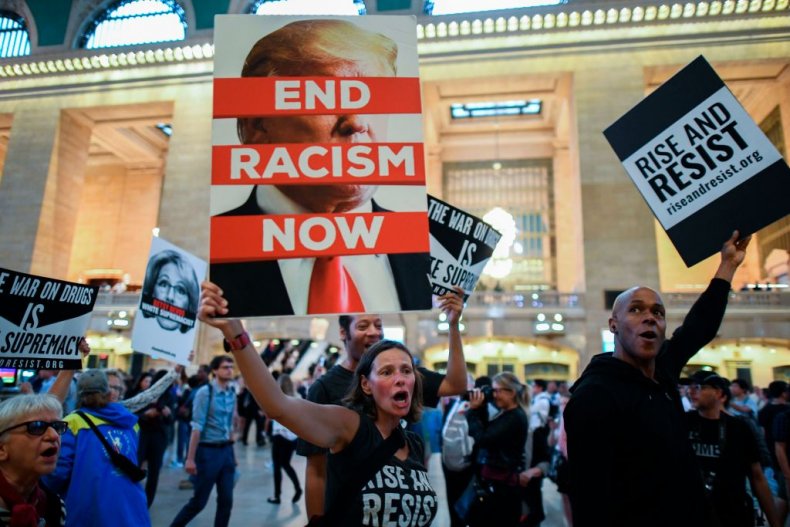 In recent weeks, Trump has leaned into the culture wars playing out across the country. He has pushed back against efforts to remove monuments to Confederate soldiers, who fought to preserve slavery in rebellion of the Union government, while also suggesting that he doesn't have a problem with the Confederate flag.
"Well, people love it, and I don't view — I know people that like the Confederate flag and they're not thinking about slavery," the president said in a Tuesday interview with CBS News.
In the same interview, Trump dismissed the reality that Black Americans are more likely to be killed by police than white Americans.
"So are white people. So are white people. What a terrible question to ask. So are white people," he said. "More white people, by the way. More white people."
Although a higher number of white people are killed by police, Black Americans account for about 13 percent of the U.S. population but make up about 26 percent of the deaths by police since 2015. Meanwhile, white Americans make up 76 percent of the population but just 50 percent of the deaths by police.
Just over three-quarters (76 percent) of respondents to the new poll said they believe the country is currently "out of control," while 65 percent said the U.S. "off on the wrong track." Only 39 percent of respondents said they would vote for Trump in November, with Biden backed by 47 percent – a difference of 8 points. However, 10 percent said they were still undecided and 3 percent said they'd vote for someone else.
Despite the lack of support for the president in the poll, a slightly higher number of respondents said they believed Trump would win in November. Just 37 percent said they believed Biden would win, while 38 percent said the same of Trump. But a quarter (25 percent) said that both candidates had an equal shot in the presidential election.
The Trump re-election campaign has been publicly dismissive of negative polling, even as multiple national polls show the president trailing Biden by double digits. Polls out of key swing states also show Trump trailing his Democratic rival by significant margins, painting a dismal picture for the president's reelection odds.