Half of Americans Will Ask Guests Provide Vaccination Status This Thanksgiving: Survey
Half of Americans will ask their Thanksgiving guests if they are vaccinated before celebrating this year as health experts warn of a post-holiday surge in cases, according to a new poll.
The Ohio State University Wexner Medical Center poll found that many Americans expect to continue practicing COVID protocols while celebrating Thanksgiving this year.
Forty-six percent of respondents said they plan to require unvaccinated guests to test negative for the virus before attending their celebrations.
Meanwhile, about half of Americans plan to ask their guests to wear masks during the holiday—down from about two-thirds one year ago, according to the poll. Three-quarters of respondents said they only plan to celebrate with members of their own household.
Dr. Iahn Gonsenhauser, chief quality and patient safety officer at OSU Wexner Medical Center, said in a statement that if everyone attending a Thanksgiving celebration is vaccinated and without major health risks, people can safely hold a small gathering without taking additional precautions.
But he warned that unvaccinated people "pose the greatest threat."
"That's when it becomes necessary to put some rules and precautions in place, even though those conversations can be a little bit awkward," he said.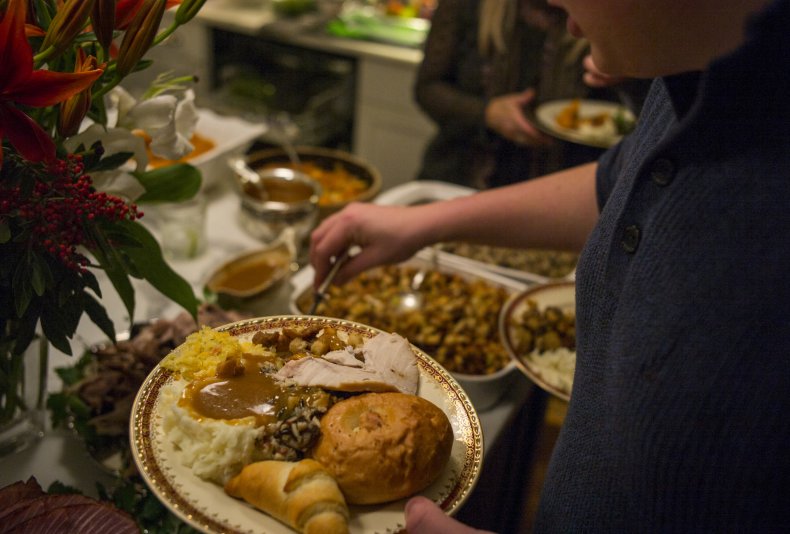 Gonsenhauser said if he holds a holiday event, he would ask unvaccinated people to wear a mask and would want to know if he was attending an event where unvaccinated people are not wearing a face mask.
"Be aware of the precautionary expectations around you and be ready to adhere to them. That's going to help everybody have peace of mind and certainly reduce risk as well," he said.
The poll surveyed 2,042 adults between October 29 and November 1.
Experts have warned that colder weather and holiday gatherings this winter could cause a surge in cases over the next few months—similar to the winter surge that happened in 2020—as many states have reported slight increases in COVID-19 cases.
Dr. Peter Hotez, dean of the National School of Tropical Medicine at Baylor College of Medicine in Houston warned earlier in November of a possible increase in cases following Thanksgiving.
"We need to stop talking as though covid is over," he tweeted. "More than 40% of the country remains unvaccinated. That's a lot of warm water for hurricane delta. I'm concerned about yet another surge beginning after Thanksgiving (just like last year)."
Epidemiologist Ali Mokdad told CNN he is also concerned about the potential for an increase in cases following the holiday season.
"We are going to see Americans traveling—Thanksgiving and then all the way through New Year. We are going to see a surge, and that surge is going to be very bad," he warned.
Still, health experts including Dr. Anthony Fauci have said vaccinated people can safely enjoy the holidays.
Fauci said at a Bipartisan Policy Center event Monday that vaccinated families "can feel good about enjoying a typical Thanksgiving, Christmas with your family and close friends."