Majority of Democrats Say Billionaire Candidates Mike Bloomberg and Tom Steyer Are 'Hurting' 2020 Primary Race
More than half of Democrats say they believe billionaire candidates running for the chance to unseat President Donald Trump in the upcoming 2020 election are having a negative impact on the primary race, according to a new poll.
According to the Newsy/Ipsos poll, 54 percent of Democratic respondents said they feel that billionaire candidates former New York Mayor Mike Bloomberg and philanthropist Tom Steyer are "hurting" the primary race by funneling their riches into their campaigns.
Thirty percent of respondents in the survey, which polled 2,010 people—including 868 Democrats, 829 Republicans and 185 independents between February 21 and 25— did not feel the same way, however, asserting that the billionaires' spending did not hurt the primaries.
So far, Bloomberg has already managed to spend a record-breaking half-a-billion dollars of his personal wealth on advertising. Steyer, meanwhile, has put more than $250 million into his campaign.
Fellow Democratic hopefuls with far less personal wealth to invest in their campaigns have hit out at the two billionaire contenders over their spending.
"You've probably seen more ads for Michael Bloomberg than the rest of us running for President put together," Massachusetts Sen. Elizabeth Warren says in one ad.
Both Bloomberg and Steyer have defended their spending, with the former telling Reuters in January that getting "rid of Trump" would be well worth the money spent in his effort to unseat the president.
"Number one priority is to get rid of Donald Trump," Bloomberg, who has funneled millions into his campaign ahead of Super Tuesday, told Reuters at the time. "I'm spending all my money to get rid of Trump. Do you want me to spend more or less? End of story."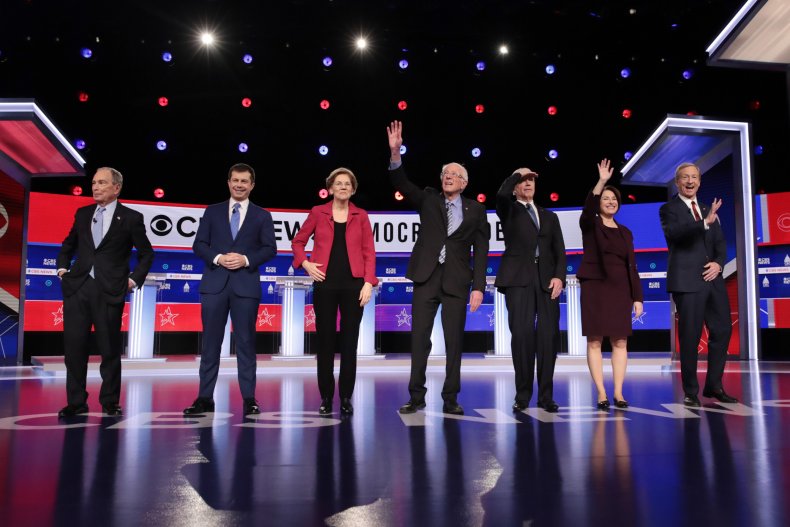 A former Republican, Bloomberg said that he was "reasonably confident" that he could beat Trump because he would be "acceptable to the moderate Republicans you have to have" in order to defeat the president.
Steyer, meanwhile, responded to the poll's findings directly after this week's South Carolina debate, telling Newsy that he is using his money to support Democratic causes.
"There are huge problems in the United States. I'm going after it with every single thing I have to try to work for the American people. And fight for the American people. And I'm going to keep doing it," Steyer said.
Newsweek has contacted the Bloomberg and Steyer campaigns for comment.
This article has been updated with more information on the Newsy/Ipsos poll.