Mike Bloomberg's Campaign Outspent Every Other Top Democratic 2020 Candidate by at Least 8 Times in January
Mike Bloomberg's campaign outspent each of the other top candidates in the Democratic Party's 2020 race by at least eight times during January, new figures show.
A filing to the Federal Election Commission (FEC) for the month reported that billionaire Bloomberg's self-funded campaign recorded $263.8 million total receipts and it spent $220.6 million in January.
Among the candidates polling highest in the race, Sen. Bernie Sanders is second for campaign spending in January. The independent from Vermont, currently the frontrunner, took $25.2 million in total receipts and spent $26.5 million during January, FEC records show.
For every dollar the Sanders campaign spent in the month, Bloomberg's spent $8.32. The graphic below, provided by Statista, illustrates this spending gap.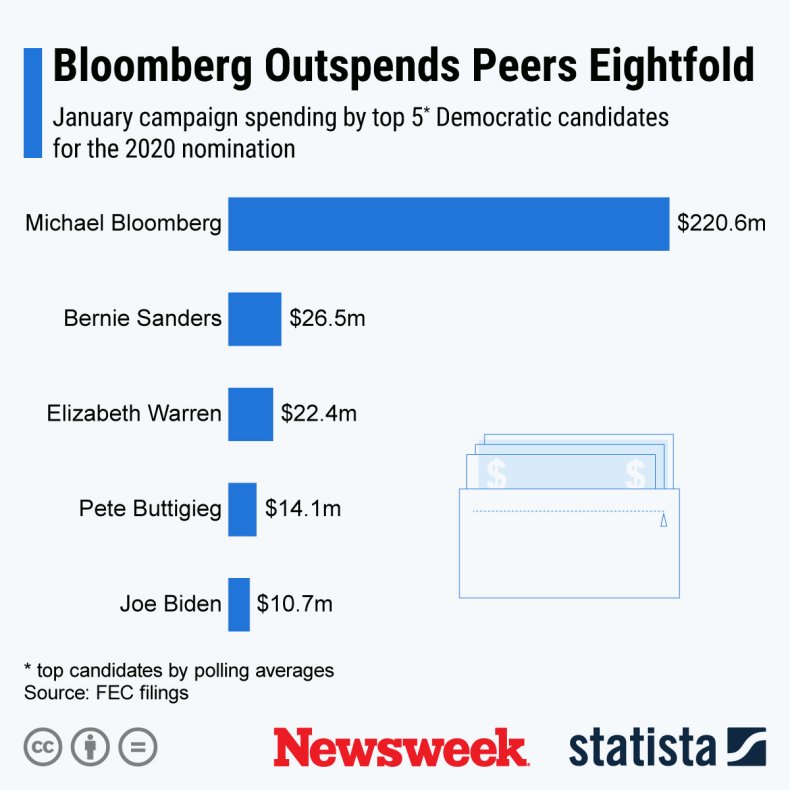 Bloomberg entered the contest late and has used his vast wealth to catapult his campaign, spending tens of millions of dollars on political advertising, including Super Bowl slots.
While other campaigns were already well underway in January, Bloomberg's was just getting started, setting up a network of 2,400 staffers across 105 offices, per The Wall Street Journal.
Critics of the financial data mogul accuse him of trying to buy the presidency and lacking a support base. Bloomberg argues his campaign is advantaged by its inability to be bought.
The former New York City mayor, whose net worth is around $64 billion, has said he will spend whatever it takes to defeat President Donald Trump at the next election.
To date, Bloomberg has pumped his campaign with $463.8 million in net contributions and spent $409 million, the FEC filing shows.
Sanders, a democratic socialist, has raised $119.6 million in net contributions, mostly from small-dollar donors to his campaign, and had $115.7 million in net operating expenditures.
So far, Bloomberg's campaign has outspent Sanders by a little over 3.5 times. Bloomberg's gap with other top candidates is even wider.
"Mr. Bloomberg has every right in the world to run for president of the United States. He's an American citizen. But I don't think he has the right to buy this election," Sanders said at a recent CNN town hall.
"You know, we pride ourselves on being the longest-standing democracy in the world. And we're proud of that. To me, what that means, one person, one vote. If you want to run for president, you run for president. You've got good ideas, maybe you win, maybe you don't win.
"But I do think it's a bit obscene that we have somebody who, by the way, chose not to contest in Iowa, in Nevada, in South Carolina, in New Hampshire where all of the candidates, we did town meetings, we were talking to thousands and thousands of people, working hard.
"He said, I don't have to do that. I'm worth $60 billion. I have more wealth than the bottom 125 million Americans. I'll buy the presidency. That offends me very much," said Sanders.
Former Vice President Joe Biden, who was the frontrunner until Sanders overtook, and is now losing moderate and conservative support to Bloomberg as his campaign falters, raised $8.9 million in January and spent $10.75 million. During that month, Bloomberg outspent Biden by 38 times.
In total, Biden's campaign has raised $68.3 million in net contributions and spent $61.2 million on a net basis, according to FEC data. Bloomberg is outspending Biden by 6.6 times.
Sanders is leading the national polls. FiveThirtyEight's polling average puts Sanders at 25.3 percent. Second is Biden at 16.6 percent and third is Bloomberg at 16.1 percent.
Sen. Elizabeth Warren, a progressive Democrat from Massachusetts, is in fourth at 12 percent and former mayor of South Bend, Indiana, Pete Buttigieg is fifth at 10.6 percent.
FEC filings show Warren raised $11 million in total receipts during January and spent $22.4 million. To date, her campaign has raised $81 million in net contributions and recorded $89.4 million in net operating expenditure.
Buttigieg, another moderate in the race, raised $6.2 million in total receipts in January and spent $14.1 million, the FEC figures show. His campaign has so far raised $81.4 million in net contributions and spent $74.7 million.
Bloomberg has outspent Warren by 4.6 times and Buttigieg by 5.5 times across the whole campaign.
The Bloomberg campaign has been asked for comment.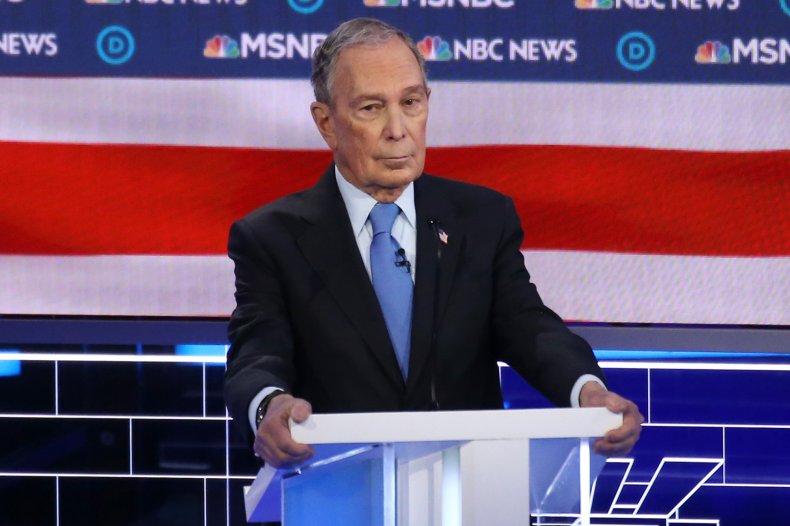 This article was updated to include an infographic.