Bloomberg Overtakes Biden in National 2020 Poll, Makes Gains Among Black Voters
Mike Bloomberg has overtaken former Vice President Joe Biden in a new national Democratic primary poll, making gains with black voters despite controversy about his past support for stop-and-frisk.
The new survey published by Morning Consult on Wednesday found the ex-New York City mayor had 20 percent support among primary voters, putting him in second place and just one point ahead of Biden.
While the ex-vice president has seen his overall support dip by two points, Bloomberg's numbers are up three points since pollsters conducted the same survey last week.
The billionaire has also won backing from 20 percent of black party voters, an increase of four points since polling on the eve of the New Hampshire primary, according to a Morning Consult blog.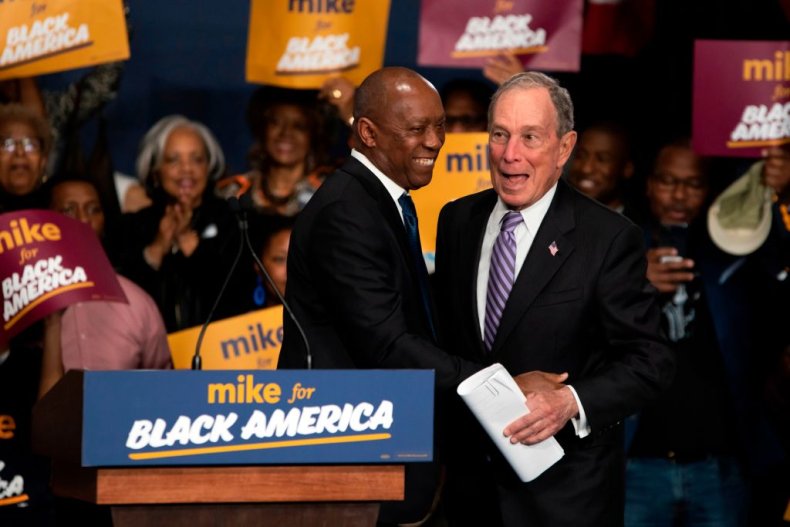 Biden has seen his polling with black Democrat voters fall by two points in the same timeframe, but still has the highest support among the constituency. Thirty-three percent favor him over anyone else in the field.
Bloomberg's improved polling with black primary voters comes after a clip of the ex-mayor backing stop-and-frisk and saying he put "all the cops in minority neighborhoods" resurfaced on social media.
Speaking at the Aspen Institute in 2015, the businessman said: "So you want to spend the money, put a lot of cops on the street, put those cops where the crime is, which means minority neighborhoods.
"One of the unintended consequences is people say, 'Oh my god, you are arresting kids for marijuana, they're all minorities.' Yes, that's true, why? Because we put all the cops in the minority neighborhoods. Yes, that's true.
"Why did we do it? Because that's where all the crime is. And the first thing you can do for people is to stop them getting killed."
After a clip of the 2015 talk sparked accusations of racism, Bloomberg apologized for not cutting back stop-and-frisk "faster and sooner" while New York City mayor, and said his past comments did not "reflect my commitment to criminal justice reform and racial equity."
Although the fresh Morning Consult poll suggests the controversy may not prove overly damaging to the billionaire's chances of winning over black primary voters, the campaign told Newsweek yesterday that it was expecting to be attacked "from all sides" at the Democratic debate in Las Vegas tonight.
A poll released on Tuesday allowed Bloomberg to qualify for the debate in Nevada tonight, despite the fact he's not running in the state.
Bernie Sanders topped the Morning Consult poll released this morning, with 28 percent of primary voters backing the Vermont senator.
The results were based on 15,974 surveys conducted with Democratic primary voters between February 12 and February 17. Pollsters say the latest survey's margin of error is just one percentage point.