Michael Bloomberg Presidential Bid Could Cost $6.5 Billion if He Employs Tactics From New York Campaigns
Michael Bloomberg has pledged to spend whatever it takes on his 2020 campaign as he entered late to the race for the Democratic nomination. If his past record of campaign spending while running for New York City mayor is anything to go by, he could spend a record shattering $6.5 billion.
But while critics of the 77-year-old billionaire accuse him of attempting to buy the presidency, there is, in reality, a limit to the effectiveness of spending money on your campaign, even if you have a deep well of reserves to draw from.
"Bloomberg's money makes him a viable candidate who is not subject to standard constraints of candidates who rely on donors," Professor Gregory J. Wawro, chair of the political science department at Columbia University, told Newsweek.
"But I don't think it catapults him to front-runner status or even guarantees that he will poll better than other candidates who will spend less."
Bloomberg made plenty of headlines but only a small splash when he belatedly jumped into the race, pitching himself as a pragmatic and electable centerground moderate able to defeat President Donald Trump.
According to the RealClearPolitics national average, Bloomberg is polling in seventh place at 2.8 percent. Former Vice President Joe Biden is leading the pack on 28.2 percent.
Second is independent Vermont Senator Bernie Sanders on 18.2 percent and third place is Democratic Massachusetts Senator Elizabeth Warren on 17.2 percent. Bloomberg has a long way to climb before February's opening Iowa caucuses.
In Iowa, the situation is worse. RealClearPolitics says Bloomberg is polling at an average of 1.5 percent in the state, putting him in eleventh place. South Bend, Indiana, Mayor Pete Buttigieg is leading the pack, polling an average of 24 percent in Iowa.
This is where Bloomberg's campaign hopes his vast wealth—which he claims makes him the only candidate who is not "corruptible" in the race—will be the difference by, through sheer spending-power, accelerating him to the top of the polls and keeping him there as others fade.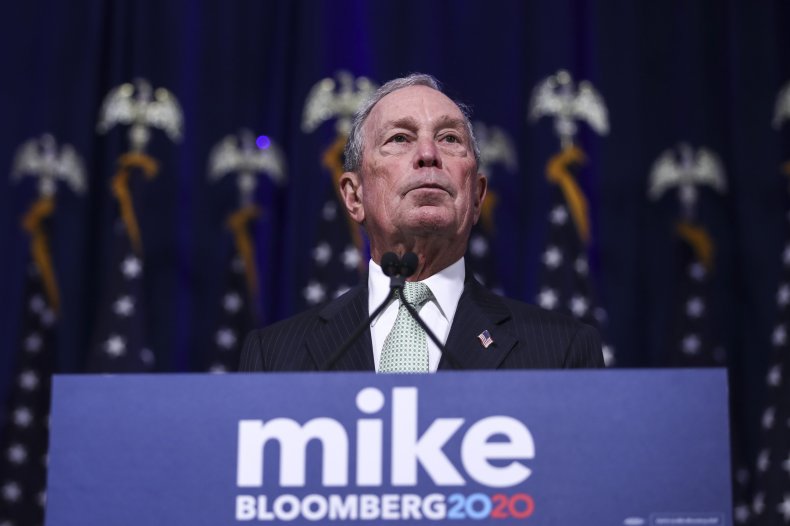 His campaign strategists told Politico they are focusing on Super Tuesday's 15 states and the others that follow in March—spending hundreds of millions of dollars there on ads and boosting voter turnout—at the expense of the early states in February, which are Iowa, New Hampshire, Nevada, and South Carolina.
"Bloomberg's wealth will enable him to stay in the primary race longer than other candidates who need to rely on donors to keep their campaigns alive," Wawro told Newsweek.
"Throughout the primary season, the field winnows as donors conclude that candidates are no longer viable. Donations to candidates dry up, as donors focus on the candidates who are perceived to have a real chance.
"Self-funders like Bloomberg can stay in the race even if they are not racking up primary and caucus victories to convince donors of their viability."
Just how much Bloomberg—one of the world's wealthiest people—will spend is still an open question. According to the Forbes list, Bloomberg is the fourteenth richest person to be exact, with a net worth estimated to be $54.6 billion.
Back in 2009, campaign data shows Bloomberg spent $109,535,056 on his re-election for a third term as New York City mayor, securing 585,466 votes to his Democratic opponent Bill Thompson's 534,869, whose campaign spent $5,821,627.
Bloomberg's campaign spending worked out to around $187 a vote, which is almost 19 times as much as Thompson's $10.88.
For every dollar Thompson spent, Bloomberg spent $18.80—and still he only won the mayoralty by 51,000 votes, or 50.7 percent to 46.3 percent, a clear margin but small relative to the spending difference.
"It is not clear how much of a difference Bloomberg's massive spending made in his mayoral victories. It probably didn't hurt, but for his first two victories, he was probably going to win anyway," Wawro told Newsweek.
"We can point to lots of instances where candidates spent ungodly sums of money, but didn't win," Wawro continued, and referred to the $100 million Linda McMahon sank into two unsuccessful Republican runs for the Senate in Connecticut, losing in both 2010 and 2012.
"Conversely, there are many examples of candidates who spent comparatively little money. Trump spent less than his rivals for the nomination in 2016, conditioning on the duration of their candidacies."
By the time Hillary Clinton accepted her party's 2016 nomination after triumphing over Senator Bernie Sanders, the Vermont independent, she and the super-PACs backing her had spent $301.4 million on getting there, the news outlet Bloomberg reported.
The chart below, provided by Statista, shows who is ahead in 2020 campaign funding so far.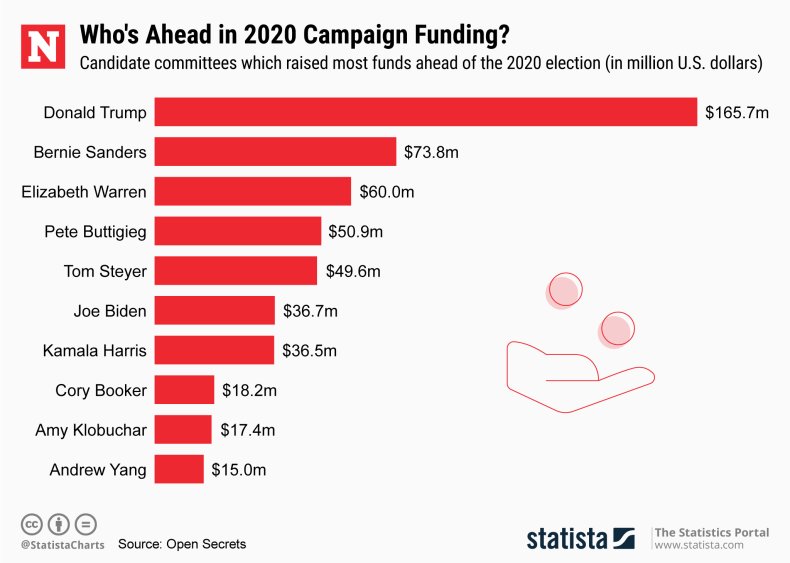 The Democratic Party's state-by-state primary system does not use a straightforward popular vote to decide the result. But The Green Papers politics blog calculates that Clinton received 16,917,853 votes in the 2016 primaries.
Taken as a rough average, that means Clinton's campaign spent around $17.81 per primary voter. And if you look at Clinton's ill-fated 2016 campaign as a whole, she spent $585,346,281 to win 65,853,514 votes at the presidential election, an average of $8.88 per voter.
She won the popular vote against President Donald Trump by nearly three million votes. But Clinton lost the election, which is, of course, decided by the electoral college system.
Clinton also outspent Trump, whose campaign shelled out $343,056,732 in 2016, averaging at $5.44 a voter, emphasizing the point that elections are about much more than who has the biggest campaign war chest.
Hypothetically, using the 2016 election to illustrate the scale of spending, if Bloomberg was the candidate and wanted to replicate his 2009 campaign in a presidential contest by outspending Trump by 19 times, he would need to back himself to the tune of $6.5 billion.
That is more than 10 percent of his total wealth. This is only for illustrative purposes, but it is not implausible that if he believes it necessary, Bloomberg's campaign spending to win the Democratic nomination and then defeat Trump would tip into the billions and set a new record.
The current record is held by former President Barack Obama's 2008 campaign, which, according to FEC data, spent $760,370,195 during the election, more than any other candidate before and since.
But Bloomberg is, his critics say, yesterday's man for yesterday's elections: An entitled billionaire member of the global elite who has moved opportunistically between Republican, Democrat, and independent during his career, and who is out of touch with ordinary Americans.
Moreover, his record as New York City mayor is under renewed scrutiny, and he recently apologized for advocating the controversial "stop and frisk" policy, labeled racist by opponents, admitting that he was wrong to do so.
Spending vast sums may help Bloomberg to spread his campaign's message and counter the political attacks against him. But he can't necessarily make primary voters believe that message, even if they see it often.
"If a candidate is not connecting with voters, they won't win no matter how much they spend," Wawro told Newsweek.
"Spending only goes so far and there are serious questions about how well Bloomberg will connect with voters in different regions in America.
"He has a lot of baggage that other candidates will readily point out and it is tough to spend your way out of the boxes that his opponents will put him in."