Half of Joe Biden's DoD Presidential Transition Team Are Women—Trump Had Just One
President-elect Joe Biden's office released the names of the members of his presidential transition teams on Tuesday, including the Department of Defense (DoD) team which includes 15 women. In 2016, Donald Trump only appointed one woman to his DoD transition team.
Transition teams are put in place to ensure a peaceful transfer of power between presidential administrations and federal agencies after a presidential election. According to a press release from the Biden-Harris Transition Team on Tuesday, more than half of the members of the administration's landing teams are women.
"The President-elect and Vice President-elect are committed to building an administration that looks like America," the statement read.
Biden's DoD landing team leader, Kathleen Hicks, served as deputy undersecretary of defense for strategy, plans and forces during the administration of former President Barack Obama. Team member Christine Wormuth, director of the RAND International Security and Defense Policy Center, also served the Obama administration as undersecretary for defense for policy. Also included on Biden's team is retired four-star general Michelle Howard, the first woman to serve as vice chief of staff in the U.S. armed forces. In total, Biden's office has announced 23 members of its DoD transition team.
Trump's DoD transition team consisted of ten individuals including Mira Ricardel, who was a consultant for Federal Budget IQ at the time. After Trump took full command of the White House, Ricardel became Deputy National Security Adviser in 2018.
After winning the presidential election in 2008, Obama named 44 individuals to his DoD transition team including 15 women, according to information from public records tracking site Open Secrets.
Newsweek reached out to the Office of the President-elect for further comment.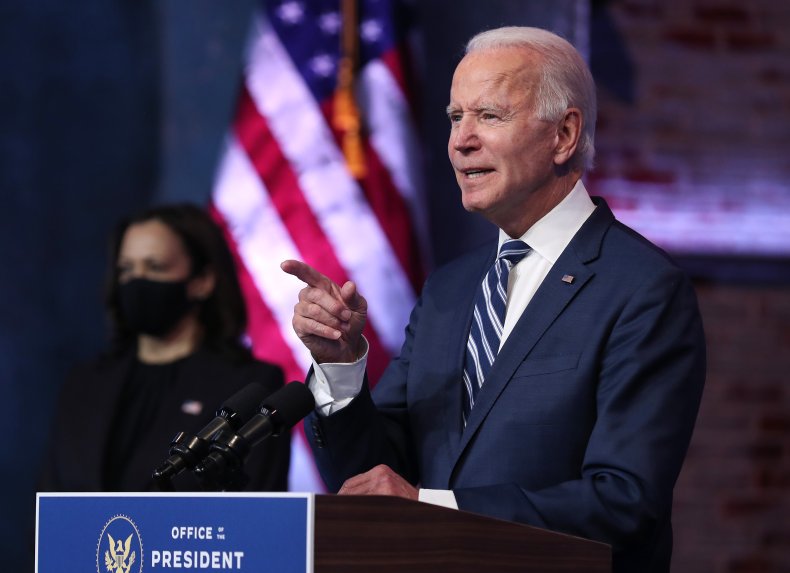 Some of Trump's comments to and about women have been perceived as condescending. After PBS reporter Yamiche Alcindor asked Trump a question during a March press conference, Trump said, "Look, let me tell you something. Be nice. Don't be threatening. Be nice."
Before the November election, Trump referred to current Vice President-elect Kamala Harris as "an insult to our country" during a North Carolina campaign event in September.
However, the Trump administration has often placed women in high-profile positions. Currently, Trump has two women in his cabinet: Secretary of Transportation Elaine Chao and Secretary of Education Betsy DeVos. Among others, Trump also employs Kayleigh McEnany as the White House secretary and both Hope Hicks and Alyssa Farah as presidential assistants.
Trump's administration has indicated that it would make the transition process difficult for Biden's teams. Because the votes are still being counted in some battleground states, Trump has yet to concede the election. The General Services Administration, which is still waiting for an election winner to be ascertained, has yet to allow Biden's teams access to the White House and other federal buildings to begin the transition process.
Biden said Tuesday that despite the lack of cooperation from Trump's administration, the transition process was "well underway."
"The fact that they're not willing to acknowledge that we won at this point is not of much consequence in our planning and what we're able to do between now and January 20," Biden told reporters.