Nearly half of people involved in a survey in New York City say they know at least one person who has died from coronavirus.
Of the 508 polled, 46 percent of people said they knew one of the nearly 17,000 people who have died in the city, compared to one in three people across New York state.
The Siena College Research Institute polled registered voters from April 19 to 23.
"Last month, fewer than one-third of New Yorkers knew someone who had tested positive for coronavirus," said Siena College pollster Steven Greenberg.
"The human toll is almost unfathomable as 46 percent of New York City voters personally know someone who has died from coronavirus, as do 36 percent of downstate suburbanites and 13 percent of upstaters. Half of Latino and black voters know someone who has passed away from this insidious virus."
The survey also found that across the state, around one in 20 said the virus has infected someone in their house. In New York City, that number is closer to one in 10.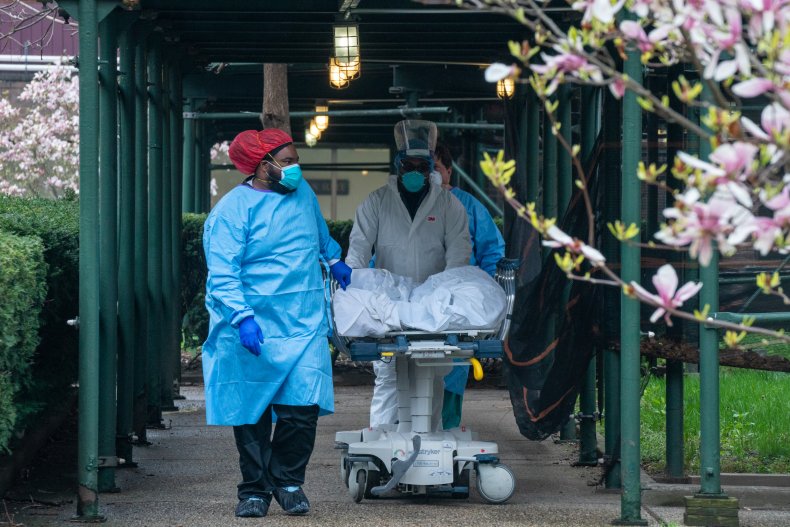 A third of New York state households include someone who has been laid off as a result of COVID-19, the results showed. About three-quarters of those polled said New York cannot restart its economy without widespread testing.
"To say the coronavirus has had a tremendously detrimental effect on New York's workforce—upstate and downstate—is a gross understatement," Greenberg said.
"Nineteen percent of voters have themselves been laid off and another 13 percent say someone in their household has been laid off. While the layoffs have hit upstate and downstate nearly the same, 48 percent of Latino voters say that they and/or someone in their household has been laid off, compared to 30 percent of both white and black voters affected by layoffs," Greenberg added.
"More than half of downstate voters and 41 percent of upstaters live in a household with at least one person working from home who usually works outside the house."
There are over 288,000 confirmed cases of coronavirus across New York state, with over 158,000 in New York City, according to Johns Hopkins University. There have been more than 17,000 deaths in the state so far.
Last week, it was announced that Gov. Andrew Cuomo will be signing an executive order to allow more than 5,000 independent pharmacists in the state to conduct diagnostic tests. As a result he is expanding the testing criteria for New Yorkers, which was originally reserved for people who were symptomatic.
"Since we now have more collection sites, more testing capacity, we can open up the eligibility for those tests," Cuomo said. The expanded criteria will now include all first responders, health care workers and essential employees. The more testing we have, the more we will open eligibility."
The graphic below, provided by Statista, illustrates the 10 worst affected states.