Half of Russia's Iranian-Made Drones Obliterated in One Week: Ukraine
Half of Russia's Iranian-made drones have been destroyed by Ukrainian military forces, the Ukrainian Ministry of Defense said Thursday.
"From September 30 to October 6, the Defense Forces of Ukraine destroyed 24 Shahed-136 kamikaze drones," the Ukrainian Ministry of Defense said in a Telegram post.
According to the post, Brigadier General Oleksiy Gromov, deputy chief of the Main Operations Department of the General Staff of the Armed Forces of Ukraine, said that during the same time period, Russia sent 46 Shahed-136 drones into Ukrainian territory.
Earlier this month, the General Staff of the Armed Forces of Ukraine said that military defense forces "shot down eight Iranian strike unmanned aircraft 'Shahed.'"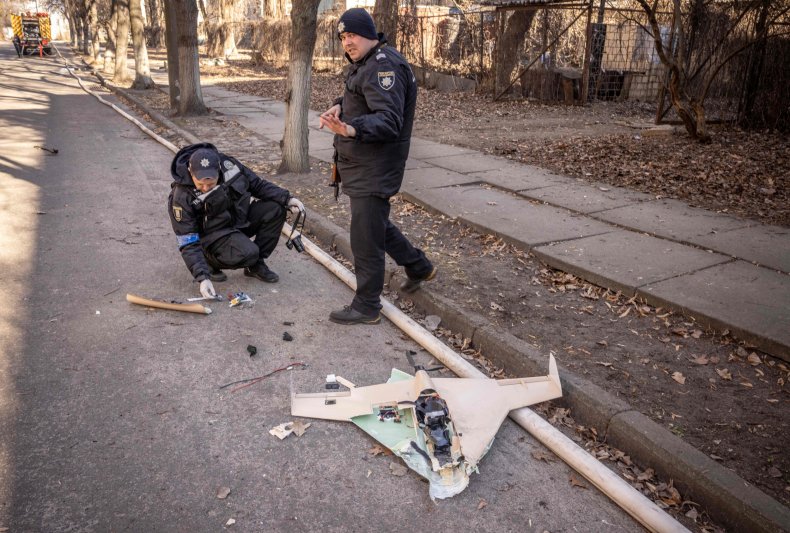 The report by the Ukrainian Ministry of Defense comes shortly after Iran disputed reports that it supplied its Shahed-136 drones to Russia amid the ongoing war with Ukraine, which began February 24.
On Tuesday, Iranian Foreign Ministry spokesman Nasser Kanaani said that reports of Iran supplying drones to Russia was "baseless" and added that Iran has "always announced our principled and clear policy on active impartiality and opposition to war, underlining the necessity of a political resolution to disputes between the two sides, and away from violence.
"Accordingly, over the past months, the foreign minister of the Islamic Republic of Iran, in numerous meetings and contacts with his Russian and Ukrainian counterparts, has always reiterated the need for the resolution of disagreements in a peaceful manner and through talks and has announced Iran's readiness to help this process."
In August, the Washington Post reported that Russia received a shipment of Iranian-made drones, citing anonymous sources.
The Telegram post from the Ukrainian Ministry of Defense also included a quote from Gromov that said, "9 out of 12 kamikaze drones were destroyed this night by the forces and means of the Air Force of the Armed Forces of Ukraine. In total, since the beginning of the use of UAVs of the Shahed-136 type by the enemy, they used 86 units, of which 60% were destroyed."
In a separate Telegram post, Oleksiy Kuleba, the head of Kyiv's regional military administration, said, "At night, the enemy attacked Bila Tserkva with kamikaze drones of the Shahed-136 type. A total of 6 hits and explosions. One person was injured. The infrastructure was also damaged.
"I ask the residents not to ignore air warning signals and safety rules."
Newsweek reached out to the Russian Foreign Ministry for comment.