Russia Leaves Trail of Destruction in 'Scorched Earth' Retreat: Ukraine
Ukrainian officials say Russian forces are leaving behind a trail of destruction amid their retreat from previously occupied regions in the eastern part of the country, with a primary focus on civilian and other strategic targets.
The General Staff of the Armed Forces of Ukraine said in a Thursday Facebook post that Russian forces have begun concentrating the brunt of its military efforts near the cities of Bakhmut and Avdiivka in the Donetsk oblast region as it seeks to regroup in regions where it has met stiff resistance by Ukrainian forces: Soledar, Bakhmutske, Yakovlivka, Odradivka, Zaitseve, Bakhmut, Krasnohorivka, Pobyeda, Vodyane and Lyubomirivka.
They said that Russia has continued to carry out a mix of air and bombardment attacks in dozens of settlements around the country. And in its retreat, Russian forces have employed "scorched earth tactics" throughout Ukraine, including the destruction of a dam outside of Raihorodok that caused the city to flood.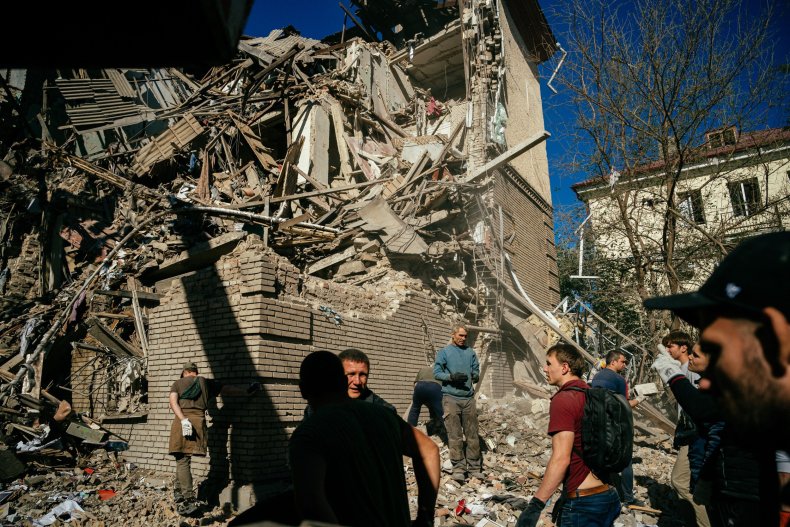 "There is a mass destruction of archives and copies of documents, especially those containing the history of the occupation, in Kadiivka," the Ukraine military said. "In Svatovo, the main infrastructure facilities, buildings and territories have already been mined."
Newsweek reached out to the Russian Foreign Ministry for comment.
The news comes several days after Russia's disastrous retreat from the strategic city of Lyman, in the Kherson region, where Ukrainian forces pushed back the occupation just days after Russian President Vladimir Putin formally announced the annexation of the territory.
Though Ukrainian President Volodymyr Zelensky announced in his nightly address Tuesday that Russia was maintaining a military presence in the region, recapturing eight small settlements there, they believed the Russian military's ability to backfill its frontline losses will ultimately stall their ability to make significant headway into the interior of the country.
While Russia has sought to bolster its ranks through a mass conscription effort, Ukraine said those efforts have so far been unsuccessful, with government intelligence showing the country to currently be well behind its initially stated enlistment goals.
According to Ukrainian intelligence, the partial military mobilization of Russian civilians Putin announced last month actually "absorbs" small settlements in remote regions of Russia far from the sites of the most vocal protests against the effort, where they say all men of conscription age are "forcibly taken to military commissariats."
Experts have now begun to doubt not only if Russia will be able to keep up the fight abroad, but whether it can maintain morale within its own ranks.
On Thursday, The Moscow Times reported that recently mobilized Russian soldiers are beginning to decry "inhumane" conditions, weapons shortages and mistreatment by officers as they prepare to deploy to the front lines, with many having to spend their own money to feed themselves.