Russia's Kherson Front Faces Collapse as Ukraine Recaptures Series of Towns
Ukraine's armed forces have two settlements in the Kherson region, shortly after claiming full control of the key eastern supply hub of Lyman, according to Kyiv, in what could serve as yet another blow to Russian President Vladimir Putin.
In an address to the nation on Sunday night, Ukrainian President Volodymyr Zelensky said two settlements of the occupied southern Kherson region—Arkhangelsk and Myrolyubivka—had been liberated amid Kyiv's ongoing and successful counteroffensive efforts.
Zelensky also announced the liberation of Lyman—a key railway junction, located in the eastern Donetsk region, that was seized by Russian forces in May, three months after Putin's war against Ukraine began.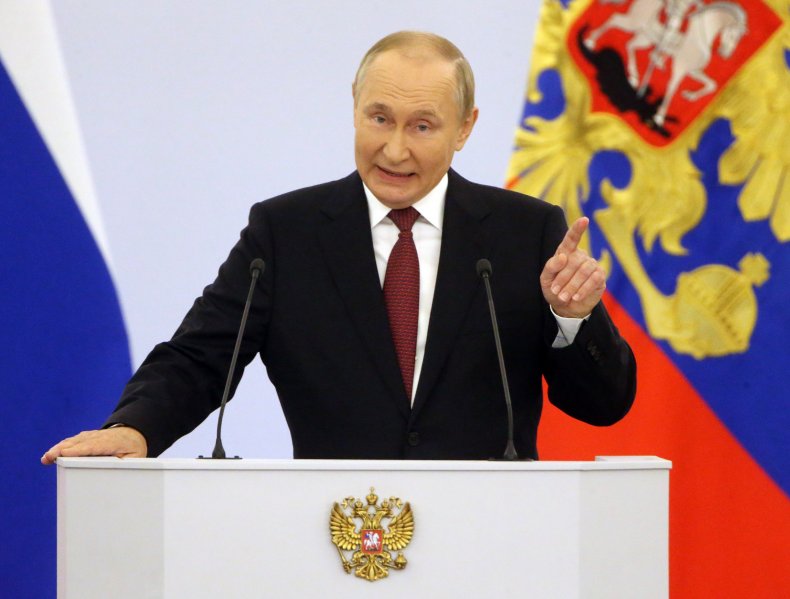 Kyiv launched an offensive to retake Kherson from Russia troops in early September, and that effort has moved slower against the backdrop of a lightning offensive that saw Ukraine recapture swathes of territory in Kharkiv in the northeast.
"The story of the liberation of Lyman in the Donetsk region has now become the most popular in the media," Zelensky said in his video address on Sunday night. "But the successes of our soldiers are not limited to Lyman."
Multiple pro-Kremlin Telegram channels have commented on the situation in Kherson, with one noting that it is currently "difficult" for Russian forces.
"A difficult situation is beginning to take shape in the Kherson direction. It is too early to talk about the loss of control of units and unorganised withdrawal," one user wrote on Sunday. "In the coming hours, if no action is taken, the situation could turn into a disaster."
Keir Giles, a senior consulting fellow at Chatham House, a U.K. think tank, told Newsweek that Ukraine's autumn offensive is "a clear demonstration to Kyiv's Western backers that the war is not static."
It also shows that the fears of a protracted stalemate over the winter that were causing hesitation and doubt earlier in the year were "misplaced because Ukraine is in a position to eject Russian forces from at least part of the territory they have seized," Giles said.
Joel Hickman, deputy director of the Transatlantic Defense and Security program at the Center for European Policy Analysis (CEPA), told Newsweek that there is no doubt that Ukraine currently has the battlefield momentum in its favor.
"If Ukraine can re-take Kherson itself this will obviously be hugely significant," said Hickman, noting that the region's location northwest of the Dnipro River would enable Ukrainian forces to cement their defense of western Ukraine and give them foothold from which to launch future attacks into currently occupied territory, including even potentially Crimea.
"It would also be significant in terms of Putin's attempts to force a sham referendum in Kherson which appears to have now been postponed due to Russian forces losing control over the area and its residents," Hickman continued.
"If the Ukrainians do succeed in retaking Kherson, it will not only be a humiliating setback for Putin, it will also mean that Russian forces in Ukraine continue to be heavily concentrated in smaller pockets, making them even more vulnerable to Ukrainian artillery and rocket force."
Glen Howard, the president of the analytical center The Jamestown Foundation, told a local news outlet that should Ukraine liberate Kherson in full, it would serve as the "third turning point in the war."
Russia on Friday illegally proclaimed the annexation of four Ukrainian regions: Kherson, Donetsk, Luhansk and Zaporizhzhia.
"If the Ukrainians can move their line of defense beyond the Oskil River, as well as liberate territories in the Luhansk Region, this will form a new line of defense before the onset of winter," Howard said. "This will lay the foundation for further success and even an exit to Mariupol. What will happen in the next few weeks near Kherson is very important."
Howard said he believes Ukraine will proceed "to the line of the Dnipro [Dnieper] River and will be able to prepare an offensive on Chongar, cut off the water supply to Crimea."
Meanwhile, Kirill Stremousov, the deputy head of Kherson's Kremlin-installed regional administration, said on Telegram that Russian forces had pushed back Ukraine's soldiers in the region.
Newsweek has contacted Russia's Foreign Ministry for comment.
Update 10/03/22, 11:26 a.m. ET: This article was updated to include comment from Keir Giles, senior consulting fellow at Chatham House.
Update 10/03/22, 13:15 a.m. ET: This article was updated to include comment from Joel Hickman, deputy director of the Transatlantic Defense and Security program at the Center for European Policy Analysis.