Half of Superintendents Want to Quit Amid Political Battle Over Schools
The political battle over schools is continuing to take its toll on what's left of the superintendent workforce, with nearly half saying they plan to leave their positions in the next two to three years.
Over the course of the pandemic, culture wars have made their way into America's classrooms and tasked superintendents with addressing issues from mask mandates to race relations. As a result, school district administrators have left the public education sector in a "great exodus."
Those resignations show no sign of stopping, a new report released Thursday reveals.
The poll, conducted by education company EAB, found that 46 percent of superintendents are considering or planning to leave their role in the next two to three years and that more than a third of experienced superintendents, those with six or more years of tenure, are planning on retiring within that time frame.
It also found that eight in 10 superintendents say that navigating politically divisive conversations is the most challenging part of their job today.
EAB Director Ben Court told Newsweek that these figures were no surprise to industry leaders.
"We conducted this survey between early December and the very beginning of February, but they certainly mirror conversations that we've had with superintendents as early last summer," Court said. "We don't see this as a new spike in behavior as much as a growing and continued trend that is becoming more pressing."
"Those who strongly agreed with the statement [that political divides are the hardest part of their job] were perhaps slightly less optimistic about their likelihood of success in the future," he added.
Nearly 60 percent of those who agreed with the statement said they need more training in this area. More than 80 percent said equity has become a divisive word in their community.
"Superintendents are spending so much time managing these politically-challenging situations, that they're not getting the opportunity to talk about what they really want to see change in schools moving forward—the opportunities for innovation and strengthening schools and creating changes that last," Court said.
Superintendents told pollsters that one of the ways in which they'd like to see districts respond to these concerns is for schools to be more careful about the language they use and to ensure that they focus on providing a narrative "focused on helping all students to thrive."
Another solution they picture is for districts to reclaim the narrative of public schools to rebuild confidence among divided communities.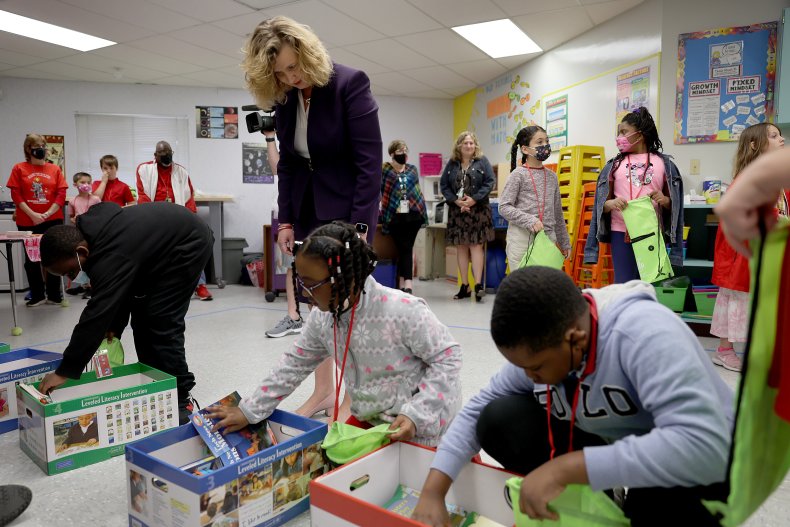 While nearly half of superintendents say they are contemplating leaving the field in the next two to three years, 16 percent say they are waiting to see how this year will go before deciding on future plans.
The survey also found that nearly seven in 10 superintendents are optimistic they will feel more successful in a year's time, reflecting their hope that the nation will be better suited to tackle COVID-related issues as infections continue to fall.
"There's certainly conversations around the fact that maybe we're moving out of the worst stages of the pandemic and into more endemic situations," Court said. "As we look forward, this strengthened network of superintendents—this community that they've built—is actually going to position them to be able to rethink some long standing assumptions that have existed the table, and to be able to finally make progress on things they truly care about."
The EAB report highlights the correlation between superintendents' perceptions of success and strong relationships within the school community, including stakeholders like parents, teachers, principals and students.
While roughly a third of superintendents said that they felt as though their relationships with parents and students have weakened over the course of the pandemic, their relationships with one another have acted as a "crucial lifeline of support" during COVID.
The poll found that 80 percent of superintendents said that increasing the time they spend with students would make them more successful in their roles, but Court noted that a significant number of them also discussed a need to focus on relationship-building with parents.
Focusing on narrower issues, like catching up on missed in-person learning and providing more mental health resources, Court says, will allow superintendents to find a space to address bigger ones, like politically divisive topics.
"Finding ways to be able to establish and communicate small and quick wins that benefit children from families of all ideologies and opinions is going to be the gateway to being able to start to move the narrative forwards and address like the bigger and more challenging issues," he added.